Athlete of The Week: Dominic Rezac
Sept. 4 was an unforgettable night for junior Dominic Rezac against Kearney, putting up 235 rushing yards and scoring four touchdowns. After being held at safety last year, Rezac proved himself as an elite starting running back. 
"It was nice to get an opportunity out there to play running back," Rezac said. "I played it growing up. I think I am more natural at running back so it's kind of nice getting a shot to play that this year. I think it worked out pretty good so hopefully we can continue that through the season,"
Rezac went into the game locked in and only had winning on his mind. 
"We were just trying to win, that's what my mindset is going in," Rezac said. "Focusing on the opponent and trying not to overlook them. We're obviously more talented than most of the teams we play. We talk about a lot, going week to week, and then just focusing on winning."
After the game, Rezac said his phone was blowing up. 
"I didn't even realize how many yards I ran for, I thought maybe I had 150 or something like that.. It was cool, a lot of people were texting me congrats," Rezac said. 
These numbers however didn't come by chance. Rezac's biggest strength is his speed, which led him to easily find the hole multiple times. This skill will hopefully let Rezac continue his dream to play football in the future. 
"Sept. 1 was the first day Division One coaches could start talking to [juniors]," Rezac said. "A few coaches reached out to me and talked to me. Playing in college is a goal of mine that I have." 
Varsity football head coach Brett Froendt said Rezac is a hard working athlete who has just started to show his potential, having the first two measurables needed to play at the D1 level: height and speed. 
"He adjusts well to technique and has begun to run behind his pads," Froendt said. "Once he did this, he became more physical, harder to tackle, and a better running back. He's a smooth runner through the holes but has break away speed."
Froendt said that Rezac's success is not by accident. He worked hard in the off-season which paid off by giving him the ability to hit holes faster and make defenders miss with poor angles. 
"Dom's success is not by accident," Froendt said. "He's a great teammate who is humble and hungry for success."
About the Contributor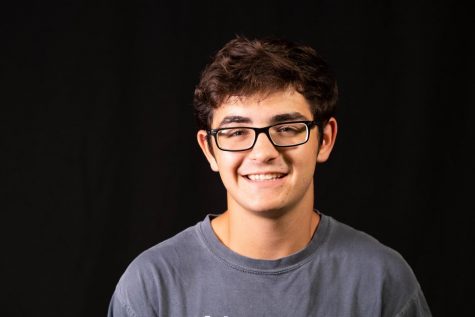 Zev Gordman, Wired Sports Coordinator
Hi, my name is Zev Gordman! I am the Sports Coordinator for Westside Wired this year. I am currently a junior and this is my third year on Wired. If you...