Dan's MLB Season Predictions: National League
In the National League, it's a year of major changes. The designated hitter has finally arrived after 49 years in the American League, and an entirely different field of contenders looks to be set this season. Many of last year's best teams have had big roster shakeups, and some surprising free agent destinations make this a great year to watch. Below are my predictions for the 2022 National League season.
NL East
1st Place: Braves. Atlanta, the reigning World Series Champions, are not done yet. Despite Freddie Freeman's move to the Dodgers, the Braves are still a loaded roster in a reasonably weak division, and I expect to see them perform well again. Elite closer Kenley Jansen has recently joined the team, and Matt Olson could match or outperform the batting output of Freeman, his predecessor at first base. Look for Atlanta to make a long run this year.
2nd Place: Marlins. This is a bold pick, but I am really liking Miami's new-look rotation, with Trevor Rogers and Sandy Alcantara at the front. If they can piece together some offensive consistency, led by their three-slugger outfield (Jesus Aguilar, Avisaíl Garcia, and Jorge Soler), I would not be shocked at all to see Miami grab a wild card spot. It's a young roster, but one with a real chance to achieve big things this season.
3rd Place: Mets. The New York Mets have been a drama-heavy disaster for several years in a row, with everything from clubhouse controversies to ownership disputes holding the team back. Owner Steve Cohen, in fact, took to Twitter to rage about his own team's failure. So I feel hesitant to make a prediction here, given what's taken place the last few years. There's no guarantee of superstar starter Jacob Degrom making many starts this year, given his ongoing injury problem. And while there's a ton of talent in the lineup, the bullpen and remainder of the rotation are too weak to reasonably expect a successful season.
4th Place: Phillies. Philadelphia shouldn't be terrible, but there's nothing there to inspire confidence that they can compete against the whole league. In a sort of post-rebuild drift, they haven't formed any sort of core roster, instead opting for expensive new free agents. However, the Phillies have, almost certainly, baseball's best outfield. Kyle Schwarber, Nicholas Castellanos and Bryce Harper stand side-by-side, which should be entertaining if not effective. The Phillies are hamstrung by pitching, and by hamstrings (Scott Kingery has been a catastrophe). I don't think they will make the playoffs, but Philly should be an entertaining watch.
5th Place: Nationals. Washington is rebuilding, and there isn't a lot more to say. A borderline lock for last place, the Nationals will rely on Juan Soto and Victor Robles to power their offense alone, but nobody expects more of them. There isn't much to look forward to this year for Washington fans, but this does thankfully look like a quick turnaround as some quality new prospects joined the system at the trade deadline last year and likely will again.
NL Central
1st Place: Cardinals. I'm taking St. Louis for first because they've stacked up fairly reliable starters, a quality bullpen and a slightly above average lineup. St. Louis is good, not great, but in a division of fairly weak teams, Cardinal consistency will give them the edge. I don't see St. Louis going far, but I do expect them to win the division against four likely sub-.500 clubs.
2nd Place: Cubs. Even as a Cubs fan, I accept reality. This is a rebuilding club. Marcus Stroman was a great addition, to be sure, but he stands alone as the only high-quality starter on the team. Perhaps if Wade Miley and Kyle Hendricks both have great seasons, things could go better. But I do expect pitching to, again, be Chicago's downfall. However, after years of all-or-nothing offense, Chicago has assembled one of baseball's best contact hitting lineups in recent memory, with Nick Madrigal, Nico Hoerner, and Frank Schwindel. I can't see this alone making a division-winning team but I don't think it's too unlikely we'll be seeing the Cubs taking a wild card spot.
3rd Place: Brewers. The rotation is great, but what else is there? Let's start with the good news for Milwaukee– Corbin Burnes, the ace starter, won the Cy Young award last year. Second starter Brandon Woodruff took fifth place for the same recognition. Freddy Peralta adds a solid third spot. Elite closer Josh Hader is still a force to be reckoned with, and there's adequate bullpen support. Unfortunately, the offense is a serious liability. Christian Yelich has never been the same after 2019, and the other two outfield mainstays (Lorenzo Cain, Andrew McCutchen) are old and declining. Barring a breakout by some younger infielder, there's no clear source of run support for that overwhelming pitching staff.
4th Place: Pirates. Not being last is a win for the long-suffering Pittsburgh club, who haven't seen any success in a very long time. This year looks no different, but the tanking Reds will probably save them from last-place shame. There's nothing else to say, both teams are abysmal, but Cincinnati is worse.
5th Place: Reds. Cincinnati has completely tanked in hopes of "earning" better draft picks by losing as much as possible. Expect to see a last place embarrassment. There's little to no depth available on the roster, and the pitching staff is even worse than the 2017 disaster.
NL West
1st Place: Dodgers. I expect Los Angeles to retake its division title this year after last season's loss to the Giants. With their always-powerful rotation and deep reserves, the Dodgers look ready to impress. However, there are some improvements that could be made. LA is missing Max Scherzer this year, who was critical to last year's postseason run. Clayton Kershaw and Walker Buehler, however, are still headlining the Dodgers rotation, and the bullpen is more than adequate. With future Hall of Fame closer Craig Kimbrel just signed, and Blake Treinen on hand as the setup man, I'm fairly confident that Los Angeles is ready to take the division again. The offense has a few questions, like how Freddie Freeman will perform at first with a new team, in a stronger division. Freeman, unlike in Atlanta where he worked alongside Ronald Acuña Jr., will be the star in L.A. But barring any huge surprises, I'm expecting a big year for the Dodgers.
2nd Place: Giants. I don't see San Francisco repeating the magic of last year, but I do still see a decent team. Take a look at the rotation- Carlos Rodon, last year's White Sox ace, has just joined the team and will shore up an already effective staff. Coming off a 107-win year will set big expectations for this team, and the old core of players is breaking up (as it was expected to last year). But don't count San Francisco out yet for some postseason contention.
3rd Place: Padres. San Diego is not ready. Despite their starting pitcher addiction (there are currently 11 starters on the roster) there's little to no depth anywhere else. Eric Hosmer has the team bogged down at first with a big contract, and much of the field is manned by random replacement-level players. They're also not willing to part with Wil Myers– who is a clubhouse leader but woefully inadequate, tying up another outfield slot. Unfortunately, I think San Diego's lack of offensive options dooms them to a sub-.500 season, or at least a distant third.
4th Place: Rockies. The Rockies are in a rebuild, but they did make one of the biggest free agent splashes of the offseason by signing Kris Bryant. I'm not optimistic about this team, but it's going to be fun seeing Bryant hit in Coors Field, baseball's best hitter's park. Bryant alone kind of serves as the only entertainment for Rockies fans this year– but don't feel too bad about them, better years are almost here.
5th Place: Diamondbacks. This year they will try not to lose 20 games in a row. That was just embarrassing. I truly have nothing else to say.
So, that concludes my team-by-team breakdown of this season. With teams finally back to normal and a full schedule, I'm looking forward to another exciting season!
Your donation will support the student journalists of Omaha Westside High School. Your contribution will allow us to purchase equipment and cover our annual website hosting costs.
About the Writer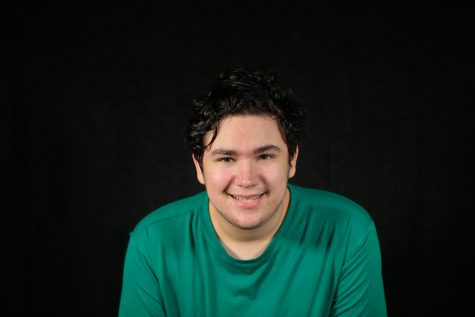 Dan Magruder, Wired Staff Writer
Hi, my name is Dan Magruder! I am a staff writer for Westside Wired this year. I am currently a junior and this is my third year on Wired. A fun fact about...