Dan's MLB Season Predictions: American League
With Opening Day set for Thursday, April 7, Major League Baseball is set for another season– despite the 99-day lockout that fans feared could disrupt it. Regardless of the resulting one-week delay, MLB is back. Without further ado, here's my personal expectations for the upcoming American League season.
American League East:
On the east coast, a highly competitive division race is in the cards. Fangraphs, a baseball statistics service, projects the Blue Jays, Yankees, Red Sox and Rays to all finish above .500. It's hard to find a clear favorite, but I'm definitely liking what I'm seeing with the Toronto roster.
1st Place: Blue Jays. After returning to Toronto full-time for the first time since the start of the COVID-19 pandemic, the Blue Jays will be fielding a star-studded rotation, including all-new starter Yusei Kikuchi. Newly-extended pitcher Jose Berrios has been the picture of consistency, keeping a sub-4.00 Earned Run Average for his last 4 full seasons. And long-time ace Hyun-jin Ryu rounds out this powerhouse of a rotation. The bullpen is a weak spot, and the offense does lean too much on three stars (Matt Chapman, Vladimir Guerrero Jr., and Bo Bichette), but altogether, I see the edge in this division going to Toronto.
2nd Place: Rays. For second, I'm taking Tampa Bay. There's less to say here, but this is a team that's won 90 games (or equivalent in 2020) every season of their current core roster. With young, new superstar Wander Franco on board, I'm optimistic for Tampa Bay to take second and the wild card spot. I don't see their rotation topping Toronto, but it will be close.
3rd Place: Red Sox. I've put the Red Sox in third, despite expectations that their aging rotation will face regression. 42-year-old Rich Hill and 33-year-old Chris Sale work alongside 32-year old Nathan Eovaldi to assemble the core, and despite their age, all three had effective seasons last year. Boston mainstay Matt Barnes is the only big name in the bullpen, and little young talent available. In fact, the Sox have just two active left-handed relievers. This is going to be an issue that plagues Boston all year. Travis Shaw, Trevor Story and J.D. Martinez will put some pop in the lineup, however, and I wouldn't be shocked to see the Sox scrape by into the postseason.
4th Place: Orioles. Of course, there's also the Baltimore Orioles. Somewhat forgotten outside Baltimore for years now, the Orioles stand to start finally making some gains this year. I wouldn't expect to see any huge progress as the pitching staff is quite weak and lacks stars, but the offense is young and high-potential, so I'm not expecting a disaster this year.
5th Place: Yankees. In fifth, the Yankees are on pace to face reality. A subpar rotation, unreliable bullpen and hit-and-miss offense could be done in by an unexpected external factor. Slugging star Aaron Judge remains unvaccinated, sidelining him from a number of games against main divisional rival Toronto. And with their dubious bullpen, I expect to see New York selling at the deadline and crashing into its worst finish in 32 years.
AL Central
1st Place: White Sox. Anyone who follows baseball knows you can never be sure, but the White Sox are as likely as any team to absolutely dominate their division. Despite Minnesota's shocking acquisition of Carlos Correa, the White Sox are ready to go for gold this year. All five starters are arguably stars, the offense is on absolute fire with Tim Anderson and Eloy Jimenez, and the rest of the division is fairly weak. I'm expecting 100 wins out of Chicago's South Side this year.
2nd Place: Twins. Almost certainly, the Twins will take second. Correa remains the only superstar, and starter Kenta Maeda won't be playing until the final months. Nonetheless, Minnesota is at least competitive. I'm expecting them to finish a distant second.
3rd Place: Royals. It's not going to be quite enough, but the Royals should be returning to the discussion soon. Zack Greinke, a former Royals superstar starter, has just returned. The Royals could take second if Brady Singer and Brad Keller both have good years, but it looks like one more tough year in Kansas City. The bullpen is led by Amir Garrett, who has only two good seasons to his name, but three benches-clearing brawls started. And sadly for Royals fans, while Salvador Perez and Whit Merrifield are strong hitters, there isn't really enough new talent to put Kansas City back in contention this year.
4th Place: Guardians. Cleveland's newly-named team looks poorly equipped to take on the league, but there is certainly some reason for hope as the bullpen looks to shine. 24-year-old closer, Emmanuel Clase, will likely be one of the league's best, and the rotation is far from terrible with Shane Bieber and Aaron Civale. The offense, however, is composed of near-replacement players and won't likely be enough to compete in 2022.
5th Place: Tigers. The Detroit squad is near the end of the rebuild, but not there yet. Look to see Detroit start to make moves soon, as they have signed top-tier shortstop Javier Baez. But with limited talent beyond a few stars (Casey Mize, Miguel Cabrera), the postseason looks out of reach for just a little longer.
AL West
1st Place: Angels. This is a bold prediction, but they have Shohei Ohtani and Mike Trout on one team. If both can stay healthy, which has been an issue for Trout as of late, look to see Los Angeles head to the playoffs. With Ohtani, Michael Lorenzen, and Noah Syndergaard on the staff, the Angels are utilizing a high-risk, high-reward staff– both Lorenzen and Syndergaard have swung wildly between great and terrible seasons. But with all they have available, I see them finally breaking through in '22.
2nd: Astros
Houston's electric lineup will focus on a new goal this year: driving in enough runs to support the improvised rotation. Justin Verlander isn't getting younger, and there's no guarantees with Lance McCullers Jr., but I do see Houston's offensive capabilities being enough to sneak into the playoffs. Middle relief is going to be a sticking point, but if Houston can buy at the deadline, I expect to see them playing in October.
3rd: Rangers
This isn't necessarily the most conventional pick, as Texas is still short on experienced players. Still, I'm expecting to see the very young team go above .500 with new starter Jon Gray, who will have an advantage with his new team– not pitching at Coors Field in Denver. 23-year-old rookie starter A.J. Alexy will be arriving this year, and if Kolby Allard can keep the ball in the park, the pitching staff should be set for a solid year. Newly signed Shortstop Corey Seager puts a big boost in the lineup, and I am excited to see if Texas can get things going this season.
4th: Mariners
This franchise just can't get it right, can they? Seattle shows no signs of reaching the playoffs, for a 21st consecutive season. The truly unfortunate situation in the northwest begins with the fact that as of April 4th, they have three active starting pitchers, none of whom are very notable. Jarred Kelenic, Mitch Haniger and Jesse Winker power a decent lineup, but it's not going to be enough to power them past the stronger teams in their field.
5th: A's
Oakland is strategically tanking. I don't want to get into my personal view on this, that's an issue for another article, but don't expect to see Oakland do anything this year as they go for a better draft pick and hope to make a return in a few years.
Recap
The American League should be action-packed in the east and west this year, with the central being the home of the powerhouse White Sox. I'm expecting a long, close wild card competition– and in the east, it could truly go any way. But one thing's for sure, we can all celebrate baseball finally returning to true normal.
Your donation will support the student journalists of Omaha Westside High School. Your contribution will allow us to purchase equipment and cover our annual website hosting costs.
About the Contributor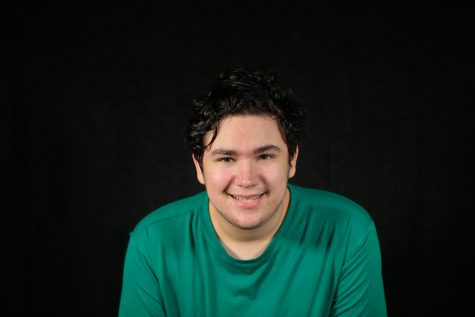 Dan Magruder, Wired Staff Writer
Hi, my name is Dan Magruder! I am a staff writer for Westside Wired this year. I am currently a junior and this is my third year on Wired. A fun fact about...