Westside Volleyball Finishes Their Best Season Since 1985
The Westside varsity volleyball team saw the end of their magical season, with a heartbreaking loss in five sets to Millard West in their semifinal match of the Class A State Tournament on Friday, Nov. 5 at the Pinnacle Bank Arena in Lincoln.
The 2021 team made school history by winning the A-7 District Tournament Championship. The district title is the school's first since 1985, and it served as Westside's first ticket to the Class A State Tournament since 2002. For a majority of the Warriors, this would be their first time playing inside of Pinnacle Bank Arena.
"This has been a goal and a dream of mine all my four years," senior Madilyn Siebler said. "To know that every year we've gotten closer and now we're finally here, with this group of girls who I love so much, it just feels amazing."
Westside head coach Korrine Bowers, who started her fourth season at Westside with high expectations for her team, was ready to put her game face on. 
"
This has been a goal and a dream of mine all my four years."
— senior Madilyn Siebler
"Now, we enjoy the win and we enjoy the history that we just created at Westside but our "dream crazy" is winning a state championship," Bowers said. "We know we have our work cut out for us, Class A is not going to be a walk in the park. We really need to start preparing tomorrow for our first opponent."
The Warriors opening round opponent would happen to be the third seed in the tournament, Lincoln Southwest. The Silver Hawks had proven themselves this season with a 30-4 record prior to the state tournament. Three of those wins came against Westside during the regular season. A big strategy for the Warriors would be to shut out outside hitter Shaylee Myers. Myers played a big role for the Silver Hawks both offensively and defensively. Bowers knew she could create trouble for the Warriors.
"You've got Shaylee on the outside and she's a powerful force," Bowers said. "Their team is going to feed off of her energy and adrenaline that she brings. Our goal is to get in there and shut that down right away."
Westside didn't get the immediate start they wanted in their quarterfinal match at Pinnacle Bank Arena. While the teams went back and forth for the entirety of the first set, the Silver Hawks maintained a lead and were the first to reach 25 points. The Warriors, who had proved to be resilient throughout the season, didn't see the loss as the end. They came out the second set firing on all cylinders and proved to be a force to be reckoned with.
They only allowed 11 points in the second set, and they kept the momentum going after losing the third set as well. At the end of the night, the Warriors took the match in five sets, 23-25, 25-11, 22-25, 25-15 and 15-4. Westside senior Madilyn Siebler won the match for the Warriors with an ace. The Montana State recruit said the Warriors were all smiles during the match.
"
Once you hit the peak, which we have, you're not going to see a whole lot of teams who can come back and beat us."
— coach Korrine Bowers
"We were all super calm," Siebler said. "We lost the first set and I had no doubt that we could come back and beat them. We were all just smiling, and I was just happy to be there. I told everyone I loved them. We played so loose and we all felt like we could do it. There was no doubt, we were comfortable. It was really awesome."
Coach Bowers knew that with time, a match against Lincoln Southwest would eventually fall the Warriors' way. The timing just happened to play out at the state tournament.
"It's funny," Bowers said. 'I always say as a coach, you might lose to teams throughout the season, but once you hit the peak, which we have, you're not going to see a whole lot of teams who can come back and beat us. We lost to them in five and then in three but this time was our time. What better time to win than at state when it really matters?" 
Bowers acknowledged the Silver Hawk's fight, but ultimately, the Warriors had come out in full force.
"Yeah, it was a battle, but in the sets that we won, we really did push them over," Bowers said. "Our strengths came out: driving the ball with the serve, our defense, blocking, our pin hitters were spectacular tonight and they were spreading the ball out. It came down to shutting down Shaylee. We forced her to make hitting errors and to tip, and our blocking was great."
The win meant more than just a better record to the Warriors, especially Siebler.
"I don't even know how to explain it," Siebler said. "We've never beat them in all my years here. Doing it now is just perfect. It's validated that we're meant to be at state. We weren't just a random card thrown in because we had a bad district. We are meant to be here and we proved it, and we proved how far we've come this season."
In the other quarterfinal matchup on the Warriors' side of the bracket, Millard West swept Papillion-LaVista in three sets. The second-ranked Wildcats had already proven to be a challenge for the Warriors. The two teams met once before the state tournament, in a triangular that also included No.1 Papio South. Westside put up a fight in the first set of both matches but ultimately went home without a win. It was after that triangular that Westside hit their hot streak, and the new version of the Warriors were ready for the rematch.
"I think our serve receive really has to be good so that we can move our offense around," Siebler said. "I think that makes our offense really efficient and we have a lot of big guns. [Millard West is] a very explosive team and they have a lot of good hitters. We have to slow the ball down, get good touches on the block and be aware of where their hitters are and know that they're beatable. I feel like a lot of teams might be scared of them because they're ranked No. 2 or whatever, but I think they're beatable. I definitely think that if we play how we did [against Lincoln Southwest], or even better, then we can beat them."
Just two days after their win over the Silver Hawks, the Warriors made the trip back to Lincoln. After an hour delay, the game finally started and it was clear that neither team was going down without a fight. Similar to the quarterfinal match against Lincoln Southwest, Westside and Millard West were split at two sets apiece, sending the match to a fifth and final set. After a lot of intense back-and-forth, the Warriors fell to the Wildcats 15-12. The unfortunate loss meant the end of the 2021 season and the end of Siebler's high school volleyball career.
"
As a group, we're so powerful together and I have no doubt that next year we'll be great."
— junior Destiny Ndam-Simspon
"I knew it would be tough, they're the No. 2 seed for a reason," Siebler said. "I think when it came down to it, the ball just didn't fall our way. It really could've gone either team's way. Our serve-receive struggled a little bit and we struggled putting the ball away in some crucial moments. Going in, we were all confident and we knew that we could take them on and play them close."
Despite the loss, coach Bowers felt that her team was the obvious winner in terms of chemistry and family.
"There was no doubt in my mind going into the match that we were the best team," Bowers said. "I'm not saying we're the most talented or anything. We just love each other, we play for each other, and typically that gets you the win. It was back and forth, and in set five, there was no doubt in my mind that we were going to win. Sometimes the ball doesn't fall your way. In the end, I'm proud of these kids and I love them. A lot of tears were shed in the locker room tonight but all in all, what a great season we had."
Westside outside hitter Destiny Ndam-Simpson will return next year alongside four other starters for her senior season. The University of Hawaii recruit is confident that Westside's 26-12 record in 2021, was just the beginning.
"We grew with our grit this season," Ndam-Simpson said. "With a team like Millard West, I think we out-teamed them. We might not have won, the scoreboard said whatever but I think we out-teamed them. As a group, we're so powerful together and I have no doubt that next year we'll be great."
Your donation will support the student journalists of Omaha Westside High School. Your contribution will allow us to purchase equipment and cover our annual website hosting costs.
About the Contributor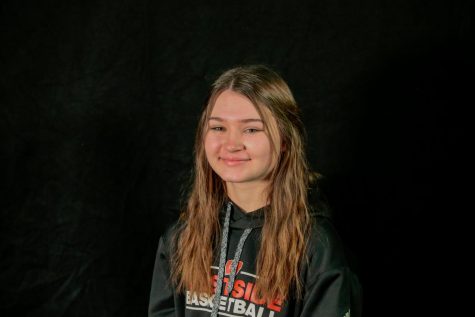 Zoe Gillespie, Sports Photographer
Hi, my name is Zoe Gillespie! I'm a sports photographer for Sports Journalism this year. I'm a junior and this is my third year in Sports Journalism. If...