Westside Freshman Wins Pediatric Hero Award
Westside freshman Sarah Weiss recently was awarded the Pediatric Hero Award by the American Stroke Association. According to the American Stroke Association's website, the award "Honors an individual younger than 18 who has survived a stroke and overcome significant hurdles and whose family has used its experience to educate, inspire, and bring awareness to stroke." A stroke survivor and advocate for stroke awareness, Weiss meets these credentials flawlessly.
When Weiss was 11, a brain condition caused her to have a stroke during swim practice. However, after intense physical therapy and hard work, Weiss has regained most use of the right side of her body. Weiss' mother Kim Weiss explained the brain condition that led Sarah Weiss to have her stroke.
"She has a condition called arteriopathy in her brain, which basically means she has pinched arteries in her brain that doesn't allow the blood to flow easily to the brain," Kim Weiss said. "If the blood gets caught up in one of those pinches then it causes a stroke. But since she has been diagnosed with that, she has been on all the right medication and she has not had a recurring stroke."
Sarah Weiss explained what the award means to her.
"It's for kids who have, obviously, had a stroke or a heart attack that have done a really good job of spreading the word about awareness for stroke awareness and heart awareness," Sarah Weiss said. "Just doing a good job of advocating for others who have had a stroke that haven't had the chance to get the word out there."
Sarah Weiss said that the local American Heart Association nominated her for the award without her knowledge.
"So, I didn't apply, but this lady at the American Heart Association put my name in, and we didn't even know that she put my name in," Sarah Weiss said. "This lady from Texas called my mom and was like, 'Your daughter won this award,' and she was like 'What?' So we had no idea that I was entered in."
Sarah Weiss said she was very excited to be honored with an award eligible to people across the country.
"It's a national [award], so people all over the United States applied for it," she said. "I was really excited."
Sarah Weiss explained how she spreads awareness about strokes to others throughout her community.
"I'm the stroke ambassador for this Project Lifeline that the American Heart Association has on their website," Sarah Weiss said. "And I was also featured at the Heart Walk two years ago and featured at the Go Red for Women event last year. I spread awareness about my story [and] I tell my story to a bunch of groups of people to spread awareness about strokes, and how it not only happens in older people, which is the stereotype."
Kim Weiss explained some other ways that Sarah Weiss has been an advocate for stroke awareness.
"She has designed cards and bookmarks, she has gone to events and told her story, and then she likes to teach people the FAST signs, which are the signs of a stroke," Kim Weiss said. "An example of that would be at a UNO volleyball game she spoke at an intermission. She's made Instagram videos about FAST, she's spoken at American Heart Association events, she's talked on the local news; basically, anyone who wants her to talk about it or do something for it, she'll do."
According to Kim Weiss, the biggest challenge of dealing with the effects of a stroke is the mental challenges that come with it.
"I think the mental part is probably the hardest part, and I think that's probably true for a lot of stroke survivors," Kim Weiss said. "I wish she would talk about that more because I think there's lots of teenagers who feel that way, but I get that it's hard to talk about."
Kim Weiss explained what a stroke can look like and why it is important to get help when suspecting a stroke.
"The signs of a stroke are FAST: face drooping, arm weakness, speech difficulty, time to call 911," Kim Weiss said. "The best that you can do is call 911 immediately, because the faster that person can get care, the better off they'll be over the long term because doctors can do amazing things for people that are having strokes now, so time is so important."
Kim Weiss gave her main advice to anyone suspecting the symptoms of a stroke.
"Never be embarrassed," Kim Weiss said. "I always tell people if you call 911, what's the worst that could happen? 'Nothing's really wrong,' well that's pretty good news, so never be afraid to call 911."
About the Contributor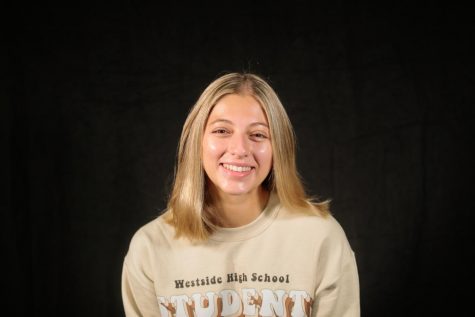 Ainsley Meyerson, Wired Managing Editor
Hi, my name is Ainsley Meyerson! I am a managing editor for Westside Wired this year. I am currently a junior and this is my third year on Wired. A fun...