Westside Boys Golf Looks to Grow in Back-Half of Season
The Warriors boys varsity golf team had a tough showing in Fremont as a team, Jacob Hellman and Connor Radde placed themselves in the top 15. However, just three days later the Warriors had another tournament and placed 4th overall as a team and they also had three golfers in the top 15 on the scorecards. Jacob Hellman shot +4 with a total of 76. Connor Radde and Kolby Brown shot +6 with a total of 78. Junior, Kolby Brown is very pleased with how his tournament went individually and how the team came together to place highly in the scorecards. 
"The past tournament was a good confidence booster for me individually, I felt like I stayed in the moment especially with the tough conditions we played in," Brown said. "I know as a team that was a big step in the direction we want to go. It is pleasing to see those results but we know we have a lot more to work on." 
The team had a lot of days off but then had to go into two tournaments within five days of each other, which is something the Warriors aren't very familiar with this season. 
"We all just needed to take a step back and relax to be honest," Brown said. "We all know what we're capable of, we just have to go perform when we have the opportunity to do so. We took the weekend to focus on our game and get confident." 
The weather conditions this past tournament caused a lot of discomfort for all the golfers as it was not like your normal April where you might find some higher temperatures in Nebraska. 
"The conditions were tough, we knew that from the start and just accepted it and honestly had fun with it," Brown said. "It did take a lot longer than a normal round would be. Taking jackets off and putting them on in between shots along with winter gloves, it was definitely a grind out there." 
This past tournament senior and Iowa Western golf commit, Jacob Hellman did the best out of all the Warriors placing 9th individually this helped the team place fourth as a team. 
"It gives us confidence to know that we can compete with the best teams in the state," Hellman said.  It was great to see my teammates out there battling for each other through the tough conditions." 
After the split showing in their last tournaments, the Warriors will now head off to Columbus where they look to continue their momentum of playing well from their last tournament. As we get further into the season the team will continue to clean up mistakes and perfect their game as much as possible in practice. 
"We have been focusing mostly on our short game because we know that's where we can pick up the most shots throughout the round," Hellman said. 
The Warriors are familiar with tougher conditions so they should be prepared for what they have in store at their next tournament. 
"We are looking at windy conditions like what we have seen so far this spring and a possible chance of rain later on in the round. We will come to the tournament mentally prepared and focused to play in any conditions." 
The team will head out to Elks Country Club in Columbus on Thursday, April 22nd. They will face off against the Discoverers and others as the team inches closer to the state tournament.
Your donation will support the student journalists of Omaha Westside High School. Your contribution will allow us to purchase equipment and cover our annual website hosting costs.
About the Contributor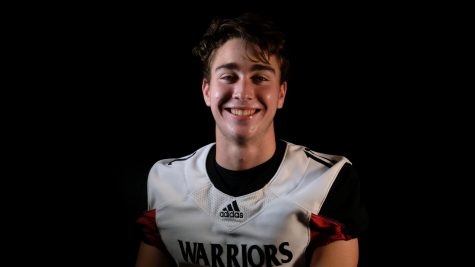 Tristan Alvano, Sports J Writer
Hi, my name is Tristan Alvano. I am a writer for Sports Journalism this year. I am a sophomore and this is my second year of Sports Journalism. If you...