Warriors Slay the Dragons for the First Time in 12 Years
The Omaha Westside Warriors volleyball team beat the Gretna Dragons 3-2 on Tuesday, Sept. 8. This was a home game for them, and they took sets 2, 3, and 5 to come out on top. Head coach Korrine Bowers feels confident about her roster and future wins within the season.
"Winning is a big thing and once you get that big win under your belt, it makes things a lot easier, especially with the girls we have on the team. We have a full roster of 14, it's good to have a competitive environment at practice," said Bowers
The Warriors volleyball team decided to practice on Labor Day before their big game against Gretna. The Warriors head coach said they felt they came out of that practice more mentally prepared. Working on all kinds of little things that will help them finally beat the Dragons for the first time since 2008.
"We practiced on Labor Day, a two hour practice, and, long story short, we came out of that practice a more mentally tough group. We challenged them mentally at the serving line. We challenged them mentally with a bunch of ball control drills that they had a hard time completing," Bowers said. "We ran a lot coming off of that three-day break. The girls learned that if they're going to accomplish anything this year it has to be done as a team. And after that practice I think we actually became a team."
Junior starter Madilyn Siebler, who earned player of the game, had a phenomenal performance with 23 kills, seven digs, and three aces. 
"It's easy to look at the stats and say I had a great game, but overall this was a team win," Siebler said. 
Having such a young team, Siebler feels it could take a little while getting used to playing with each other and finding that chemistry between them.
"I think we're finally at a point of trusting each other and getting more mentally tough," Siebler said. "For me, it was all about shaking off a bad play and refocusing to get the next point. I wasn't locked in during the first set compared to the last set, and you could see that in my play. In those long games it's important for me to stay in it mentally the whole time."
 Siebler and the Warriors have had non-stop hard work and high competitive practices waiting to hold up that trophy down at the Pinnacle Bank Arena. 
"[Siebler] not only leads by example but leads by her voice, and I think the girls are finally starting to listen to her. I was so busy trying to change some things, making some game time adjustments, I didn't realize how much Maddy dominated that game. Kill after kill after kill. She definitely earned player of the game," Bowers said.
The Warriors played a home game against Lincoln Southwest Thursday, Sept. 10, and lost a close one, with 3-2 being the final score. They now will take the bus ride and face off undefeated Elkhorn South on Tuesday, Sept. 15, at 7 p.m. 
About the Writers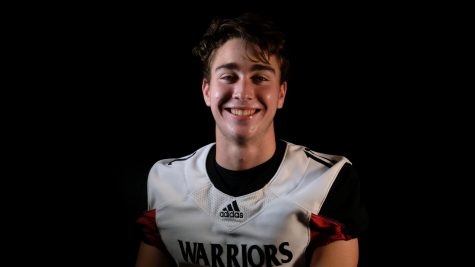 Tristan Alvano, Sports J Writer
Hi, my name is Tristan Alvano. I am a staff writer for Sports Journalism this year. I am a freshman and this is my first year of Sports Journalism. If...