OPINION: Why Bernie Sanders Is The Best Candidate For President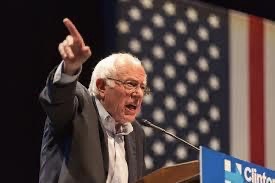 With the first four presidential primary contests in the books, Democratic Vermont Senator Bernie Sanders holds a 60-54 delegate lead over his runner-up, Joe Biden. Sanders is currently surging in the polls; even a few days before his decisive 26-point win in Nevada he held a 18-point lead in a poll conducted by NBC and the Washington Post. After winning the first three contests, Sanders has undeniably strong momentum. 
Sanders's platform holds a wide and powerful appeal. His message of democratic socialism and social freedom appeals to many, especially now that much of what was considered too extreme during his 2016 run is now on the standard party platform. His base extends to all groups and demographics, cementing him far from "radical" that the democratic establishment has claimed him to be. In fact, Sanders has recently won huge majorities of latinx voters.
Sanders's campaign is not only about "Bernie," it's about the entire idea of capitalism, and whether America is ready to put an end to capitalism. The Democratic primary, and the general election (if Sanders wins the nomination), is a referendum on whether the failures of capitalism are enough to end its control of the country.
The tax plan that the "Self-Declared Socialist" is promoting will save tens of thousands of lives through medicare for all. His college plans will erase student debt for everyone, and most importantly, he will aggressively fight climate change.
Bernie's message of positivity and justice sharply clashes with Donald Trump's plans of racism, sexism and runaway capitalism. He will slam the brakes on Trump's momentum in the Midwest and appeal to the working-class voters that Biden, Warren and Bloomberg would alienate.
All of these are good reasons to support Sanders, but the best is his ability to change when the times demand it. Sanders voted against gun control measures when they were not supported by the public, then supported it when they were. This doesn't show a "flip-flop", despite what Mike Bloomberg and Joe Biden want voters to think. It shows an ability to truly represent the people, not repeatedly disrespect them like Trump has. 
Another example of Bernie's respect for the people is that he defended Hillary Clinton from attacks on her emails. During a debate in the 2016 race, he famously quoted that the people were tired of hearing about "her damn emails". Despite the fact he could have used the email server scandal against her, he did not–in the interest of the people. 
With the looming threat of Russian interference, America needs a Democratic candidate who will win by landslide. It needs to be absolutely unbelievable for Trump to win, lest he collude with Russia and attempt to disrupt an election once again. And if the Democrat candidate wins, it is rather obvious that Trump will attempt to cast doubt on the legitimacy of the results. Only the clear, convincing landslide Sanders will bring can provide safe and sure results.  
If you want to support Bernie, you can vote in the primary in Nebraska in May and the general election in November if you are 18 years or older. If you are not, and want to support Sanders, you can volunteer to make phone calls, send texts, or knock on doors at BernieSanders.com. 
Your donation will support the student journalists of Omaha Westside High School. Your contribution will allow us to purchase equipment and cover our annual website hosting costs.