Westside Sophomore Receives Greater Omaha Sports Committee Award
Westside sophomore Kaitlyn Hanna, the two-time state champion in Girls Golf, received the Greater Omaha Sports Committee Fall Scholar award on Wednesday, Jan. 29. The award is presented to varsity athletes who also excel in academics. According to Hanna, she was not expecting to win.
"When they told me I had to fill out the sheet I was hoping I would win the award," Hanna said. "Then, [when] I found out that I won, I was really surprised."
Westside Athletic Director Tom Kerkman said he was hopeful Hanna would receive the award since they nominated her for it.
"You always hope the students we nominate end up being recognized for their accomplishments," Kerkman said.
Kerkman said that he and the rest of the coaches are very proud of Hanna.
"Just like anyone else, just happy for her, her family, her teammates and coaches," Kerkman said. "They put in a lot of work and it's nice to get recognized."
Hanna said she is typically able to make time for schoolwork during golf season. 
"[I'm] pretty good about getting my homework done before tournaments," Hanna said. "So [getting behind in schoolwork] doesn't affect me."
Although Hanna said she is currently successful in staying ahead of her school work, she anticipates more stress with balancing both golf and schoolwork in her upcoming years of school.
"[Going into] junior and senior year, it will definitely be more challenging [balancing practice and homework] with harder courses," Hanna said. "But I think it should be manageable."
Kerkman said Hanna has worked very hard to win this award.
"It's a combination of athletic achievements, grades and community service," Kerkman said.
Hanna said she has practiced a lot and worked hard to be eligible to win this award.
"I've done a lot, not just in school but outside of school," Hanna said. "I stay after practice, practice at home and meet with my coaches. [I] just work hard."
Hanna said she hopes to continue to improve in golf in future seasons.
"[I want to continue to] do my best and not let other people affect me," Hanna said.
About the Contributor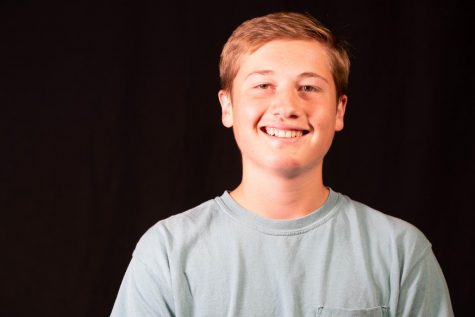 Peter Collins, Wired A&E Editor
Hi my name is Peter Collins! I am the Arts and Entertainment Editor for Westside Wired this year. I am currently a sophomore and this is my second year...