Westside School Resource Officer Receives Award
Westside High School Resource Officer Jeff Kilgore recently received a Police Lifesaving award for the actions he and another policeman took on Sept. 6, 2019 to save an individual's life at a Westside football game. According to Kilgore, the incident was far from a one-person job. 
"The beauty of the whole thing was the teamwork," Kilgore said. "When I left to get the ambulance another cop came right in and started CPR. Teamwork is everything when it comes to stuff like that; everybody knew what to do."
Kilgore said he and the other officer had to take action fast and that there was no room for error.
"[The situation] was very urgent," Kilgore said. "The [individual] was literally deceased for over six minutes. We got CPR started early, and we got the AED on [them] pretty quick. If we wouldn't have done early CPR and gotten the AED in a timely manner, then things could have been a lot different. A lot of things had to go right that day and they just did."
Kilgore said the incident was different than others he has experienced, as the victim was a Westside parent.
"Usually as a police officer you make a save – and it's cool for a day – but you never really see the victim anymore," Kilgore said. "In this particular instance, the victim is a Westside parent. Every time she's around she always comes up and says 'hi.'"
Westside Director of Communications and Engagement Brandi Paul said that she is very proud of the actions performed by Kilgore and the other school resource officer, Negrete.
"They are just incredible professionals," Paul said. "In a horrible situation where things could've gone very badly, they kept their calm, kept their professionalism and they saved someone's life. Knowing that we have one of the best police officers in our school protecting over 2,000 students and staff is very comforting, and we are very proud that officer Kilgore is on our team."
Paul said Kilgore has great character and always goes above and beyond, especially at Westside.
"[Kilgore] goes out of his way to form relationships with our students," Paul said. "He's not there to punish [you], he's there to make your life better. It speaks volumes that [Kilgore] is not content just sitting [and] waiting for something to happen, he's trying to prevent things from happening in the first place, which is really something special."
Kilgore said he's not a big fan of receiving awards for things officers are supposed to do, but he did learn many things from the incident. 
"[From the incident], I learned that in this job you've got to be ready for anything in a moment's notice," Kilgore said. "I also learned to trust my training; I knew exactly what to do when [the incident] happened."
About the Writer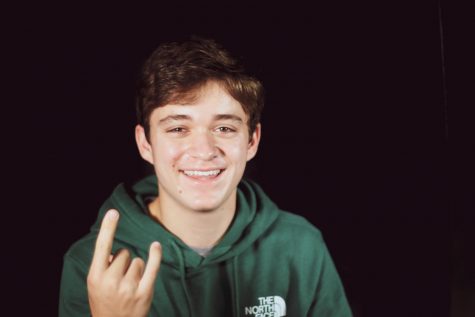 Benjamin Kutler, Wired Managing Editor
Hi, my name is Benjamin Kutler! I am a Managing Editor for Westside Wired this year. I am currently a junior and this is my third year on Wired. If you...