Senior Football Player Walks On to Lincoln
Earlier this morning, senior Grant Tagge officially signed with the University of Nebraska at Lincoln. With the recent NCAA rule change in 2017, Tagge was given the opportunity to sign during the early signing period compared to National Signing Day which will occur on February 5th. 
Tagge, who had a scholarship offer from Northern Illinois, decided to walk on at Nebraska relatively early in his high school campaign. Just under a year after playing at Memorial Stadium for the Class A state championship game, Tagge will have the opportunity to step on the field as a Cornhusker. Although Tagge has been committed to the team for multiple months now, he felt today sealed the deal thanks to a lot of hard work throughout the past few years. 
"It was really exciting. Obviously, I committed pretty early so I've had to have been ready for a while," Tagge said. "It's really good to finally have it all done and now I'm officially apart of the team so I'm ready to get going."
 Tagge participated in punt return, wide receiver, and outside linebacker duties at Westside but will specifically compete for the outside linebacker at Nebraska. With 12 returning players at outside linebacker, eight of which being underclassmen going into next year, Tagge will have a lot of competition. At Nebraska, Tagge hopes to end up getting a starting role on the team but knows that going up to that level is an adjustment.
"A lot of it is just getting ready for the next level of competition. Everything's a little bit bigger, faster, so [I] gotta get stronger. I'm really excited to contribute any way I can and hopefully at some point that ends up putting me on scholarship."
In the past ten years, the Warriors have had over 50 of their former players head to play college football. For Head Coach Brett Froendt, Tagge's story is a little different than other players' in the past. 
"We had a big part in his development but I also think he's played a big part in [the] development of our program and that's what we're really proud of him for," Froendt said. "Not just where he is going to go play but we're just proud of what he's helped our program become and helped us achieve a high level of football."
Being a Division I athlete requires a lot of talent and physical ability. Froendt felt that although Tagge has those qualities, there's one part of Tagge's game that will truly give him an edge over some other players.
"His intelligence. He'll be able to adjust to schemes, learn the playbook, pick them up fast, retain, adjust and that's what a lot of players can't do," Froendt said. "There will be more talented players than Grant at Nebraska but he can win over through his work ethic and his intelligence."
About the Writer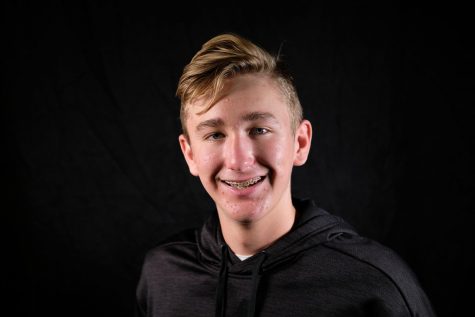 Jaden Taylor, Sports J Editor
Hi, my name is Jaden Taylor! I am a staff writer for Sports Journalism this year. I am currently a sophomore and this is my second year on Sports Journalism....