Former Westside Teacher Initiates Relationship Between Local Business and Marketing Class
Former Westside social studies instructor and boys varsity soccer coach John Brian, now working for the local real estate company Exceptional Properties Group, recently contacted Westside High School business instructors Brad Metzler and Kalen Carlson, presenting them with a possible business relationship between Westside marketing students and the real estate group. Brian said that he thought this opportunity would be beneficial for both the students as well as the company. 
"[Former marketing instructor Sarah] Schau always used to say that, you know, they do these marketing projects, and sometimes it would be really good if they had a company that would say, 'hey this is what we are, can you do this kind of thing,'" Brian said. "So I just thought that it would be something, since I just started real estate, that it would be eye opening not only for the students to figure out how to market something, but it's also helping us try to figure out how students think and what we should be doing as a company."
The project is being completed by Marketing 2 students, and is expected to conclude shortly before Thanksgiving. Carlson, being the current and sole instructor for the Marketing 2 course, explained what the project entails. 
"In Marketing 2, they're all doing the same project, and it's a marketing plan for Exceptional Properties Group," Carlson said. "Basically, it's a small real estate firm, the broker is actually a 2007 Westside grad, [Steven Ward], and they do a lot of work in Westside, and, basically, their end goal is 'how do we get more exposure as a small, growing company, going up against NP Dodge and Berkshire?' They have a very small marketing budget, so they want the students' ideas, and so the students don't have to do the marketing. They just have to put the plan together and say, 'this is how to do it.'"
Carlson said that the project is an important real-world experience for the students and uses skills that they have previously learned.
"I was kind of looking for a project-type thing, [because] first quarter we spent a lot of time on, like, leadership and figuring out what your strengths were," Carlson said. "Tying that back into a group project that is directly related to marketing and kind of let students figure out how to use their strengths in a group setting [is important] because, especially with this, it is a big project, and they are going to pitch it, so there will be disagreements with stuff."
Brian said that collaborating with Westside High School marketing students on this project was a clear decision for him. 
"Westside is the community in which our company is based," Brian said. "So it makes sense [to get involved with the high school]. If we were located in the Millard district, maybe we would have gone to a Millard school, I don't know, but having the connections that I have with Westside, having the connections I have with the teachers at Westside, having connections with the students at Westside and being based in this area, it was a no-brainer."
Senior Kesheen Curtis, a student in Marketing 2, said that he believes that working and getting involved with a local business will benefit marketing students. 
"[The project] just helps us understand what marketing really is about," Curtis said. "Instead of just, like, learning and taking notes and not actually getting involved, [the project is] just like an actual marketing project, so I think it's actually beneficial that we're doing this with an actual company."
Brian's teaching contract at Westside High School was terminated in early May of 2019, after the Westside School Board provided Brian with a personnel hearing which he requested. Brian said that he has moved on from this event, and that he wanted to involve marketing students with this project because he believed it would provide a new perspective on how to better market real estate companies; Exceptional Properties Group in particular.
"My contact with Westside . . . what's happened has happened. It's water under the bridge," Brian said. "It wasn't any way of getting back at Westside or trying to force my way in. The thing with this [project], is that I just thought all of the stuff I've been learning from real estate classes, everything was kind of stale and old and there wasn't a lot of imagination. When I was doing my real estate license, when they would talk about marketing, [I was] sure there has to be a different way of doing things; people must have a better idea. I've always seen some of the creative things that Westside has produced in the marketing classes."
Carlson said that she was not concerned with forming the relationship between the real estate group and her class despite Brian's teaching contract being terminated last school year.
"My only hesitation was that I didn't want to start it and have somebody come in and be like, 'no you can't do this,' because of that aspect of [Brian's teaching contract being terminated]," Carlson said. "My thought process was it's directly related to marketing, it's for a company, it's not, like, called 'John Brian's Real Estate Company.' It's Exceptional Properties Group, and he just happens to work for them."
Carlson said that she believes this project will help students better their marketing knowledge and skills, as well as learn how to market themselves for potential job opportunities.
"I'm hoping that if they go into college into a marketing area, they'll have some experience already doing this, or just it's in good in general, because if you can learn how to market a company like this, it makes it a lot easier to market yourself, too," Carlson said.
Brian said that he hopes through the project the students will gain a better understanding of how real world marketing situations operate, as well as provide his company with an improved marketing strategy that could positively impact the local community. 
"I hope that the students walk away with a new understanding and appreciation of how to make something work like this in the real estate world and understand, you know, the budgets and everything else if they were running a marketing company; that was something that they might not always see," Brian said. "For us, I hope it gives us a new strategy to be even more successful than we are, and give back something into the community."
Your donation will support the student journalists of Omaha Westside High School. Your contribution will allow us to purchase equipment and cover our annual website hosting costs.
About the Contributor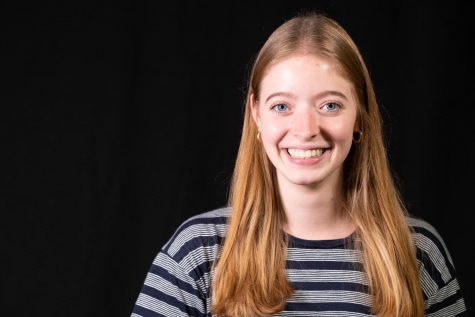 Claire Benson, Wired Co-Editor-In-Chief
Hi my name is Claire Benson! I am the Co-Editor-in-Chief for Westside Wired this year. I am currently a senior and this is my third year on Wired. If you...