Westside Superintendent Makes Adjustments To Phelps Field's Champions Plaza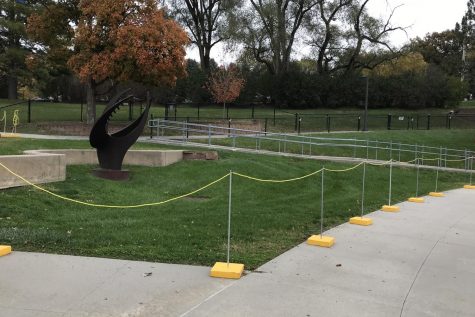 Westside High School's Phelps Field, which hosts sporting events year round, features an area towards the north end of the stadium known as Champions Plaza. This area showcases former talented Westside athletes and is home to restrooms, picnic tables, and several walkways leading to the stands. Westside Community Schools Superintendent Mike Lucas has recently made some adjustments to the area for the remaining "home" football games of this school year. Several security guards are to be stationed in and near Champions Plaza to reduce the congested crowds that often gather there, usually being younger Westside middle and elementary school students.
"We're [going to] have some security guards up there at the north end of the field at Champions plaza just to help keep that area open for people to be able to get to the restrooms and the concession stands," Lucas said.
Lucas said that the security guards will be provided by a private company that Westside has worked with in the past.
"It's a private company that we're [going to] try Thursday night," Lucas said. "They provide security at different events throughout the year. Westside, it's my understanding, has a relationship and has used them before for different things."
Lucas said that bringing more security guards into the area will help reduce the amount of younger students loitering, and will provide other individuals attending the game an easier experience trying to get to and from restrooms or the concessions stand.
"We've noticed the first couple of home games that we've had this year that the area becomes very congested," Lucas said. "There's a lot of middle school, elementary age, and even high school [students] running around and causing some congestion and making it difficult for our parents and grandparents and folks to be able to get to and from the champions plaza. We're bringing in some additional help to supervise that area and make sure that our students are in the bleachers watching the game with their family or their friends so that the Champions Plaza area is less congested."
Westside Athletic Director Tom Kerkman said that Westside's large crowds at football games already cause the Champions Plaza area to become hectic; younger students visiting and using the area for unintended purposes simply adds to it. 
"When we had over 5,000 people for the Creighton Prep game, I mean that's an area that gets very busy," Kerkman said. "When you have adults and high school kids trying to go over to the restrooms or over to the main concession stands, you're talking volumes of people. And when we have thousands of people, [younger students that are loitering] becomes an issue."
Lucas said that he has heard from several people that they avoid Champions Plaza during football games, due to how crowded it often becomes.
"What [our] main objective is to just Champions Plaza to be easily accessible for people to get through," Lucas said. "We're so lucky at Westside to have a lot of grandparents, a lot of retirees and folks, that come and support our activities, and I've heard from a lot of them throughout the season how some of them just don't even try to get through [Champions Plaza] at all during the game because they're afraid of how chaotic it is." 
Lucas said that all Westside students are welcome to attend events at Westside High School, but he believes some students behave in a manner that does not fit Westside's expectations.
"We really just want it to be a great environment," Lucas said. "Please don't get me wrong, we want the middle school and elementary kids to be there but if you're [going to] come to an activity come to sit and watch and enjoy the activity, it's not just a recess or free for all where you get to just do whatever you want. We're trying to represent Westside in the best manner possible with everything we do and that includes a fan experience that we provide [not only] for our folks [but] visitors as well."
Lucas said that encouraging appropriate behavior from students will provide a more enjoyable experience for everyone in attendance.
"We've had some fights [at Champions Plaza] and kids running around yelling and cussing and things like that, and that's not what it's about, that's not what we want people to associate Westside with," Lucas said. "We want people to enjoy coming to our events, we want people to feel safe at our events, and we want to support our concessions stands."
Kerkman said he thinks these adjustments will also help increase safety within the stadium.
"It just makes things safer, you know, in terms of safety; kids not getting lost, if parents can't find them," Kerkman said. "I hope it works well, it's an issue we've been trying to work with, we hire also a number of faculty to work over there to kind of watch that area, too. The more the merrier; we'll probably have, counting the new security guards, seven officers at a game now, we'll have probably five other faculty members there." 
Lucas said he hopes the adjustments made to the Champions Plaza area go smoothly and give administrators an idea as to whether or not to continue these changes for events in the years to come.
"We think it's worth a try," Lucas said. "We'll see how it goes Thursday night and hopefully for a couple of playoff games, and that will help us decide what we need to do next year; whether we assign Westside staff members over there, or whether we stay with security, we're just not sure. But we felt like this was a good time to try out some sample solutions to not only help us at the end of this football season but to help us plan for next year as well."
Your donation will support the student journalists of Omaha Westside High School. Your contribution will allow us to purchase equipment and cover our annual website hosting costs.
About the Contributor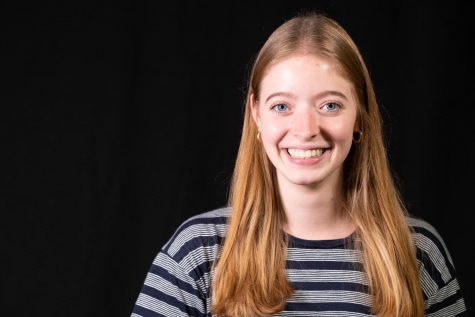 Claire Benson, Wired Co-Editor-In-Chief
Hi my name is Claire Benson! I am the Co-Editor-in-Chief for Westside Wired this year. I am currently a senior and this is my third year on Wired. If you...