Westside Student First to be Injured on Lime Scooters
Omaha Mayor, Jean Stothert, recently approved the six month pilot program for electric scooters by Lime to be implemented into areas of downtown Omaha. Westside sophomore Abby Schreiber was riding one of these electric scooters last Friday, May 17, when she dislocated her ankle and broke her foot in three different places. Schreiber is the first person to be injured on the scooters, happening only two days after they became available to the public.
"I was riding one of the lime scooters they got downtown," Schreiber said. "I was in midtown and I was turning and trying to get out of the way of a car and I fell over and broke my foot."
Schreiber said the incident occurred around 4:45 p.m. and describes her initial reaction as being shocked.
"I was kind of freaked out," Schreiber said. "My foot was literally facing sideways, my feet were literally perpendicular to each other. I've never broken a bone before so I was spooked, I guess."
Schreiber said she had a few friends with her that called an ambulance and brought her to safety.
"I had some friends there with me, so they called an ambulance and got me out of the middle of the road and made sure I was ok," Schreiber said.
Sophomore Lilly Storm, who was with Schreiber when the accident occurred, said that she did not initially think Schreiber was seriously injured.
"I thought it was an overreaction [at first] but then I saw her ankle and saw her on the ground and I was like, 'oh no'," Storm said.
Storm said she took part in getting Schreiber out of the street, which is when she realized the extent of Schreiber's injuries.
"I had to go up to [Schreiber] and get her and then call 911, and I was like 'oh this is bad,'" Storm said. "[Schreiber's] ankle was out; it looked like the bone could have popped through."
Schreiber had to undergo surgery this morning, Wednesday, May 22, to deal with the damage caused by the fall. For future riders of electric scooters, Schreiber said she would advise them to follow the guidelines set in place and stay balanced while riding them.
"Make sure that you're actually over 18, because you're supposed to be over 18 but I didn't really care," Schreiber said. "Make sure you have good balance before you do it, because I never even learned how to ride a bike, so I have poor balance."
Your donation will support the student journalists of Omaha Westside High School. Your contribution will allow us to purchase equipment and cover our annual website hosting costs.
About the Contributor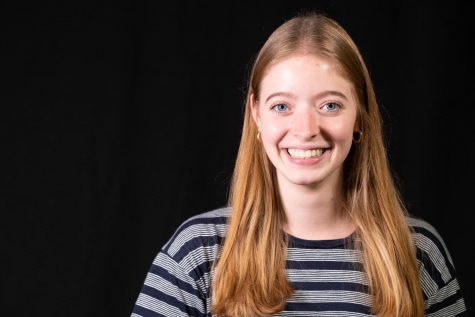 Claire Benson, Wired Co-Editor-In-Chief
Hi my name is Claire Benson! I am the Co-Editor-in-Chief for Westside Wired this year. I am currently a senior and this is my third year on Wired. If you...