Board Decides to End Brian's Contract
"I have to abide by the board's decision, I asked for the hearing," said Social Studies instructor John Brian in an exclusive interview with Westside Wired. "Westside's a special place. I'm disappointed. I wanted to help my team next year, [and] I'll be disappointed for all the students I won't see graduate and move on."
Brian was speaking after the Westside School Board unanimously voted to uphold the decision to terminate his contract early Thursday morning, May 9.
Brian, who has also served as Boys Varsity soccer coach, was given a personnel hearing Wednesday, May 8, that lasted from 8:30 a.m. until after 10:30 p.m. The hearing was requested by Brian. In early April, Brian was informed that his teaching contract would not be renewed for the 2019-2020 school year. The hearing in front of the board was an opportunity for the board to reverse or confirm the decision regarding Brian's contract.   
Brian said the decision to terminate his contract after 20 years at Westside is not the outcome he expected for his career.
"It is what it is," Brian said. "It's not quite where I thought my career was going to end."
The Westside Board of Education was represented by attorney Karen Haase. Westside administrators were represented by attorneys Margaret Hershiser and John Lingelbach. Brian was represented by an attorney, as well–Westside alumna Alexis Mullaney.
Attorneys Hershiser and Lingelbach, as well as witnesses such as Kim De La Cruz, a current assistant principal at Westside, and Enid Schonewise, assistant superintendent for Human Resources, highlighted incident reports in which they said Brian had acted in an unprofessional as well as inappropriate manner. Many of these were mentioned in the board's proposed findings of fact that they considered while voting whether to continue or terminate Brian's contract.  
Haase stated multiple reasons for Brian's contract to not be renewed when the board's decision was given after more than two hours of deliberation. Some of the reasons she stated included:
During the 2015-2016, 2016-2017, 2017-2018, and 2018-2019 school years, Brian repeatedly engaged in inappropriate and unprofessional behavior towards students and staff members. Issues included Brian making derogatory comments about a female student's physical appearance and comments about a student's sexual orientation in front of other students. Haase also noted Brian used sarcasm inappropriately with students and members of the administrative team. She said "Although other staff do occasionally use sarcasm, Brian's use of sarcasm was repeated and he persisted in using sarcasm despite when he was specifically instructed by his supervisors to stop."

On multiple occasions, Haase said, Brian made inappropriate comments about special education students, including asking special education staff, "Can you please sanitize the area so those kids don't reproduce." While testifying, Brian said he did not recall making this comment.

During the 2018-2019 school year, Brian was placed on an intensified improvement plan to assist him in improving his professional behavior. This was due to several incidents found unprofessional, Haase said, including but not limited to: his loss of emotional control as well as cursing and throwing a weight in front of students in the weight room. According to administrators, Brian failed to improve his professionalism.

In February of 2019, Brian removed a student from Westside High School during the school day to take the student to get a haircut without parent permission or administrative permission given. Haase said these specific actions contradict board policy and the protocols of Westside High School.
Brian requested the hearing, stating in a letter to the board that Westside Assistant Superintendent for Human Resources Enid Schonewise as well as Westside High School department chair for Health and Physical Education Sally Shepherd  have been inappropriately targeting him which has caused his position at Westside to come into question.
Both Shepherd and Schonewise took the stand during the hearing, and both testified that Brian's behavior within Westside has been unprofessional and inappropriate.
According to Brian, an incident occurred between Brian and Shepherd's son, Jackson Shepherd, in February of the 2015-2016 school year, where Brian "embarrassed" Shepherd and caused Sally Shepherd to develop animosity towards Brian. While testifying, Sally Shepherd and Brian had vastly different versions of the same incident.
After the closed session occurred and the members of the board reconvened with the attorneys, Haase said that the board is aware and grateful of the positive support Westside individuals have shown for Brian.
"The board of education knows that Brian has been effective in forming positive relationships with many students," Haase said. "Mr. Brian has also been effective in performing his duties as a soccer coach. The board appreciates the supporters of Mr. Brian who have shared their positive experiences with him."
However, even with the support shown for Brian, Haase said, that the board found that Brian failed to meet Westside's standards.
"The board of education finds that Mr. Brian has failed to meet the expectations and standards for the professional performance of a teacher at Westside Community Schools," Haase said. "Mr. Brian has neglected his duties as a teacher at Westside Community Schools, has acted unprofessionally, been insubordinate and acted in an incompetent manner."
Junior Jarrett Mitchell-Ray, the student whom Brian took to get a haircut, was called as a witness to testify on Brian's behalf. Mitchell-Ray said that he had a positive, as well as respectful, relationship with Brian which prompted him to testify.
"He was [most definitely] a [positive role model in my life]," Mitchell-Ray said. "He is the funniest teacher. He's a humorous teacher, so you can go to him any time when you're down or you're happy."
Mitchell-Ray said he believed that Brian taking him to get a haircut was not an inappropriate action and that Brian's contract should not have been endangered because of it.
"I was really disappointed [to hear about Brian's termination], honestly, because it's just a haircut," Mitchell-Ray said. "I can see if he was going other places besides getting a haircut, but we stayed at Rockbrook Village, which is down the street from the alternative school."
Mitchell-Ray said he felt obligated to testify on behalf of Brian.
"He was helping me out," he said. "And I, basically, almost got him fired, so I had to put my two cents in."
Sophomore Rhyan Hughes, involved in an incident with Brian where he reportedly made a derogatory comment regarding her physical appearance, was also a witness called to testify on behalf of Brian. Hughes said she does not believe Brian deserves to lose his job and that Westside will not be the same with his absence.
"I don't think he deserves to lose his job for doing good deeds, especially since Westside's motto is #BeKind," Hughes said. "The social studies IMC will not be the same if he's gone. He's one of the best social studies teacher and helps with so many students."
Hershiser and Lingelbach referenced on numerous occasions during the hearing that Brian has continually used inappropriate and unprofessional amounts of sarcasm. Contrary to Westside administrators, Hughes said she believes Brian's use of sarcasm is useful in the classroom and successfully engages students.
"I feel like so many students learn through sarcasm," Hughes said. "When you're sitting in a class that's [boring], you'll want to go on your phone. But when the teacher says some funny stuff, you'll listen and pay attention."
Hughes said that she disregards the past incident that occurred between her and Brian.
"I think everyone says some things [that they don't mean]," Hughes said. "It's a joke."
Omaha's KETV NewsWatch 7 reported that Westside Community Schools confirmed on the afternoon of Thursday, May 9, that Brian has been placed on administrative leave effective immediately.  KETV also reported, according to Brian's attorney, Mullaney, that this prohibits Brian from entering his classroom and that  he is also banned from the high school property and attending any school events.
Your donation will support the student journalists of Omaha Westside High School. Your contribution will allow us to purchase equipment and cover our annual website hosting costs.
About the Contributor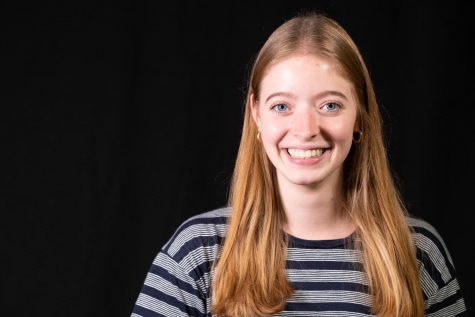 Claire Benson, Wired Co-Editor-In-Chief
Hi my name is Claire Benson! I am the Co-Editor-in-Chief for Westside Wired this year. I am currently a senior and this is my third year on Wired. If you...