Student Council Participates in First Exchange
Last Wed., March 27, Westside Student Council participated in their first Student Council Exchange which included several high schools such as Papillion-Lavista, Papillion-Lavista South, Elkhorn High, as well as Plattsmouth. Westside Student Council students had the choice to either attend a different high school and shadow one of their student council members for the day, or to host a student council member from a different school at Westside.
Student Council Co-President, senior Yousra Abdulrazig, visited Plattsmouth High School during the exchange. Abdulrazig elaborates on the inspiration behind the exchange.
"The district eight advisors, the two teachers that run the entire district, they were trying to come up with a district eight convention for spring," Abdulrazig said. "They wanted to try and get all the schools together at one school, but they kept running into problems with flooding and prom, which sparked their interest in showing other schools in the district, and how we're living and how each school is so different."
Abdulrazig discusses how student life in Plattsmouth is vastly different compared to Westside.
"On the drive [to Plattsmouth] we saw all the flooding," Abdulrazig said. "And it's like, there's people so close to you who have such a different life than you, and it's weird, because these people are in the same student council district as us, but we never realize their lives are so completely different."
The recent flooding throughout Eastern Nebraska and Western Iowa caused immense damage to many cities and towns, Plattsmouth included. Abdulrazig witnessed the damage and said she felt the impact it brought.
"Most of their houses were flooded, and they had a couple days off school for that," Abdulrazig said. "Just really seeing how privileged we've been with not getting affected by the flooding, compared to how most of their lives were completely destroyed, [impacted me]."
Sophomore Hakim Lotoro participated in the exchange and attended Elkhorn High School for the day, shadowing one of their Student Council members.
"I followed host students at Elkhorn and went to their classes, and their lunch, and got to see what it's like in the day of an Elkhorn student," Lotoro said.
Lotoro said he believes the recent exchange was helpful in giving Westside's Student Council new ideas on how to improve.
"I think that we're not getting involved with the community as much," Lotoro said. "A lot of other schools have a lot larger events and more inclusive opportunities for their students, so we could definitely implement that here."
Lotoro discusses how each school played an important role within the exchange.
"I think [the exchange] was a great addition," Lotoro said. "There's a lot of things that we're taking away from this, and every school has something to offer; just the little things can make a school a hundred times better."
Sophomore Dori Watanabe also took part in the exchange, shadowing a Student Council member at Elkhorn High School, similar to Lotoro. Watanabe said she agrees with Lotoro, feeling that the recent exchange was a positive addition to the council, and should continue in years to come.
"I think [the exchange] should continue in future years, because rather than going to an assembly or large group of people, I really got to interact with people and make friends from the event," Watanabe said.
Your donation will support the student journalists of Omaha Westside High School. Your contribution will allow us to purchase equipment and cover our annual website hosting costs.
About the Contributor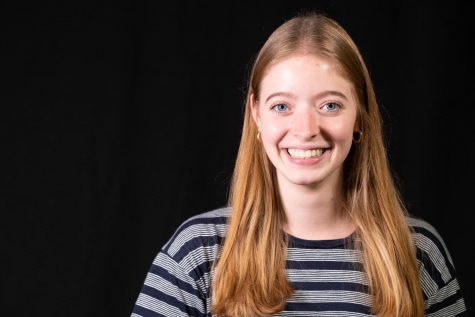 Claire Benson, Wired Co-Editor-In-Chief
Hi my name is Claire Benson! I am the Co-Editor-in-Chief for Westside Wired this year. I am currently a senior and this is my third year on Wired. If you...