Westside Superintendent Hosts Monthly First Fridays Feedback Meeting, Covers Various Topics
The Westside Board of Education and Superintendent Mike Lucas recently held their monthly 'First Fridays Feedback' meeting last Friday, March 6. Lucas began the meeting by discussing how the coronavirus could affect Westside schools and what safety precautions administration is taking to combat it. Lucas said that the Westside district will follow whatever decision is made about the virus at the state or community level.
"We are relying on the wonderful health professionals that we have in our area and state and [will] continue to monitor projection and updates," Lucas said. "This is a very unique situation because there [are] a lot of unknowns with the coronavirus. There are a lot of different scenarios that we are preparing for, but, at this time, [we] feel like we are going to finish the school year and end up with a great fourth quarter." 
On Monday, March 2, the Westside administration sent out a survey about strategic planning to students and stakeholders in Westside. According to Lucas, the survey has a small number of responses from students so far, but they would like to encourage as much feedback as possible.
"We're hoping to get lots of feedback from parents, staff, students, patrons [and] community members," Lucas said. "All of that feedback will allow us to spend this summer and the fall having various engagement meetings with all of our stakeholders to finalize our strategic plan for the next five or six years." 
At the school board's meeting on Monday, March 16, the administrative team will be making a recommendation to the school board about whether or not Westside should switch to K-12 iPads, or finish out the district's fourth year with their same technology structure. Lucas said that one of his new goals is to focus on Westside's networking throughout the district, including better Wi-Fi and a more stable printing system.
"One of the things we're addressing throughout the district is connectivity," Lucas said. "Whether we stay [on] laptops or iPads throughout the district, we have some things to fix. No matter what we're working on for machines, we have to have the infrastructure in place to maximize the use of those machines."
Lucas said he is excited about Westside's predicted enrollment logistics for the years to come. He believes that by the year of 2030, Westside will have 6,250 students, instead of its current 6,000. 
"It looks like our enrollment next year is going to include more 'resident students'," Lucas said, "Students that live within our [school] boundaries, as well as some more option-in students."
Lucas said the school board has been defending many legislative bills throughout the 2019-20 school year as well. These include bill 972, which would hurt the district's funding, as well as bill 1202, which is a privatization tax credit bill.
"We've been opposing several bills," Lucas said. "We're playing a lot of defense, which is typical for school districts during a legislative session."
Lucas said one of his biggest focuses is teacher retention, and said that he believes if you don't have great people teaching, then you cannot have great programs. 
"Retention, recruitment, hiring and development," Lucas said. "High-quality staff is the top priority for Westside Community Schools."
About the Contributor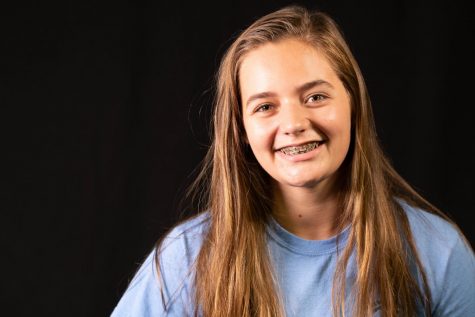 Ava Van Gelder, Wired News Editor
Hi my name is Ava Van Gelder! I am the News Editor for Westside Wired this year. I am currently a sophomore and this is my second year on Wired. If you...