Westside Boys Soccer Coach Mike Deans Unique Transition to Westside
2020 brought a lot of changes globally, but it also brought a major change to Westside boys soccer in the form of new head coach Mike Dean.
Before leading the Warriors, Dean had not played an integral role in a high school soccer program. Outside of high school soccer, Dean is an incredibly accomplished club soccer coach and that experience has allowed him to lead a winning high school team.
Dean inherited the program from John Brian, who also taught social studies at Westside High School. Brian was well-loved by the team and led the Warriors to four appearances at the NSAA Class A State Championship in the last eight years of his career. It would take a great coach to keep Westside at the top of the state.
"To be quite honest, we were just looking for a coach that had experience," Westside High School Athletic Director Tom Kerkman said. "With any coaching position, it's very hard to find quality candidates, particularly for soccer. When we opened it up we had some good candidates, and then coach Dean emerged as the strongest candidate out of them all."
Before coming to Westside, Dean made a name for himself in the club soccer community. In 2013, he was named the US Youth Competitive Coach of the Year for boys soccer. Many of his players have gone on to commit to NCAA Division 1 college programs and a few have been selected to the US Youth Soccer Region II Olympic Development Program. He also coached the Nebraska Olympic Development Program from 1999 to 2012. His experience as a coach made him an easy first choice for Westside administration.
"What first drew us to Dean over anyone else was mostly his passion for soccer," Kerkman said. "He was a national club coach of the year so he's got a lot of experience in coaching and a lot of knowledge of the game."
Dean came into Westside soccer ready to build upon an already top-level program. Westside was among the top teams in the state in terms of record, but Dean wanted more than a winning team. He wanted a program that valued unity and was ready to start a solid foundation in his first season. The Warriors as a whole were ready to take to the field in 2020 before their season was canceled due to COVID-19, delaying Dean's first real season as a head coach.
"I felt like the foundation was already there," Dean said. "There was a little bit of a lack of unity as a whole, on the program level. That's something we've built upon with our culture. We tried starting during the pandemic but we got pushed back an extra year. I'd say there's a little bit of unity that needed to improve when I got here."
Although Dean was eager to get to work, there's always an adjustment period for the players as they get to know a new coach and their coaching style. Now, in 2022, only the seniors ever experienced Westside Soccer under a different head coach. Luke Van Belle is one of only four athletes who played under John Brian on the varsity team. 
"It was definitely a lot different," Van Belle said. "Brian was more about winning, making sure we were winning every game and stuff like that. Coach Dean is more about team building and building up from the bottom, building a foundation. He cares about relationships a lot more and he seems to put more effort into the team."
As an experienced coach, Dean values team chemistry and bonding because those are the things that turn an already talented team into an unstoppable one. That's not to say he's disregarded Westside's high standards and winning records. One of Dean's goals for the Warriors was to boost them to the top in all aspects of high school soccer. In a school that values excellence, it's expected that Westside soccer continues to sit at the top of the state.
"We want to be the best at everything," Dean said. "We want to have the best education in school and we want to have the best soccer education. We also want to have the best social media presence and the best reputation and we want to look the best. We want to be the best at everything so setting high standards is a big thing for me. I'm not a big rule guy but when you set standards, players know what's expected from them and they hold each other accountable. That's one way we're building a better culture and a better team."
Dean's high expectations are clear across the program as a whole, and players of every class know what the standard is when they finally get the chance to play under Dean on Phelps Field.
"He wants to make Westside a powerhouse," Van Belle said. "He wants us to be at the top of the state consistently, every year. He talks about having a "reload" instead of a rebuilding year, having the JV team become the varsity team the next year. We reload, we keep reloading, and that way everyone gets a good run within the program. I think we can go all the way. I think Dean will definitely have success, if not this year than in years to come." 
The talent and passion of the Warriors help advance the ideals that Dean is instilling in the program. Most players spend two months a year with their high school team and the remaining ten months with a traveling club team. This allows the players to develop high skill levels and knowledge of the game that come in handy during the high school season.
"We have a lot of depth and a lot of good soccer players coming into the program," Dean said. "We have Varsity-JV scrimmages and from top to bottom, there's not a lot of disparity. The future looks bright. We have quality freshmen and sophomores that would probably be on a lot of people's varsity team but with the talent we have in the upperclassmen, they just need to be patient. When their time comes, I'm really looking forward to seeing what they can do."
Westside's had an impressive start to the season with wins over Millard South, Lexington, Elkhorn South, Bryan and Lincoln East. The Warriors are nearly halfway through the season and are currently ranked No. 4 in Class A. Coach Dean is glad for the success, but is choosing to focus on the fun times the team is having.
"I want it to be memorable for them. We only have two months together and I preach a lot that two months is only 0.2% of their lives," Dean said. "When they're here, I want them to make the most of their time together even when we're losing or winning. These are memories they're going to hold onto for the rest of their lives and I want them to be special."
Westside enters the Metro Conference Boys Soccer Tournament as the No. 1 seed with a 5-1 record. The tournament marks a half-way point to their season and could determine their momentum into districts. Westside will play the winner of the matchup between Omaha Northwest and Bellevue East at Phelps Field on Thursday at 7 p.m.
Your donation will support the student journalists of Omaha Westside High School. Your contribution will allow us to purchase equipment and cover our annual website hosting costs.
About the Contributor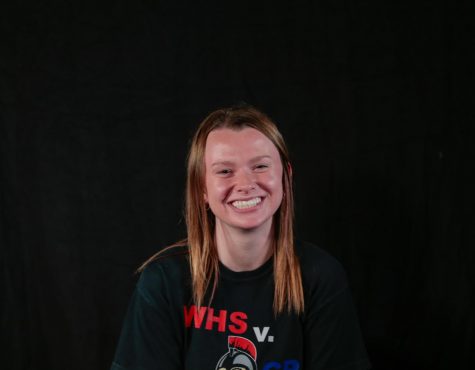 Mary Nilius, Sports J Photographer
Hi, my name is Mary Nilius! I'm a photographer for Sports Journalism this year. I'm a senior and this is my third year in Sports Journalism. If you have...