West Side Story – Review
In 1957, a brooding war was afoot between two rival gangs, the Sharks and the Jets. Love at first sight strikes when Tony (Ansel Elgort) spots Maria (Rachel Zegler) at a high school dance. This love wasn't meant to be, and only causes more conflict in the gang war on the streets.
We all know Steven Spielberg is one of the greatest directors of all time, and "West Side Story" is just another successful genre to add to his résumé. What's better about this version than the original 1961 version is that Steven Spielberg and writer Tony Kushner added stuff back in that was subtracted. The big one is no more brown-face Puerto Ricans. The Sharks and the Jets are cast so authentically, with the actors being made up of almost entirely fresh faces. There's no denying that the original is incredibly dated, and this version is just so much better.
This story deserved an update, and Tony Kushner's restoration is surely a good one, even if I still have some nitpicks. However, every problem I still have was transferred over from the original. The script as a whole has been changed for the better. It's much bolder and more emotionally powerful. It was a weird choice to not have subtitles in any of the Spanish-speaking scenes because not every citizen speaks fluent Spanish. Some lyrics have been altered by the late Steven Sondheim, but the locations each dance number was set in have been drastically enhanced with a more modern feel through dazzling choreography. "America" feels unbelievably cinematic, and the "Tonight" quintet featuring every character was magical. Everything about the songs in this film have been heightened, which is what sold me on a significantly improved remake.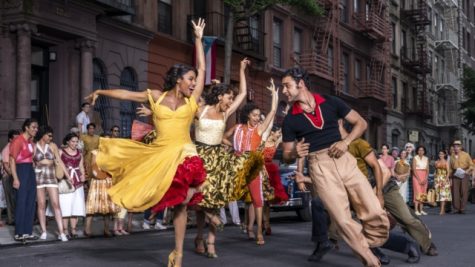 The shallow romance at the center of the story did not intrigue me as much as I was hoping it would. Casting a problematic lead in Ansel Elgort only provided problems that Rachel Zegler's vibrancy couldn't fix. It's frankly impossible to watch Elgort and not be reminded of the allegations, but I'm not going to get into all of that, I'm only here to talk about the movie itself. That said, although he can sing, he's one of the weaker links among the cast. These two don't shine on screen as much as the rest of the cast of characters does. The worst decision this movie made was how easily and quickly Elgort's Tony is forgiven for killing Bernardo (David Alvarez), not only by Maria, his sister, but by Ariana DeBose's Anita as well.
DeBose was absolutely outstanding in this film, and any time she appeared I could not take my eyes off of her. Forget about the movie topping the original, I never would've thought Rita Moreno could be topped. David Alvarez is an electric dancer, and he's not getting the praise he deserves. Mike Faist is a mind-blowing talent who also fleshes out Riff, a character I barely remember having much to do. These three performances elegantly match the combination of dancing, singing and acting that is needed. On top of Zegler, I hope these three blow up into stardom. To see these three performances is the lone reason you need to go see this movie.
It was neat seeing Rita Moreno in a very small role, gender-bent from the original, especially since she infamously played Anita in the original film. It was organic how they changed the mentoring role of "Doc" to being Doc's widow. Moreno was the first and only Latina to ever win an acting Oscar – for playing Anita – and if she were to be nominated again for this film (which is not happening), she'd break all kinds of additional records.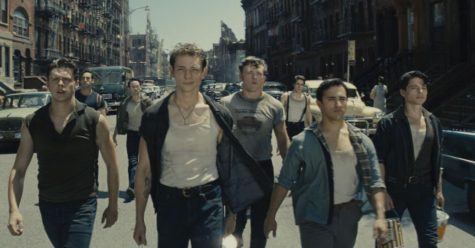 The original film dominated the academy awards back in 1962, being nominated for eleven and winning ten. I believe that this year's awards could again be in favor of this classic, charming story. Because everyone is so in awe of what Spielberg has done, throwing all of the imaginable praise towards him, I think a new Best Picture frontrunner has just emerged. It may even hold that status until it claims the award. "The Departed" is the only film remake ever to do so, therefore the feeling of "we've already awarded this narrative" may be working against it. Steven Spielberg is getting in for Best Director, and may win due to him just being Steven Spielberg. Ariana DeBose is undoubtedly getting in, and is also my new frontrunner in Best Supporting Actress, leaving Supporting Actor still the only acting category without a worthy winner. Mike Faist is great and would be worthy, but I'm hesitant locking him in as a winner because he doesn't have the over-the-top musical energy like DeBose. Of the actual possibilities, Rachel Zegler feels like the least likely acting nomination. If she were to somehow get in, there's no chance of her winning. Right behind Jane Campion's "The Power of the Dog," this will be the runner-up for Best Adapted Screenplay, and it'll also gain loads of technical nominations; currently, I have this film leading in none of them. The lighting was absolutely breathtaking throughout, but especially during the dance in the gymnasium, earning it a Best Cinematography nod. With that, I'm assuming Best Editing, Production Design, Sound, Costume Design and Makeup and Hair are no-brainer contenders.
This isn't a shot-by-shot copy of the original film. The story has been slightly reworked and the auteur Spielberg just knows how to do what he does best. The dance numbers are filmed so cinematically that I'm glad I got to see this on the big screen. Apart from one exception, the cast glows and Rachel Zegler is made into an indisputable movie star. I'm not a big musical guy, and I cannot believe I enjoyed "West Side Story" this much.
Final Grade: A
About the Contributor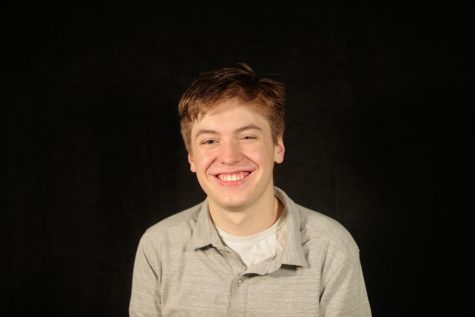 Brandon Siedlik, Wired Staff Writer
Howdy, my name is Brandon Siedlik! I am a staff writer for Westside Wired this year. I am currently a senior and this is my second year on Wired. A fun...