The Power of the Dog – Review
Mysterious rancher Phil Burbank (Benedict Cumberbatch) evokes fear and awe into those around him. When his brother, George (Jesse Plemons), brings home a new wife (Kirsten Dunst) and son (Kodi Smit-McPhee), Phil responds with dread and mocking cruelty. He torments them until he finds himself exposed to the possibility of loving them.
Jane Campion uses a very distinct style to portray the discomforting interactions between the four main characters when writing and directing "The Power of the Dog," and I love how a different take on the wild west is merely a filter the remainder of this movie is put through. It is a dark, slow-paced, brooding, subtle and dialogue-heavy plot that has characters going through changes that sometimes don't come into play until the final act. Typically, when I would consider a film to be a slow burn, I find myself to be totally disengaged if I'm not confined to a theater chair. To my surprise, the territorial aesthetic Campion brings and the infusing performances that were included, kept me locked in as can be. The cinematography of the western plains is beautiful enough that I'd consider it the best-looking film of the year, and the arresting score by Jonny Greenwood (who also scored in a similar tone to "Spencer") matches with the ominousness of these lands.
This is easily Benedict Cumberbatch's best performance to date; he is an absolutely haunting, unnerving force of nature. Even just simple shots of his expressive face paint a picture that's worth a thousand words – some of these represented dominance, while others showed his vulnerability. Anytime Phil Burbank appeared on screen it became an incredibly intense environment. On the other hand, Kodi-Smit McPhee gives the most narrow performance, and his role is enlarged greatly in the second half. The cigarette scene he shares with Cumberbatch is full of tension, but also adds to the dynamic of the two characters that this film delivers on.
I always enjoy watching real-life couples play couples in film and television because it promises undeniable chemistry. I was surprised to see the lack of scenes that Kirsten Dunst and Jesse Plemons share. Plemons plays it straight with his role as Phil's brother, George Burbank. While Dunst plays fairly passively, much of her role has to bear the weight of those around her. Aside from looking stunning, I was hoping for a bit more out of Dunst and Plemons, but I'm happy enough with what we got.
Despite its minuscule audience, I don't see this missing Best Picture in a mandatory field of ten picks. I feel the same way about Jane Cane Campion, although it is an extremely competitive year, even without me having yet to see Steven Spielberg's "West Side Story," Adam McKay's "Don't Look Up," Paul Thomas Anderson's "Licorice Pizza" and Guillermo del Toro's "Nightmare Alley." If she got in, that would make her the only female nominated for a directing Oscar more than once. To come along with that, Campion will win for Best Adapted Screenplay in an incredibly easy category. I'm anticipating – and hoping – for acting awards across the board. In a year where it doesn't feel like Will Smith's "time," Benedict Cumberbatch could be winning for Best Actor. As of now, I believe Kirsten Dunst and Kodi Smit-McPhee will follow in his footsteps in Best Supporting Actress and Best Supporting Actor, respectively. Even then, I see an unlikely world where all three could get snubbed. Editing is very possible, and I will be baffled if it doesn't get in for Best Cinematography or Score.
"The Power of the Dog" is a film where my overall thoughts needed to marinate for some time after I saw it. Campion's portrayal of the west uses a great deal of symbolism from its dense source material. It requires deconstruction in topics such as masculinity and class systems – it's a lot of altered subtexts to consume through a two-hour film – which is where it may lack connection with an audience. There will be a very small, marginal audience who loves this film, that being intense film lovers. With that being said, I really appreciated the experience this film gave me. 
Final Grade: A-
About the Contributor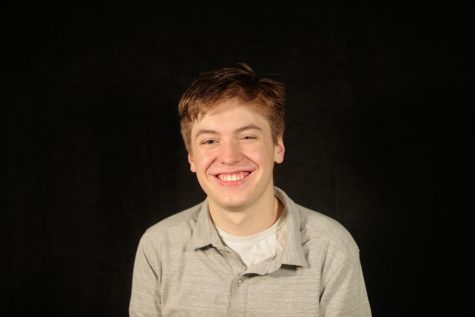 Brandon Siedlik, Wired Staff Writer
Howdy, my name is Brandon Siedlik! I am a staff writer for Westside Wired this year. I am currently a senior and this is my second year on Wired. A fun...