Warriors Boys Tennis Places Third at State, Shefsky a Champion
This season has been a historical one for the varsity boy's tennis team. They have had quite the season, hitting milestones and breaking records. A couple of the highlights from this year were the Warriors winning their first invitational, ending a 17-year drought, winning back to back invitationals, and never finishing below a third place in any competitions all year long. After placing second in the metro conference tournament, the Warriors would follow it up with a third-place finish at the state tournament. Coach Jordan Warkentin felt proud of what the team has put together this season. 
"It was a very rewarding season as a coach. The players are all great guys: they are kind, have great sportsmanship, and are hard workers. They make my job extremely easy and enjoyable," said Warkentine. "Seeing everyone have so much success was just the icing on top this year. They truly earned and fought for every medal, award, and trophy that they won this year. It gives me so much pride to work in such a great district with top-notch athletes."
Even with all of the success, the Warriors have had this year there have been some downfalls in the form of COVID-19. There have been teams all around the metro that have been affected by it on and off the court. The Westside tennis team has been fortunate enough that not a single player on the junior varsity and varsity teams had to quarantine. Loing players can really affect a team's season and at times can even end one so the team has been doing their best to socially distance and wear masks. AJ Shefsky said this about playing through the pandemic.
"I think that it had a big impact on the season we had to take every day of the season as a blessing because we never knew if it was going to get shut down. I am just so thankful for all the coaches and players staying safe to allow our season to continue,"  said Shefsky.
With all of the winning the Warriors had been doing they had a lot of confidence going into the state tournament. The team went into the week of practice before the state tournament focused and ready to use the confidence and come out with a win. Coming off a second-place finish in their metro competition, they had been riding a hot streak all year long. Coach Warkentine felt the win really gave them a motivation boost.
"Winning the invitationals this year was a definite motivation boost for everyone. We knew that we had some extremely talented players and the hard work from practices was finally paying off. Going into metro/state, we knew that we had a shot at winning or at least placing really high so everyone had more confidence in themselves and with each other when those tournaments started,'' said Warkentin.
Going into the tournament, eyes were on both number-one singles, number two singles, and then number one doubles. Alex Kugler, along with Jake Bonnett in number one doubles started the tournament a nine seed and worked their way up to place fourth to end the season. Alex Kugler said he is looking forward to doing the same next season.
"Yeah, it's great to be a part of Westside's tennis and bring some wins back. I look forward to next year and hopefully winning some more invitationals and contending for the state title," said Kugler.
The biggest story of the afternoon was number two singles player AJ Shefksy. Shefsky, a freshman who was 27-1 going into the tournament blew through the first three rounds of the tournament. He never gave up more than one game in the second set. In the state final, Shefsky would win in straight sets 6-4, 6-1, and would become a state champion. Shefsky gave a lot of praise to his coaches.
"I think I have to give a lot of credit to the coaches, there is no way that I could have accomplished that without them, and it feels awesome though knowing that all my hard work paid off," said Shefsky.
With the boy tennis season coming to an end last Friday night, the team will be back next year with a very promising, now veteran team. Next up for tennis, the girls in the spring.
About the Contributor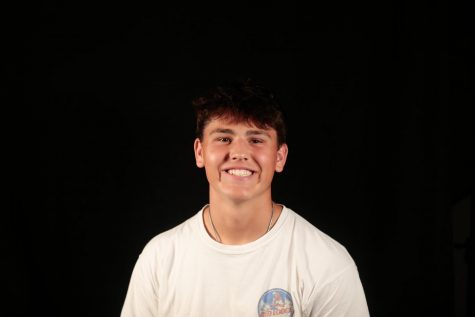 Martin Mormino, Sports J Writer
Hi, my name is Marty Mormino! I'm a writer for Sports Journalism this year. I'm a junior and this is my second year in Sports Journalism. If you have any...