Westside Family Resource Center Opens in New Location
With the COVID-19 pandemic affecting many families in the Westside district, the Westside food pantry, coat closet and clothing closet are needed now more than ever. This large increase in the need for these services caused Westside social workers to come up with a plan to make these services more convenient for families: the Westside Family Resource Center.
The resource center is located near Westgate Elementary School and is an area where the three main social services throughout the district–the Westside food pantry, coat closet and clothing closet—are available at one location. Previously, each service was located in a different building, which could have been inconvenient for families trying to use these resources. April Anderson, a Westside social worker who helped start the Westside Family Resource Center, said the center makes it easier for families to receive the services they need. 
"Basically, the three social workers in the district, we have created the Westside Family Resource Center, which is a combination of the food pantry, the clothing closet and the coat closet," Anderson said. "Up until a month ago, these services that had been around for a while were in three different locations, and so when we would get families to meet us, we'd have to go to three different places, so we wanted to have somewhere where it was like a one-stop shop where they would come for everything in one place."
Anderson and the two other social workers, Kate Hebenstreit and Sarah Fehringer, worked with the Westside Foundation to find donations in order to fund the project.
"[We were] coming up with the idea but also having conversations with Terry Hanna at the Westside Foundation and finding donors and the money to actually make this happen," Anderson said.
The Family Resource Center started out as Pipal Community Center, which was owned by the city. Westside leased out the building and refinished certain areas to be used for the resource center.
"They also refinished two of the rooms here and made it into the pantry and closet," Anderson said. "So it is a new building, a new location and a new concept."
Anderson was a strong advocate for the new center, and she said she hopes that the new setup will be more convenient for families.
"I guess I would say [I contributed by] just really advocating for us to have one location, just because it's a lot of convenience for families, so they don't have to go to three different locations to get the resources that they need," Anderson said. "I just had this idea that it would be great to just have one place where [families] could come to get all their needs [met]."
Any family with a Westside student is able to take advantage of the resources available at the center. To work with one of the social workers, Anderson said an appointment must be made ahead of time. 
"This is by appointment only with the social workers, so basically if [a family has a child] who goes to a Westside school, they can just contact us and we can figure out what they need and set up an appointment with them," Anderson said.
Clothing closet and food pantry chair Marci Crone said she loves the new location.
"It's a dream," Crone said. "We have two rooms that are next to one another in the Pipal Park Community Center, [with] nice carpet, paint, heat, bathrooms, [and] families can come in and get exactly what they need and get out," she said. "It's wonderful."
Crone said that the COVID-19 pandemic has impacted more families than would normally use the resources at the center.
"With the pandemic going on, people need more help than ever," Crone said. "People who have lost jobs, people who previously didn't know what it was like to be hungry or be short on food at the end of the month are coming to the resource center. I was at the closet, and it is really empty compared to what it's usually like. We have been in the past so full that we had to stop taking donations, and we're low now, so more people than ever are using it."
Your donation will support the student journalists of Omaha Westside High School. Your contribution will allow us to purchase equipment and cover our annual website hosting costs.
About the Contributor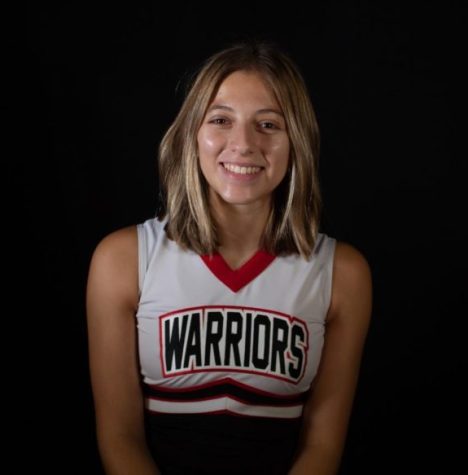 Ainsley Meyerson, Wired Co-Editor in Chief
Hi, my name is Ainsley Meyerson! I am a Co-Editor-In-Chief for Westside Wired this year. I am currently a senior and this is my fourth year on Wired. A...