PREVIEW: Wrestling Looking for More Success This Season
It's the end of fall sports and the beginning of the winter season for the Westside wrestling team. 
This 2019-2020, coaches will consist of head coach Michael Jernigan, assistant head coach Reed Weber, JV head coach Nick Schroeder and head freshmen/girls wrestling coach Bob Mulligan, along with a staff of volunteer varsity coaches consisting of Justin Habermann, Matt Reinke and Eric Vergas.
During the 2018-2019 wrestling season, the NSAA voted on whether or not to sanction girls wrestling as their own high school sport. The votes to approve fell short by one, leaving the girls to continue wrestling against boys in meets and tournaments. Jerningan believes that won't be the case this year.
"It's very new. It's exciting and we're hoping there will be great things coming up in the future with the girls wrestling. It's already passed the first level of [legislation] for the NSAA. It'll be voted on again [here soon]. We think it's gonna pass this year. It [only] fell one vote short last year," Jernigan said.
Jernigan, reflecting over the 2018-2019 season, was impressed, but has one goal that he wants to achieve while being Westside's head wrestling coach.
"Last year, we finished 13th in the state, had three state medalists, which was awesome. The most I've ever had in my career is four. Getting that one more might of put us in the top ten. We've finished 11th a couple times, [but] we've never cracked the top ten under me and Reed as coaches. So that's something that we strive for all the time. The leadership, I think is gonna be really solid for us this year," Jernigan said.
Senior wrestler Jacob Vincentini feels that, with the end of 2018-2019 season, senior leaders left and that now it's time for him and others fill that role.
"We've lost Deuce, a really good leader, so was Matt and Micheal Collin. Cade Haberman has really stepped up, he's a big leader in our room right now, [he's] helped fill his shoes. Four of us seniors, Me, Tanner, Zach, and Devon. We all kind of fill a different leadership role at different times. I'll lead when I can, follow when I can," Vincentini said.
In recent years, Jerningan has seen impressive and promising wrestlers that he believes will continue the same energy as last year.
"We have state finalist Cade Haberman coming back, with him making the state finals last year in wrestling, having that opportunity to wrestle for that gold medal. He knows what it takes now and I feel sorry for a lot of his opponents this year. His little brother Cole, state qualifier for us last year, expecting big things out of him. He was a 30 plus match winner for us as a freshman. [Senior] Jacob Vincentinni should do good things for us, we're hoping Kyle, younger brother [to] Vincentini, comes in healthy. He was banged up last year so we didn't get a true Kyle reading out of him. We [also] have a couple stud freshmen this year," Jernigan said.
For pre-season, players have trained in a variety of ways, anything from mindfulness training, club, and wrestling camps.
"Over the summer, a lot of us went to Grinell, Iowa for a three to four day overnight wrestling camp. We worked really hard there. [We've] all been in the weight room, working our butts off in the off season [These] first few weeks of the season. Hopefully stay on the podium at the end of the season," Vincentini said.
With wrestling being a very physical sport in practice and on the mat also, according to Jerningan, requires training of the mind.
"The guys trust our process. They trust us as coaches. They set goals [and] we do a lot of mindset stuff with them. We're very, very blessed to have coach Moravec do our mindset monday with us and work on those marginal gains in the small things that we do to get them to be champions in their own mind," Jernigan said.
Wrestling will head out to duel against Class B, Blair on Friday, December 6th and York on Saturday, December 7th. 
About the Contributors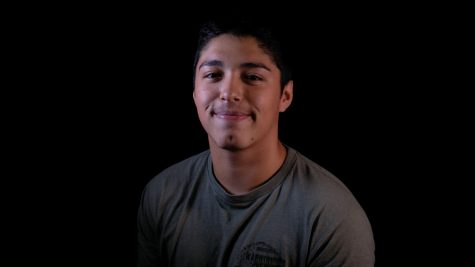 Nathanael Monjarez, Sports J Editor
Hi, my name is Nathanael Monjarez! I am a staff writer for Sports Journalism this year. I am currently a Senior and this is my second year in Sports Journalism....