Band Director Wins Statewide Teaching Award
Band is a large part of many students' lives here at Westside. They dedicate their time before school, after school and on the weekends to the program, and that wouldn't be possible without the dedication of band director Tommy Krueger. Krueger puts in the extra time outside of the classroom because of his passion for teaching band and the students whose lives he makes an impact on.
Krueger received the Jack R. Snider Young Band Director Award from the Nebraska State Bandmasters Association. This award is given to a band director in their third through seventh year of teaching who shows interest in the band program as a whole, makes an impact on their students and focuses on growing both their band program and personal professional involvement. Krueger said winning this award means a lot to him.
"It meant a lot more than anything else for the name that it's attached to," Krueger said. "Jack Snider was the Band Director at UNL for a long time and really, really started a well-rounded tradition of good bands in Nebraska. He was my parents' band director in college and so for his name to be attached to the award just means a lot."
But Krueger said the reason he loves band is not because of the recognition he gets but because of the people he gets to know.
"[The best part of teaching for me is] the kids that you get to work with," Krueger said. "More than anything else … it's fun to get to interact with the kids everyday and joke around and be able to make music with them."
One of those students, junior Ashleigh Madsen, said she loves Krueger as a teacher because he is always trying to make her a better musician.
"I think one of my favorite things about Mr. Krueger is that he constantly finds ways to push every student, no matter where they are in their musical ability," Madsen said. "It's a hard balance because we all have different musical backgrounds and some musicians are more invested than others, but [Krueger] has many different methods of taking musicians to whatever their next level may be."
Krueger agrees and said his mentality when coming into Westside was not about changing the way the program ran but about helping students reach their potential.
"I've tried to come in with a positive attitude and tried to establish a strong work ethic and just have really high expectations for the kids," Krueger said. "They're really talented kids, and I just wanted to come in and be able to push them to hold themselves accountable and push themselves to the highest expectation that they can expect of themselves."
As band director, Krueger wears many hats. He directs marching band, concert band, pep band and jazz band and said that each of these ensembles bring something different to the table.
"They all have their own unique things that are fun about them," Krueger said. "[In] marching band it's fun to build the team camaraderie as a part of marching band and push through and learn new things in a short amount of time. Concert band is a lot of fun [because] that's our foundation and where we build everything. Jazz band has always been … dear to my heart as a azz trumpet player and getting to work with those kids and do a lot of different improvisational things is really fun."
Krueger said that jazz band is harder because a lot of jazz music is not going to be written down for you to read.
"The hardest and most challenging thing about jazz, which makes it fun, is there's so much which you have to learn that's not written on the page of music," Krueger said. "With jazz band, the only real way to learn it is listening to recordings and studying the history of of the music, and so it adds that extra challenge that's different with jazz band where you have to listen you have to study it to be able to play it correctly, because not a lot of it's written on the page."
Madsen said she knows firsthand how hard it is to learn to play something without sheet music, but that Krueger has helped her grow in this way.
"He challenges me to transcribe solos [which means] listen to a solo and learn to play it by ear," Madsen said. "By doing this, I'm learning to mimic some of history's best musicians, and they don't even have to be alive for me to talk to. With that, he's taught me that I can always do more to improve myself."
Krueger said he believes that teaching is all about helping students improve not just as musicians but also as people. Madsen said Krueger's dedication is evident and has made her a better musician and person.
"[Krueger] will try to adjust his schedule so I can work with him, and he will give me advice and play with me so I have an example of how my playing should sound," Madsen said. "Once, [Krueger] even stayed as late as 5 p.m. to work with me after already working with a group of three of us after school for around an hour. He genuinely cares about all of his students, both as musicians and as people, and it's great to see a teacher so dedicated to both the subject and the kids."
Your donation will support the student journalists of Omaha Westside High School. Your contribution will allow us to purchase equipment and cover our annual website hosting costs.
About the Contributor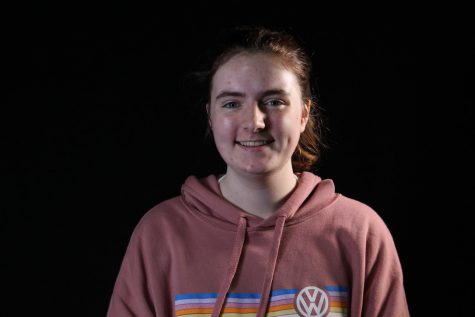 Virginia Jansen, Journalism Hallway Coordinator
Hi, my name is Virginia Jansen!  I am a Journalism Hallway Coordinator working on Lance this year. I am currently a senior and this is my fourth year...