Thanksgiving Movies and Shows to be Thankful for
Hang on for a minute...we're trying to find some more stories you might like.
"A Charlie Brown Thanksgiving" (1973)
A classic Thanksgiving TV special directed by Phil Roman and Bill Melendez, long-standing Charlie Brown directors, "A Charlie Brown Thanksgiving" tells a humorous and witty story.
The show opens with the renowned football scene in which Lucy tells Charlie Brown to kick the football as a Thanksgiving tradition, but continually pulls it back so Charlie Brown ends up falling flat on his back. Charlie Brown then faces a dilemma due to his friends and his grandmother both wanting to enjoy a Thanksgiving dinner with him.
For an older episode, the animation and effects are pretty impressive, and no remake can ever replace this original. Just turning it on brings back nostalgia from when I was little, curled up in front of the fireplace after I chowed down on mashed potatoes and turkey, ready to watch Charlie Brown attempt to cook a Thanksgiving meal. My personal favorite fall/Thanksgiving TV episode, A Charlie Brown Thanksgiving" is a light-hearted, family-friendly movie that everyone can enjoy.
"Planes, Trains and Automobiles" (1987)
As a big John Hughes fan, my expectations for this movie were fairly high and mostly met. While I don't think this film was as iconic as some of Hughes' others, ("Ferris Bueller's Day Off,"  "Breakfast Club,", "Sixteen Candles," etc.) it still delivered a strong message and is a memorable film.
A story about friendship and full of inconveniences, everything seems to go wrong for Neal Page, a composed marketing executive, and Del Griffith, an obnoxious ring salesman, when they both attempt to return home to Chicago for Thanksgiving. Throughout their journey, Page and Griffith face several obstacles and are forced to travel together, despite starting off on the wrong foot.
The storyline does get a little chaotic, and at times it feels like there is a lot going on, yet it still held my attention. The end is a little cliché, but "Plane, Trains, and Automobiles" is a well-told story that illustrates the power of friendship.
"Modern Family" Three Turkeys (Season 6, Episode 8)
"Modern Family," a comedy series directed by Michael Spiller, Chris Koch and Diego Rougier, is centered around a large and chaotic family. Thanksgiving is no different, and things start to go wrong when Phil Dunphy says he needs to redeem himself for past cooking mistakes and agrees to take on dinner. Jay Pritchett and Gloria Delgado-Pritchett also hide out in their house to avoid their family.
The chaos of this episode is well incorporated into comedy, and the set up of the series, featuring "interviews" with members of the family, makes it connect with the audience personally. Due to this setup, the story feels like it's happening to your family, and, especially throughout this episode, that made a big difference on how I interacted with it. I was really engaged and interested. "Three Turkeys" is well directed, a fun time-filler, and a great addition to a great series. A favorite for crazy families and followers of comedy, Three Turkeys is a hilarious Thanksgiving favorite.
"New Girl" Thanksgiving (Season 1 Episode 6)
As a huge "New Girl" fan and someone who has watched the whole series several times, this is my all-time favorite episode. It's funny, as usual, but also continues to develop the plot of the series.
In the premiere season of still-running comedy series, Jessica Day and her roomates decide to have Thanksgiving dinner, complete with a turkey and all the usual items. This starts a disastrous chain of events that includes the turkey being cooked in the dryer and finding the neighbor's dead body after sneaking in to use her oven.
The character development in this episode is crucial to the rest of the series and does an outstanding job of baiting audiences to continue watching, as several romances are kindled and more personalities shine through. Day's always sunny attitude brings a cheerful and happy atmosphere to the episode, and that may be the aspect that drew me into the episode (and show) the most. Through all of the broken items, bad food and bad singing, Jess still manages to make all of the other characters laugh and consequently made me laugh too. If you're looking for a laugh on Thanksgiving, someone who can possibly cook worse food than your family or a great episode from a comedy series, Thanksgiving is a must-watch.
"Free Birds" (2013)
Knowing the only notable movie Jimmy Hayward has produced is "Horton Hears a Who", made me a little skeptical before watching "Free Birds," but the stellar cast (including Amy Poehler and Owen Wilson) convinced me otherwise.
Led by Reggie and Jenny, this animated tale of turkeys' bad fortune during Thanksgiving is a family favorite. In "Free Birds," Reggie the turkey is an outcast after he attempts to warn his friends about the danger of Thanksgiving. Jake, another turkey, kidnaps Reggie and forces him to travel back in time to the colonial days to prevent turkeys from being added to the Thanksgiving menu.
The movie has an interesting plot and shows an interesting perspective. When I was a kid, I always wondered, and still do sometimes, do turkeys know about Thanksgiving? This movie does a good job of playing on this childhood wonder because it tells a unique story to answer this question. The animation is vibrant and clean-cut and adds to the overall success of the movie. Whimsical and action-packed, "Free Birds" is a great movie for the kids' table at Thanksgiving dinner.
About the Writer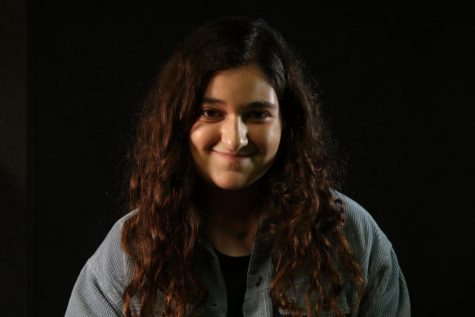 Emma Miller, Lance Feature Editor and Social Media Coordinator
Hi, my name is Emma Miller! I am a Feature Editor for Lance and Social Media Coordinator for the journalism program this year. I am currently a senior...