School Violence: Recent Incidents in Omaha Highlight Importance of Safety
Michael S. Rosenwald of the Washington Post reported that the first school shooting in America  occurred on Nov. 15, 1840 at the University of Virginia. Since then, a multitude of violent acts have occurred within schools, with over 188 school shootings happening in the 21st century alone. More famous cases include the shootings that occurred at Columbine High School in 1999, Sandy Hook Elementary School in 2012, and Marjory Stoneman Douglas High School in 2018. However, violence in schools doesn't just occur as shootings. Cases of school violence around the country involve fist fights, knife incidents and sexual misconduct. Omaha has also  recently experienced school violence. In the past few weeks, there has been a stabbing incident at Burke High School, sexual assault allegations at Marian High School, as well as a bombing threat at Millard North.
Westside's school resource officer, Jeff Kilgore, said he feels the recent school violence is upsetting but is also a reason as to why he continues his career at Westside.
"Well [the school violence] is unfortunate, I don't know how we got to this point," Kilgore said. "It's one of the reasons why I actually wanted to come back to this school because not only do I get to mentor kids and stuff like that, but also, with my background, I can be here at Westside if something [violent] does happen."
Kilgore said that there are systems placed in schools that help prevent the occurrence of violent acts.
"Schools have what they call SRP's, standard response protocols, [which are] your lock-downs, lock-outs, evacuations and stuff like that," Kilgore said. "Those are to be practiced a couple times a year; at least once a month I think we have a drill."
Kilgore also said that police response times to emergencies have noticeably become better over the years. This was evident with the recent stabbing situation at Burke High School.
"Police response has come a long way since Columbine, we just had an incident out at Burke High School around two weeks ago, and all those [SRP] protocols were put in place," Kilgore said. "Something's always going to go different or not how it's supposed to, but we called in the training guys and are working with Omaha Fire [Department], OPS, [and] we're working with the school districts and the police response too."
Kilgore said one way to prevent intruders from entering the school and possibly harming students or faculty is to only use the main entrances and exits located in the school.
"After the [Marjory Stoneman Douglas] school shooting, I did a safety assessment on this school," Kilgore said. "We have 37 doors at this school and the policy is you either use the west door or the east door, but some kids like to prop doors open or use doors they're not supposed to. The culture of this school needs to come from the students. Use what the protocols are, and if everyone uses the same protocols we won't have to worry about intruders coming into our school."
Kilgore said that the school installed an alarm on one of its doors this year to deter students from using doors other than the main exits. He also said that the school is in the process of getting more alarms for different doors after the alarm was triggered twice this year.
Kilgore also said he believes that the national motto of Homeland Security applies to Westside — if you see something, say something.
"If you really look back on all the school shootings from 2000 on, these kids get on social media and say what they're going to do," Kilgore said. "It's the students who monitor social media, so if you see something out of the norm of a friend or fellow student, you've got to report it."
Junior Angel Emannuel said it almost seems normal at this point whenever she hears about violence occurring in schools.
"I'm not surprised at this point," Emmanual said. "When I hear [about school violence] I go 'oh' and move on with my day."
Like Kilgore, Emmanuel also said she believes in the importance in reporting suspicious behavior.
"If you hear somebody talking about [committing a violent act], you should step up and probably tell the principal, even if they are joking about it," Emmanuel said.
English instructor Sarah Schoenrock said it makes her upset knowing that violent acts occur in schools.
"It makes me sad that anyone is injured at all, but also that [it's] in a place that they're supposed to be and feel safe," Schoenrock said.
Schoenrocks said she believes one way to prevent a violent act from being carried out is to pay more attention to your surroundings.
"I think people need to be a little more alert or aware; as teachers you notice when a student is struggling, it's all over their face," Schoenrock said. "If you see something on social media, you need to say something and not just assume it's a joke or a prank, because if it's not, then you have to deal with the guilt aspect."
Schoenrock said even with threats and acts of violence occurring in schools all over the country, she feels comfortable within Westside.
"I personally feel safe [within the school], just because there are so many checkpoints in the building where people are stationed right in front of the door and the main entrances are sealed off," Schoenrock said. "I think that we have made big strides over the last couple of years in terms of safety."
Your donation will support the student journalists of Omaha Westside High School. Your contribution will allow us to purchase equipment and cover our annual website hosting costs.
About the Writer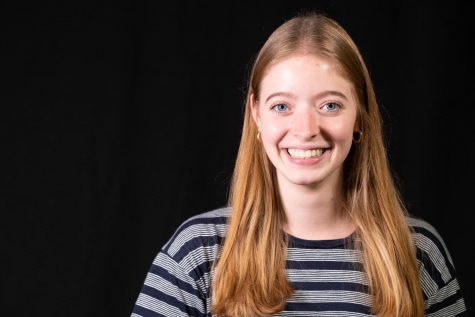 Claire Benson, Wired Co-Editor-In-Chief
Hi my name is Claire Benson! I am the Co-Editor-in-Chief for Westside Wired this year. I am currently a senior and this is my third year on Wired. If you...