Westside Foreign Exchange Student Shares American Experience Through TikTok
For some students, making TikToks is simply a fun pastime; for junior Enola Zaloshvili, however, TikTok is a way for her to connect with her home country of Georgia throughout her exchange year at Westside. 
Zaloshvili is part of the Future Leaders Exchange Program, a highly competitive merit-based  program funded by the U.S. Department of State. 
"At 10 years old, I found out about this program, FLEX Exchange Program," Zaloshvili said. "This is for students from 9th to 11th grade to go for one academic year abroad and it is for [you to] go to America. I was like, 'What an opportunity!' Since growing up, I have always wanted to get to know other countries and their culture and everything, and America is the perfect place for that. I applied for the program and there were thousands of kids anticipating to be accepted, but only 71 got accepted, and I'm one of them."
When Zaloshvili arrived in Omaha late last August, she didn't initially think of making TikToks for her community. 
"When I first came here, I was afraid to post TikToks because I was afraid that someone would make fun of me," Zaloshvili said. "Then I realized that I'm in America and some people really want to be here, and there are many students that wanted to participate in FLEX Exchange but couldn't. I was like 'I can share my experience, I can start doing TikTok.'"
Many of Zaloshvili's TikToks are light hearted, and they document her thoughts on the American school system. 
"In Georgia, we don't have many choices," Zaloshvili said. "It's new for me in this school to have classes like pottery, I've never heard of that. Even sports… I would love to have that in my country. There's a lot of activities here, there's a lot of free time, [not much] big pressure with classes. You can choose classes; you can't choose classes in Georgia. You have to take the same classes every day there. The work here is absolutely easier. I want people to see my experience." 
Zaloshvili's family has played a part in the success of her TikTok channel. 
"My sister uses TikTok to answer the questions in the comments when I'm in school," Zaloshvili said. "Because of the time difference, I can't answer all the questions, so she helps me. She supports me. It was her idea for me to start TikTok, really."
The TikTok channel has earned lots of positive feedback and has resulted in many people directly reaching out to Zaloshvili.
"A lot of people reach out on Facebook, Instagram, even on TikTok they're texting me and asking questions about exchange students, how can they participate, how I can give them some advice," Zaloshvili said. "Most of the comments are like, 'You're so lucky, I want to go there'. On TikTok, there's a button that you can check which region people are watching from; most of my viewers are from Georgia. Some little percent are from America."
Though Zaloshvili has acquired more than 183,000 likes and many encouraging comments, she says that some viewers do not interact positively with her videos. 
"I sometimes get pressured when I get hate comments," Zaloshvili said. "For example, I made a video[about Georgia, which is definitively a country in Europe. Even if you google it you can tell it's in Europe and a little bit of Asia, it's between. Some people are questioning if Georgia is really in Europe. They say, 'go educate yourself.' I don't like these comments and sometimes I delete them." 
Some comments show specific attitudes and generalizations about the American school system. 
"Once, when I was making a school in America and Georgia comparison video, some people believed that in all American schools there are school shootings,' Zaloshvili said. "Every time I was posting those videos, the commenters were like 'yeah but we're alive in Georgia, and there are shooting in schools there and we don't have that.'"
Though hate comments appear on her page, Zaloshvili said she believes she is able to move on because she enjoys her intentions of connecting Georgians to the U.S.  
"I'm happy that people like my videos," Zaloshvili said. "Even my older sister says I shouldn't pay attention to hate comments because there are a lot more good comments." 
Ultimately, Zaloshvili wants her TikToks to be a public space where people can be inspired by her love of learning, and possibly take action to follow in her footsteps. 
"I'm planning, when I go back to Georgia, to become a teacher, like an 'extra' teacher for FLEX exchange students," Zaloshvili said. "I had the same type of 'teacher' when I was in Georgia and he was 18. He had just come back from the FLEX Exchange Student Program and I wanted to do the same. I want people to know at the beginning who I was in America and my experiences. It will be easy for them to come to me so I can give advice and some classes, that's what I'm hoping for."
Though her target audience lies in Georgia, Zaloshvili hopes for her TikToks to inspire Americans as well.
"Maybe Americans will be inspired," Zaloshvili said. "Maybe they will be inspired that they can do exchange programs in Georgia or other countries."
Your donation will support the student journalists of Omaha Westside High School. Your contribution will allow us to purchase equipment and cover our annual website hosting costs.
About the Contributor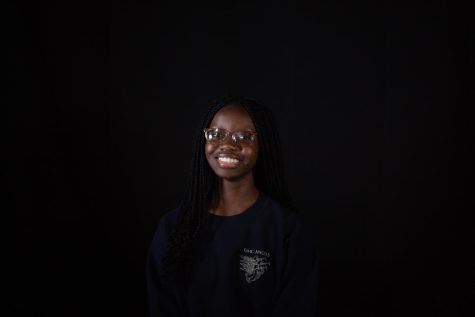 Tanatswa Chivero, Wired Managing Editor
Hello, my name is Tanatswa Chivero! I am a managing editor for Westside Wired this year. I am currently a junior, and this is my third year on Wired. A...