Boys Golf Wins First Tournament, Rocky in the Second
The Warriors boys varsity golf team has had two tournaments so far this season. Westside had their first competition over spring break in Grand Island, where they took home first place.  The Warriors had all four scores place high in the scorecards.  Junior Kolby Brown placed third individually in that tournament where he would shoot a 76. Senior Jacob Hellman shot a 79. 
"The story of this year is going to be whether or not we can stay consistent enough to stay up with the best teams in the state," Brown said. "I would consider us to be top three in the state, but we have to go out and prove that this year. Actions speak louder than words, so we have to go keep playing our game and good things will come." 
To begin the season, Westside was expected to be a top three program in the state. The practice and the hard work to achieve that goal has begun in practice. Working on the strengths and weaknesses in what the Warriors will continue to do to assert themselves at the top of the state. 
"As a team, I believe short game is everything, so I think we have to focus on playing simple and not over complicating the game," Brown said. "We have to stay as consistent as we can because consistency in golf is everything. If we can stay as consistent as possible these next four or five tournaments, I don't see why when we play in metros, districts and state why we can't win them." 
The Swede Center is a huge bonus to the golf program at Westside, and it also allows the team to work on the little things, such as their short game. Westside is one of the only public schools in the country with an indoor golf center. 
"It has allowed us to practice no matter what the weather is. Whether it is raining or snowing we always have a place to go perfect our game," Brown said. 
With the 2020 season being cancelled, the young team couldn't get any experience and were forced to wait until this year. Head coach Brett Froendt is very pleased with how his team played in their first tournament in a very long time. 
"We had three or four guys work really hard in the off season and train with professionals and we come into this year working on team chemistry and culture," Froendt said. "We need to work on that still but we came into our first tournament and won out in Grand Island." 
The second tournament for the boys team did not go as well as the first, as they did not place as well not only as a team but as individuals as they would've liked to have. 
"We turned around last week and played very poorly, so we know we have the ability and potential but we have to find that consistency," Froendt said. 
High school golf is just as much of a team sport as it is an individual sport, which most people only look at golf as. After high school and college, you are on your own. It becomes an individual sport. 
"We preach 'We' as a team, which for some growing up in the game of golf only, that can be difficult," Froendt said. "It's part of our mission to play for others rather than just themselves.  The flip side of that, a lot of competitors love playing with a team. If you love playing with a team, it's the very small time in your life when you can do that."
 After the mixed results in their first two tournaments, the team looks to take this week in practice as time to clean up some mistakes and grow as a team and individually. For Froendt, the early parts of the season are very important to work on one thing.
"Working on weaknesses, the ones that are hurting them in tournaments the most from an individual standpoint," Froendt said. "But, most importantly, it is working on our team chemistry and making sure we are playing for more than ourselves. It's important we become friends and enjoy being around each other. When people are happy and teams are happy they perform better. We are working on that chemistry as a team so that's the focus the next two weeks."
The varsity boys golf team is pointing towards the Metro golf tournament, which will be held Wednesday, May 12, at the Benson Golf Course. First, they'll be in Fremont this coming Friday looking to get back on the winning stride.
Your donation will support the student journalists of Omaha Westside High School. Your contribution will allow us to purchase equipment and cover our annual website hosting costs.
About the Contributor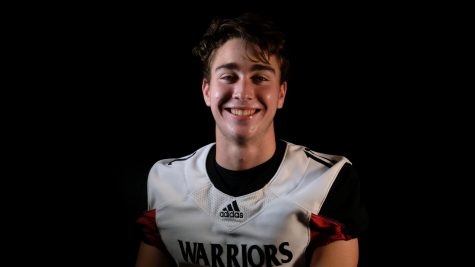 Tristan Alvano, Sports J Writer
Hi, my name is Tristan Alvano. I am a writer for Sports Journalism this year. I am a sophomore and this is my second year of Sports Journalism. If you...