New Club Opens up Sports Marketing Opportunities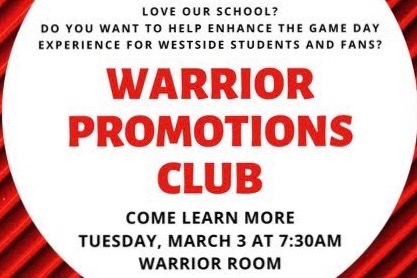 If you're interested in sports marketing and sports communications, then the Warrior Promotions Club may be perfect for you. The new club, centered around the business aspect of sports, will have its first meeting next Tuesday, March 3 at 7:30 a.m. Club sponsor and business instructor Bradley Metzler said the new club will assist in making sporting events a more enjoyable experience for students.
"The objective of it is to increase the fan experience here at Westside for any sports event," Metzler said. "We are looking for a way for kids to learn more about that business and industry while also improving the experience and engagement for our fans."
Metzler said that the club is a great opportunity for students interested in sports marketing.
"Sports marketing is becoming more of a major industry," Metzler said. "So it is an opportunity to provide students with a real-world learning opportunity. We are always looking for ways to improve experiences for our community, our students, and our fans." 
Metzler said he has big plans in the years to come for the Warrior Promotions Club.
"We are thinking of potentially getting involved with show choir concerts and other big events at the high school," Metzler said. "We also plan on partnering with Creighton University so it should be a really neat experience for everyone involved."
Metzler said he and other club sponsors will try to make the club as student-led as possible.
"The goal is for it to be student-driven," Metzler said. "For the kids to take ideas and run with it. We will allow the students to come up with the ideas and take ownership of the club so they have a passion for it."
Club advisor and Westside Director of Communication and Engagement Brandi Paul said the new club will add a whole new aspect to Westside sporting events.
"[The Warrior Promotion Club will help] by increasing the fan involvement and the level of spark at these events," Paul said. "All of our community is going to be more apt to attend them and really take part in the engagement at our school."
Paul said the club is a unique opportunity for students who are passionate about sports marketing.
"Our students are so talented," Paul said. "It's exciting to give them awesome opportunities like this."
The informational meeting is open to anyone and will be held next Tuesday, March 3 at 7:30 a.m. in the Warrior room. Donuts will be provided courtesy of Superintendent Mike Lucas. 
About the Contributor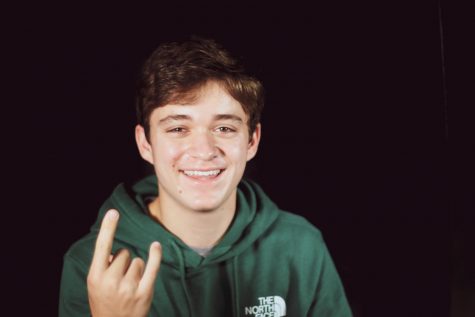 Benjamin Kutler, Wired Managing Editor
Hi, my name is Benjamin Kutler! I am a Managing Editor for Westside Wired this year. I am currently a junior and this is my third year on Wired. If you...