Loveland Listings
Across the street from Westside High School on Pacific Street sits a construction site for a new luxury housing development, to be named Loveland Estates. Starting last October,  seven homes on the south side of Pacific Street were beginning to be torn down to make way for an 18-home gated community planned to be completed within the next couple of years. 
The property is co-owned by President of Standard Nutrition Bill Dyer in partnership with Chip James of Lockwood Development and Bloomfield Custom Homes. The development is being represented by the real estate company Key Group, owned by Kelly Kontz and brokered by Berkshire Hathway. According to Kontz, Dyer has been collecting ownership over the homes on Pacific for years with plans of the development in mind. 
"It's been years in the making, trying to figure out what would be best suited in there, acquiring the properties as they became available," Kontz said. "[Dyer] met with several different developers and went through several different ideas as far as what could or would be best in there." 
According to Kontz, Lockwood Development and Bloomfield are mainly developing the project. Habitat for Humanity Restore is also involved in the project, with a partnership from Johnson Deconstruction, owned by Jack Henry. 
Habitat for Humanity's involvement is in the deconstruction of the homes that are at the build site before the development starts. According to Molly Toberer, the Restore Deconstruction Program Associate at Habitat for Humanity Restore, they're involved in the removal of hardware from homes and remodels that will be demolished or redone in order to reuse and resell materials. 
"We are working with Lockwood, and with the demolition company, I saw what was there," Henry said. "I knew that there was a lot of potential for this deconstruction program, so I invited Molly. Again, I'm not the one who gets to make the decision. She is, but I kind of know what would be interesting to her."
According to Henry, Lockwood Developers told Johnson Deconstruction that they were going to tear down the seven houses and build 18 townhomes, and that they would be available to be soft stripped for deconstruction.
"Soft stripping is when we take out all of the contents, [things like] all of the cupboards, all the vanities, doors, windows, electric panels [and] light fixtures, and then we send those all to Habitat [for Humanity]" Henry said.
The materials from homes are then shipped to the Habitat for Humanity resource centers, which are stores with appliances and hardware which people can buy inexpensively and use for home renovations. There is also a guide for what the program can remove from the homes during the deconstruction. This is decided by the homeowners, developers and Toberer.
In October 2019, Toberer and Henry did a walk-through of the homes before the development started and said they felt the homes were suitable for the deconstruction program. According to Toberer, Phase One of the deconstruction was completed, in which they removed the internal hardware from the homes, and Phase Two, in which they will start removing things like windows and doors, will be completed after the final fence goes up around the properties. She said the timeline is to ensure that people can't break into the homes before there is a fence around them. For Phase One of the deconstruction, Johnson Deconstruction completed the work house by house. Henry said the project required a larger team and took longer than most.
"This is a bit of an anomaly, this project, because usually we go into a residence and we're there for a day or two," Henry said. 
The deconstruction projects are funded through the Nebraska Environmental Trust, this including the Johnson Deconstruct team actually working on homes, like Loveland Estates. 
While plans for the development are already in place, there is still work to be done for the deconstruction and demolition portion. According to Toberer, the timeline of the demolition will be dependent on many things.
"Everything affects our schedule: the weather, the fencing, everybody's schedule," Toberer said. "It's all about production. It should be done by March."
Once the deconstruction of the homes is finalized, they will be completely demolished, making room for the new Loveland Estates.
"The way that it works is that there's going to be 18 individual homes, so the homeowners would then own their lot and their land that it's in," Kontz said. "So, as it's sold off, each homeowner will own their home, but they'll be within the same subdivision, and it's going to be fenced all the way around, so all of the homes [are] in an HOA, a homeowners association. That will take care of snow, lawn, common area maintenance, probably window washing and other options. It's going to be a luxury living development, so it's meant for busy people, snowbirds and definitely families."
Kontz also added that there was discussion of a concierge service in the development, a service which would keep track of and provide amenities for residents, but there hasn't yet been a final decision.
The development will not only be focusing on the new neighborhood itself but will affect surrounding areas.
"What's nice for the community, and especially for the school, is that they're going to be having a large common area between the street and where the new sidewalk will be, so it will be a lot safer for pedestrians and hopefully open up the corridor for traffic so you can have more visibility," Kontz said. "They're going to take the sidewalk way off the street, and then there's going to be trees and then a border privacy fence, so it'll be contained. What's nice is with it being an HOA, there's only going to be one lawn or snow service, one trash service and only one company doing all of that so you don't have to worry about … different big huge garbage trucks trying to go in and out and everything. "
According to Kontz, within the development, there are plans for eight houses on the south side of the development and ten on the north side. The sizes of the homes will have a standard, but according to Kontz, they will have customizability options with input from the homeowner. The foot plan is set for each home to have around a 2,100-2,200 square-foot main floor  with generally a three or more car garage at each home.
"It's a semi-custom to custom neighborhood, so [the homeowner] will be able to pick and make selections and make a custom home," Kontz said. "But, the whole neighborhood will have a really nice, upgraded look and feel to it."
According to Kontz, the homes will begin to go on presale after the next planning meeting. After buyers purchase their home, they will be able to begin customizing and designing it. Then, when the roads and main infrastructures are in place, Lockwood and Bloomfield will be able to start the actual development of the homes.
Since the homes are customizable, Kontz said the homes can really be for anyone, from busy families to young entrepreneurs. 
"District 66 has such a great following of people who love the convenience and that are used to coming over here to Countryside," Kontz said. "They just want this corridor. There's kind of a rumor going on that it's just a 55 and up [development]. It's not the case. So, families could definitely live in there."
As the development is meant to be luxury, Kontz said that the prices are still up for debate but are currently most likely to start at $800,000.
"Location definitely has a factor in [what makes the development luxury], but the what makes its a luxury living neighborhood, [is] the amount of amenities that [homeowners] get included with their home plus the level of build [of the homes]," Kontz said. "This basically fills up a void in the marketplace with the ability to still have that luxury, free-standing home, but probably at a smaller scale than what they're currently in. But then, it also suits the family that just really wants to be in this area, and land is so hard to get, and so that's been one of the options is that they can build in there as well and have their custom place."
As far as how much people can customize their homes before the project is finished, Kontz said there will be an architectural review committee to decide what homeowners can and can't do to their homes. There will be some standard things like open backyards and more traditional luxury style homes. The homes are set to have luxury looks with quality materials like real wood and stone. The builders are also keeping conscious of the landscaping and will be implementing trees and plants into the estate. With different starting points of how big houses can be, there will be a diversity of homes in the estates. 
"Basically what we're going to determine is what the footprint of the house will be, and [buyers] just need to decide what lot fits their home," Kontz said. "On the Pacific side, there'll be a range that can fit on that lot. On the estate side, they could fit a pretty good footprint over there … You can do a lot over on the estate lots. The Pacific ones will be still custom but the footprint will be a little smaller. But honestly, that's been one of the requests that people want. They want a really nicely built manageable home as far as square footage. You'll see elevators, you'll see some other luxury amenities in there, big pantries, real wood floors, not engineered, solid iron high-end quality doors. So it'll be really nice, really, really nicely constructed."
There is still debate on how the HOA will be run and organized, including deciding who will be hired for services, such as landscaping, and regulations for homeowners.
According to Kontz, there has been positive feedback from community members. She said she sees a lot of excitement for the project.
"Most of the time it's been just questions, but [with] people who have lived in the area for a long time, the only real pushback, I think, is that they were disappointed that homes were going to be torn down, but I think once they see the project completed or what it's going to do for safety, traffic and just the community in general … I think they'll be happy at the level that it's being done," Kontz said. "But, as far as any true pushback, we really haven't had any because it's so well thought-out and designed. It didn't go to the city council or anything until it was ready to be there [with] planning and zoning and all of that. It's been a pretty smooth process, and I think honestly people around it have been very excited."
There have also been a lot of prospective buyers calling, who are placed on a first come, first served list for the homes.
"Once we get the final flat, we will reach [out] to those who have already contacted us and let them know basically the schedule of when things will be released so they will be able to come in and meet with us and if they're interested, select a lot and we will have a process for that and what that all includes," Kontz said. 
According to Kontz buyers will pick their homesite and then go into designing their home with help from others like Kontz. She also added that if they wanted to lock in the spot they would have to actually start building within the timeframe the contractors have in place. 
"So, [the homeowners] will require a deposit and probably a close on the homesite and then go into planning so we can get it all bid and then take care of what they want," Kontz said. "So, we will help them through all of that. We'll hold their hand. Our group is taking the phone calls, the key group is taking the calls, so there will be a process to it."
There has also been diversity in callers with questions about buying homes and what Loveland Estates will really be.
"It's wonderful to see, honestly," Kontz said. "We've had young business professionals, we've had the empty-nester, we've had that midrange of teenage [and] kids' families … just all over the board. It's really exciting to get those calls and find out who's really interested in being right there. It's not been one demographic that's been consistent throughout the whole thing." 
About the Writer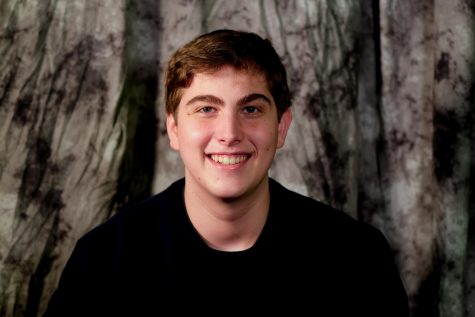 Luke Steiner, Lance co-Editor-in-Chief
Hi, my name is Luke Steiner! I am the co-Editor-in-Chief for Lance this year. I am currently a junior and this is my third year on Lance. If you have any...