Westside Girls Club Lacrosse Hosts Free Clinic For Hawkins Family Boys And Girls Club Students
Westside girls club lacrosse Team Manager and Assistant Coach Brandon Benson, alongside Westside girls lacrosse's former Head Coach Dan Galvin, recently held a free lacrosse clinic at Westbrook Elementary in the Hawkins Family Boys and Girls Club gym. The event took place on Monday, Feb. 3, and taught students the fundamentals of lacrosse. Galvin is a Westside alumnus, having graduated in 1985, and is now a level-three certified lacrosse coach. Galvin coached at Westside for four years, before resigning in 2018. Besides the competitive aspect, Galvin said lacrosse is rather fun.
"I really think a huge part of lacrosse is making it fun," Galvin said. "Even with the high school girls that are currently on the team, you want to make it fun, but competitive."
Benson said that the girls team often practices at Westbrook Elementary, and many students at the Hawkins Family Boys and Girls Club have previously expressed interest in the sport while watching their practices.
"Every night when we go into the Westbrook Elementary School gym to practice, all those young kids look at us and [are] always so enamored by the lacrosse stick and the sport," Benson said. "I decided to reach out to the director, Ashley Ellington, and host [a] lacrosse clinic for some of the kids here in Omaha that may not have access to [it]."
Benson and Galvin's lacrosse clinic invited any Boys and Girls Club members grades four through six to participate. The coaches covered skills such as handling the lacrosse stick, carrying the ball, passing, catching, how to scoop the ball and shooting.
"We want to build [the lacrosse] program [at Westside]," Galvin said, "And one of the ways to do that is to have clinics for younger kids [in the district]. A lot of them have no idea what lacrosse is, so that's kind of where we start off."
Galvin said there are not a lot of high school level lacrosse teams in Omaha, so he wants Westside's program to grow in the coming years. Galvin as well as Benson said that they  hope that by introducing the sport to a large number of younger students, it will boost the number of lacrosse players in the future.
"My [ideal] outcome [for the clinic] would be to have some of the children that may not have an extracurricular activity or sport [become] interested in a sport that is economical or reasonable to get involved in," Benson said. "Once you buy one stick, you can use that stick for years and years and years."
According to Galvin, the students had a fun time during the clinic and he said he believes that is the most important part of his job. Benson and Galvin said they will be putting on more lacrosse clinics in the future, as well as a clinic for high school students. Ideally, they would like to have upwards of thirty athletes interested in playing lacrosse.
About the Writer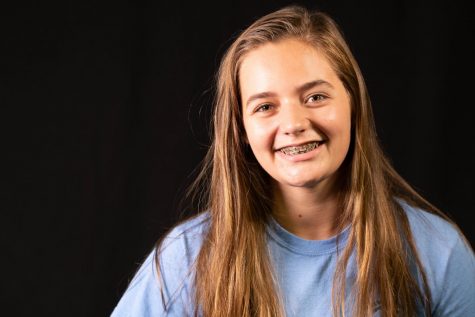 Ava Van Gelder, Wired News Editor
Hi my name is Ava Van Gelder! I am the News Editor for Westside Wired this year. I am currently a sophomore and this is my second year on Wired. If you...