IMC Staff Discuss Their Unique Rules and Policies
Westside's IMCs are found throughout the school, and are just one of Westside's unique features. Many students spend their open mods in various IMCs to complete homework or socialize with peers. IMCs are controlled by departments, rather than the high school's administration team, and have varying rules. Prominent figures in several of the departments shed some light on how IMCs enforce their rules. 
"Each IMC takes on their own personality," Math Instructor Angela Mosier said. "In the Math IMC, we expect students to have something academic to work on, so [that we know they] are using their time wisely."
According to Mosier, the IMC has stricter rules than others due to students meeting with teachers to receive help on Math assignments.
"[As] math teachers, we tend to always have students at our desks asking for assistance," Mosier said. "If the IMC gets too loud [due to] students talking and socializing, it's hard to work with [the] students trying to get help from teachers because of the noise level."
Contrary to the Math IMC, the library is a much more relaxed space. Librarian Theresa Gosnell said the IMC would be much stricter if it had a larger staff to enforce the rules.
"We cannot physically monitor [the library] like other [IMCs]," Gosnell said. "In all [of] the other IMCs, there's teachers everywhere, but we do not have the staff to monitor it."
According to Gosnell, there was no intention for the library to become a relaxed, social space. 
"We'd prefer [the library] to be used [more academically]," Gosnell said. "But once again, [if it were to be stricter], that would be all that I would be doing. I feasibly cannot do that. We sometimes have to choose our battles."
While some IMCs struggle to keep control of its students, the Guidance IMC is typically used as a quieter place for students to go. However, the Guidance Center also lacks some of the resources other IMCs offer. For example, there are no teachers available to help or work with students. 
"[The Guidance IMC offers] students a nice, quiet place to study," Administrative Assistant Andrea Paulson said. "You can work together a little bit, but it needs to be doing homework and not disruptive to everybody else in the IMC."
According to Paulson the Guidance IMC often sees  more upperclassmen using its space.
"[The IMC tends to be] more weighted toward upperclassmen but I feel like I've seen [a lot more] younger kids this year," Paulson said. "As it gets closer to graduation, [the IMC] tends to be more seniors because they're trying to get all their final college stuff done, so they spend a lot of time up here."
Your donation will support the student journalists of Omaha Westside High School. Your contribution will allow us to purchase equipment and cover our annual website hosting costs.
About the Contributor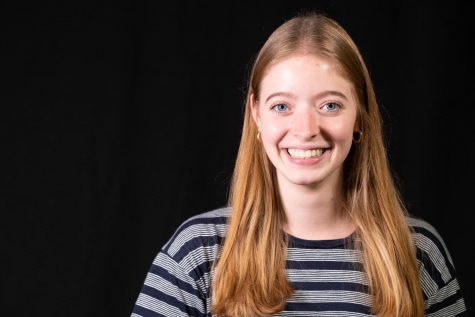 Claire Benson, Wired Co-Editor-In-Chief
Hi my name is Claire Benson! I am the Co-Editor-in-Chief for Westside Wired this year. I am currently a senior and this is my third year on Wired. If you...