Seniors In Speech Club Given Unique Opportunity To Judge Competitions
Senior Max Trenhaile has been in speech club since he was a freshman, and now he gets a new opportunity that only seniors in speech have available to them. Throughout his years in speech, Trenhaile has been able to express himself more and is excited to be offered the choice to judge speech tournaments. Senior Max Trenhaile, co-captain of the club says he enjoys speech because it allows him to express himself more.
"I joined Speech Club my freshman year because my homeroom teacher [told me I had a] good voice," Trenhaile said. "I stayed in speech because I like the performance aspect, and that I can make my own creative work."
Speech Coach Jennifer Paskach agreed with Trenhaile that speech is a good way to bring out the creativity in people. 
"I really like the creativity of the people in our club, and the speech community of Omaha [as] a whole." Paskach said. "It's really inspirational because there's intelligent, driven people [in Omaha] and it's cool to see their world views."
Senior Fabrice Bokovi, vice president of the Speech Club, said he didn't know whether he would stay involved with the club at first. 
"I joined [Speech Club] my sophomore year and to be honest, it was because my friend [told me] there's food, you should come," Bokovi said. "I started [involving myself more and enjoying it]. I [realized] practicing public speaking would help me [become a bolder person]."
Bokovi said judging competitions is not as nerve-wracking as being a participant, and helps you know how the judges think when you are presenting. 
"For judging, it's low-stress [compared to being a participant]," Bokovi said. "You go in and watch other people perform their [speech] to you [and it helps] gain an understanding of what judges are looking for."
Paskach said she helps students so that they can perform a speech that best suits them.
"I help our competitors either pick and write a speech, or help them find a script that they're going to act out," Paskach said. "Speech is unique [since] it's competitive acting on one facet of it, [and] competitive speaking on the other half of it."
Trenhaile said he dedicates most of his time practicing his speeches and getting better.
"In the day-to-day meets, I usually spend time practicing [and] memorizing my different speeches," Trenhaile said. "I help the underclassman with whatever questions they might have and I work on group speeches as well.
Trenhaile said he has a certain speech that he is most proud of.
"My 'humorous interpretation' [speech] from last year [is the one I like the most]," Trenhaile said. "It was a funny speech with dry British humor that I thought was fun to perform."
Bokovi said his experience in Speech has helped him express his personality more.
"I realized that [my friends and I] have become more confident people [from doing speech]," Bokovi said. "It [helps] takes away [a lot of] the social anxiety that comes with public speaking."
About the Writer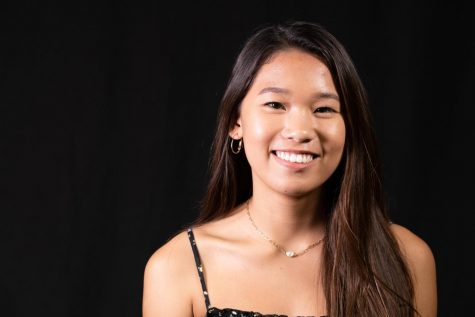 Olivia Villotta, Wired Staff Writer
Hi my name is Olivia Villotta! I am a staff writer for Westside Wired this year. I am currently a sophomore and this is my first year on Wired. If you...