Movie Review: Frozen 2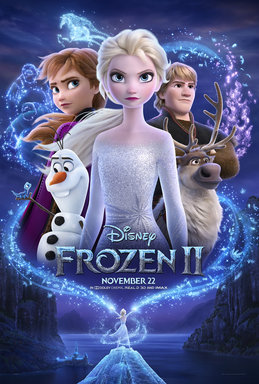 If you are a true Disney fan, chances are you've seen Disney's "Frozen". The movie is an iconic film showcasing the strong bond between two sisters, one of whom has magical ice powers. I loved this film back in 2013, so of course I had to go see the sequel. "Frozen 2" is the second installment in the "Frozen" franchise. The movie follows Elsa the Snow Queen (Idina Menzel) and her sister Anna (Kristen Bell) as they travel to an enchanted forest in hopes of finding a "mysterious voice" in Elsa's head. That's definitely not creepy at all. 
We learn at the start of the movie that Anna and Elsa had been told stories by their parents about the enchanted forest. The stories say that many years before they were born, their grandfather had made peace with the people of the forest, called the Northuldra, even gifting them a dam, but the Northuldra people deceived him and began to attack the people within the kingdom of Arendelle. The battle enraged the four spirits of the forest: air, water, fire and earth. A mist then descended over the forest, and acted as a forcefield, allowing no one to enter or leave it.
Many years later, Elsa is the queen of Arendelle and has begun to hear a mysterious voice that is drawing her into the forest. When the spirits of the forest take over Arendelle, Elsa takes it upon herself to venture into the forest to find the spirits and discover who is calling her.
The movie incorporates many characters from the original movie, such as Kristoff and Sven (Jonathan Groff), and Olaf the Snowman (Josh Gad), who join Anna and Elsa on their journey through the enchanted forest. While searching for the voice in Elsa's head, the group discovers many secrets regarding their home kingdom of Arendelle, and they must reveal the truth before it's too late. 
A character I thought Disney did a great job with in this film is Olaf the Snowman. He's adorable, relatable and hilarious; the trifecta regarding cartoon snowmen. As funny as he was in the original "Frozen", I thought he was even funnier in this one. One of my favorite scenes was probably when Olaf calls out to a Samantha, even though he doesn't know anybody named Samantha. Olaf was written to have trouble with getting older, which I thought was a character trait that made Olaf even more relatable. Many of the audience members of this movie are teenagers like me who grew up loving the original movie, and just like us, Olaf is growing up as well. 
Just like the first movie, "Frozen 2" includes a variety of catchy songs. Some of these I thought were great, although none could live up to Let It Go from the first movie but some were just plain weird. For instance, when Kristoff is figuring out a way to propose to Anna, she leaves without telling him and he finds himself stranded in the forest. Cue "Lost in the Woods", where Kristoff sings a heartfelt ballad alongside his best reindeer friend, Sven. I see where Disney was going with this scene, but personally I thought it was really awkward. It was more cringeworthy than it could have been. I realize the animators were trying to make Kristoff look as if he was performing a classic 80s rock ballad, but I don't think many children would realize that and just think of the song as weird. Especially since the movie is targeted for young children, the scene didn't seem to fit with the intended audience.
I also strongly disliked the first song of the movie, "All Is Found". It was too slow and ominous, which is not a good way to start off a children's movie. Lyrics from the song include, "In her waters, deep and true, lie the answers and a path for you. Dive down deep into her sound, but not too far, or you'll be drowned." That's not exactly an endorsement for a place that is supposed to hold all the answers to life's problems. 
On a more positive note, I loved the song "Into the Unknown", sung by Idina Menzel as Elsa. Not only was the beat of the song entertaining, Menzel's voice on the song is incredible, and her talents were displayed throughout the movie in many other songs as well. 
The movie's animation is beyond amazing. Animations are definitely one of Disney's specialties and they did not disappoint. With all of the intricate details in the wintery landscapes, it's no wonder they took six years to produce a second film.
Overall, I thought this movie was pretty good. There were some really great scenes and some that I was not as fond of. If you enjoyed "Frozen" and have been wanting more to the story, I would definitely recommend giving "Frozen 2" a shot, but don't expect it to live up to the original. 
Your donation will support the student journalists of Omaha Westside High School. Your contribution will allow us to purchase equipment and cover our annual website hosting costs.
About the Contributor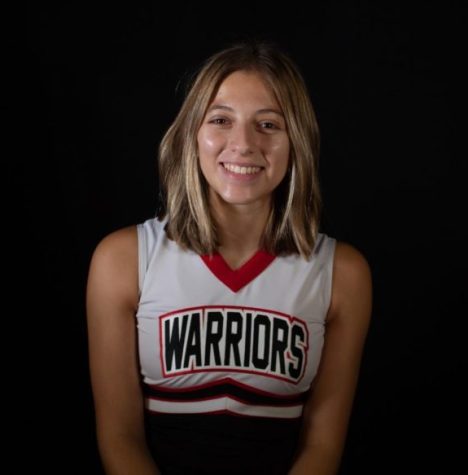 Ainsley Meyerson, Wired Co-Editor in Chief
Hi, my name is Ainsley Meyerson! I am a Co-Editor-In-Chief for Westside Wired this year. I am currently a senior and this is my fourth year on Wired. A...