DECA Holds Annual Powderbuff and Powderpuff Games
Westside DECA's Powderbuff volleyball and Powderpuff football games take place every school year in the week leading up to homecoming week. This tradition involves the juniors attempting to ruin the senior's victory, or the senior sweep, as well as collecting cans and money for the Westside Community Schools Pantry. Any member of DECA can participate in the games or take part in the halftime performance by the junior and senior boys. Senior Powderbuff champion Jonathan Reinert said that he thought the turnout and amount of canned foods collected was great.
"[The games were] very successful," Reinert said. "I know a lot of people had fun and we made a lot of money and got a lot of canned food for the food bank. I was ecstatic [about winning Powderbuff]."
In order for the Powderbuff and Powderpuff games to go well, the students had to put in effort outside of school. Students had to practice for the volleyball and football games and the dancers had to get their dance approved by Assistant Principal Trudi Nolin. Even though the events were mostly student run, Bart Jesertiz, a new DECA adviser this year, said that he thought that they were great opportunities for many students to take part in. 
"I think both games were absolutely a success," Jeseritz said. "The students were well behaved at both of the events, which is always a win. And we were able to raise a ton of food for the food pantry, which is one of the primary reasons we put it on every year. So students can have fun and give back to the community and both those things happened."
Admission to each game was $3 and three cans, all of which DECA donated to the Westside Community Schools food bank. Jeseritz said that DECA did big things this year for the Westside food pantry.
"I know we filled up most of the concession stand by the activity gym and a good portion of the concession stand down by the field [with the cans]," Jeseritz said. "The Marketing II students got those all hauled over to the pantry yesterday so it was a lot of food."
The senior teams won for both Powderbuff and Powderpuff, with scores of two sets to one for volleyball and 13-0 for football. Junior Ellie Tempero said that she thought the seniors deserved the win but she is excited for next year. 
"It didn't feel too good [to lose] but I think we put up a good fight," Tempero said. "The seniors definitely deserved it. They have some good athletes but next year we have it in the bag."
Your donation will support the student journalists of Omaha Westside High School. Your contribution will allow us to purchase equipment and cover our annual website hosting costs.
About the Contributor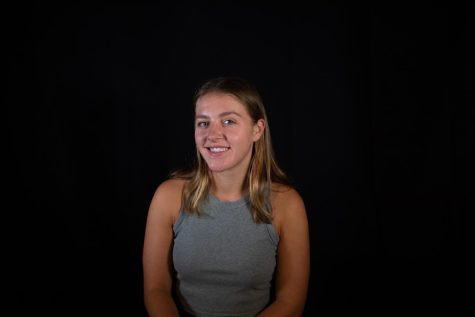 Charlotte Murphy, Social Media Coordinator
Hi, my name is Charlotte Murphy! I am the social media coordinator for Westside Wired this year. I am currently a senior and this is my fourth year on...