Westside Welcomes New Superintendent
On Wednesday, August 14, Westside welcomed a new school year along with a new superintendent. Westside's previous superintendent, Dr. Blane McCann, had announced that he would be retiring from the position after the 2018-2019 school year, leaving the position open to new applicants seeking to join the Westside Community Schools district. This prompted Dr. Mike Lucas, superintendent of York Public Schools at the time, to look into and eventually apply for the position. Lucas was selected for the position in January of the 2018-2019 school year and has since been welcomed into the Westside community. Lucas said there were many reasons that interested him in applying for the position, specifically Westside's reputation.
"There's a couple of reasons [for applying to become superintendent of Westside] and the first is Westside has such a tremendous reputation," Lucas said. "Westside is really one of the more well known school districts in our state and is known for having great students, really talented students, and a place that has high expectations; I really can't stress that enough."
Lucas said another reason that compelled him to apply for the superintendent position was that  he felt drawn to the sense of pride and commitment found throughout the Westside community. 
"Everyone wants to do their part to help make westside the best, so I loved that," Lucas said. "So much pride and commitment [to Westside]. People in Westside, they don't just talk it, they show it."
Junior Lindsay Tierra was a member of the selection committee that was responsible in choosing an applicant to fill McCann's position. Tierra describes the process the committee went through to choose a new superintendent. 
"We were a little focus group of like six people and basically we came together and decided what we wanted in a new superintendent and what the school wanted," Tierra said. "So then we started looking through and during the interviews that's what we kept in mind."
Tierra said that while viewing the various applications, she believed Lucas would be a good fit for Westside.
"I liked [Dr. Lucas] a lot," Tierra said. "I thought that he was really friendly and that he would be a good fit for our district."
Having been superintendent of the York Public Schools for 10 years and putting his children through the school district, Lucas said he believed his family would be staying in York. 
"To be honest with you, I kept researching things about Westside and was hoping to find out something that would keep me from applying," Lucas said. "I didn't want to apply because I lived right across the street from my office in York, my older three children graduated from York and I wanted [my younger son] to graduate from York. I was like 'we've got it made, quit looking at Westside.' But it had the opposite effect on me; every day I learned a little bit more about Westside, I got more excited."
Besides being superintendent of York Public Schools, Lucas has served many previous positions in the education and education administration fields. Lucas started off as a third grade teacher and a high school football and basketball coach in Fort Leavenworth, Kansas. He then became a kindergarten through eighth grade principal for two years in Labette County, Kansas. In 2000, Lucas and his family moved to West Point, Nebraska where he served as an elementary principal and migrant education coordinator. After that, Lucas went to Franklin, Nebraska where he was the high school principal and superintendent for six years. Following his position in Franklin, Lucas became the superintendent of York Public Schools for 10 years. Lucas describes why he chose to go into the educational field.
"As I was going to college in northeast Kansas, I decided on elementary education," Lucas said. "What first drove me to get into education, in general, was trying to be a male role model for kids that were growing up in families without a father. I was very lucky to get placed into some great student teaching experiences with some phenomenal teachers."
Lucas said he believes a career in education is one of the greatest professions one can do. He said he especially likes the teamwork and leadership aspects of administration within the education career, which led him to apply for positions such as principal and superintendent.
"I really love being in the educational career, I think it's one of the greatest professions a person can be in," Lucas said. "What got me into education administration was the teamwork aspect of being a principal and then a superintendent; trying to get all the classrooms in the building to work together and trying to get parents in the community involved." 
Lucas believes his new position at Westside will not be too different compared to his previous position in York.
"I think some people will be surprised as to how indifferent [this new position is]," Lucas said. "I believe leadership is leadership. In York, we dealt with the same things we're dealing with here. We dealt with some budget concerns, we're dealing with facility needs, we're dealing with teaching and learning strategies, all the things we deal with in Westside, we dealt with in York and Franklin. The difference is, it's a much bigger stage here. In York I dealt with 1,500 students in my school district, here we have 6,000."
In regards to personal goals, Lucas has narrowed his down to a specific two.
"If I had to drill it down to one or two goals, it'd be to just listen and learn as much as I can about every aspect of not only our school district but our community," Lucas said. "Developing relationships is [my second goal]. I want our students to know who I am because they see me at their activities and in their schools. I want to be very approachable and develop relationships with all of our stakeholders."
Lucas said his main goal for the district during his first year as superintendent is to simply get better. 
"Some goals for the school district would just be to keep getting better," Lucas said. "That's the thing; I look at our school district as a big family and a big team, and with all teams, all families, all organizations, you don't want to be satisfied on the good thing you did last year or ten years ago, you want to stay hungry to get better. I want Westside to stay focused on getting better, and I feel like every individual in our organization can have a huge impact on making us better."
This particular goal of Lucas's is one Westside High School Principal, Jay Opperman, said he is excited about.
"The thing I've really enjoyed is that [Dr. Lucas] is focused on let's keep it simple, let's do things well, we've got a lot of good things going on, let's just get better," Opperman said. "For me, that's really a breath of fresh air."
Lucas also believes Westside has a strong sense of diversity; one that he would like to celebrate and continue to grow. 
"Another goal would be to continue to embrace the diversity that we have throughout our school district, to celebrate that," Lucas said. "To be a place where everybody regardless of age, size, religion, skin color, whatever, everybody feels like they belong and that Westside is a great place for them. That's a very big goal that I want to help carry forward here."
Lucas said he feels as though the district provides great summer opportunities for students in various sports and fine arts. In time, Lucas would like to create different summer enrichment programs to help students with academics and career readiness. 
"I would love to bring back some summer enrichment opportunities, some enrichment camps that we can run over the summer that emphasize academics," Lucas said. "I love all the things our kids get to do over the summer with sports and some of the fine arts, but can we provide some academic camps and some career exposure for high schoolers in the summer."
Opperman said he believes Lucas will help the district get better in a simple and efficient manner; not just this year but in the future as well.
"I really believe [Dr. Lucas] is going to help us narrow down and pick out a couple of things to hit and to do well," Opperman said. "And before we move on, let's get a little better here, let's focus on a few things and get better and then let's talk about what's next. That's really the message he's been sending and that will be the big thing this year; not at the high school but in the whole district."
For his first year as superintendent, Lucas said he would like to have a highly successful school year that increases the sense of community within the district. 
"I would hope that we have a highly successful school year from the standpoint of a lot of teamwork and enthusiasm that's felt throughout the district and that students, staff [and] parents all have the mentality that we're all a large family," Lucas said. "We want our students to feel that same connection, that they're in a school district that loves them, that believes in them, and provide them with the support, resources and high expectations to be successful and chase their dreams."
Your donation will support the student journalists of Omaha Westside High School. Your contribution will allow us to purchase equipment and cover our annual website hosting costs.
About the Writer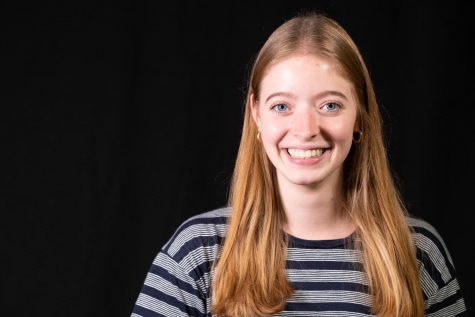 Claire Benson, Wired Co-Editor-In-Chief
Hi my name is Claire Benson! I am the Co-Editor-in-Chief for Westside Wired this year. I am currently a senior and this is my third year on Wired. If you...