Westside and Prep Lacrosse Teams Find Unity through Fundraising
The boy's varsity lacrosse team faced off against Creighton Prep this Sunday, April 28. However, there was much more to the game than the rivalry. Both teams have raised money prior to the game through generous donations and by selling wristbands with the message "One Team for Others". The phrase is a combination of Westside's motto "One Team", representing the team's support for each other, and Prep's motto "Men for Others". All of the proceeds went to two Westside families who are impacted by cancer. Jack Faulkner, who graduated last year and is now helping coach the team, and Adam Fletcher, the senior varsity goalie, both have mothers battling cancer. The proceeds are being used to help pay for both of their mothers' treatments and chemotherapy. Besides the game being Senior Night, it was also highlighted as the G4 game, a new annual tradition titled "Goodwill Game for the Greater Good" [G4]. This game is being used to bring the rivaling teams together for a good cause. Westside Lacrosse coach, Corey Damgaard, recognized that this was much more than another lacrosse game.
"It's a couple of teams coming together doing the right thing," Damgaard said. "It's teaching these kids that there's a bigger purpose in life than just winning a lacrosse game. I think that it's crucial to teach these young men that winning a game isn't everything and that there are greater things in life that need attention."
Creighton Prep's lacrosse coach, Steve Haney, agreed. Haney said he was glad to help and his team was excited to participate.
"It helps [my team] learn that the lacrosse game against Westside is fun, and a heated rivalry, but there are some things like helping out the families with cancer that are bigger than the game," Haney said. "I think they are learning that it's better to give and help out and be a friendly rivalry, rather than be adversarial."
Fletcher's mom has been battling cancer since the beginning of 2019. Fletcher said that his lacrosse team has been right beside him through the journey and that they are like a second family to him.
"I think it has a big impact on both sides of the field because it shows that kids are going through tough stuff all the time," Fletcher said. "The message [on the wristband] means a lot to me because it spreads awareness [for cancer]."
The partnership with Westside's greatest rival may seem odd, but it was a no-brainer for the teams. Prep's head coach has two sons playing on Westside's lacrosse team and Westside's assistant coach has a son playing on Prep's lacrosse team. This helped to strengthen the relationship between the teams in order to pull off the charitable act. Lenice Hogan is the president of the lacrosse parent board and has two kids on Westside's lacrosse team. Hogan said they chose to sell wristbands because they are a visible and easy way for people to remember the message.
"[The wristband is] a lasting memory that we can keep these people in our hearts, and minds, and prayers," Hogan said.
Hogan said that both of the teams have realized that when they work together they can do great things.
"We can go out on the field and have a good time but really what matters is that we support each other," Hogan said. "[The teams] realized that this is just a game and we want to make sure that we are taking care of each other."
About the Writer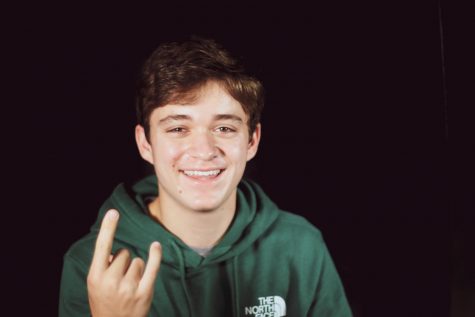 Benjamin Kutler, Wired Managing Editor
Hi, my name is Benjamin Kutler! I am a Managing Editor for Westside Wired this year. I am currently a junior and this is my third year on Wired. If you...