Senior Forward Flies Past Thousand Career Points Mark
For any senior on the Westside basketball team, it doesn't get much beater than beating Omaha Creighton Prep at home in front of 1,700 people. But scoring their 1,000th career point could top that. On January 15, 2019, senior forward Chase Thompson was able to accomplish both. Thompson scored 18 points and grabbed 11 rebounds in the game, propelling him four points above the 1,000 mark. Thompson said he credits much of his recent success to his father.
"I can thank my dad and my work ethic," Thompson said. "I've been working hard with my dad in the summer making sure I was staying right [for] basketball and getting in better shape."
Head coach Jim Simons said he attributes most of Thompson's recent success to conditioning.
"He's got himself in much better physical shape, he's lost a ton of weight," Simons said. "He's able to play harder for longer stretches of time because of that."
Simons also said he believes that efficiency has been a big part of Thompson's strong senior showing. He believes that the offensive scheme has helped Thompson.
"He's much more efficient offensively this year than what he had been previously," Simons said. "We talked a lot at the start of the year about shot selection and understanding where you're the most efficient scorer and he's done a good job this year of picking and choosing his spots and playing more out of our motion offense where he's an efficient scorer."
Thompson said that this big milestone proves a lot about how he's grown, and he hopes to keep getting better.
"I've come a long way from [the start of my career] and I'm only getting better," Thompson said. "I'm not too far away from being Westside's all time leading scorer but [I will] keep the focus on winning games.
Thompson said that he was aware of how close he was to 1,000 points before the Prep game, but that he was so focused during the game that he forgot.
"I knew going into the game that I was 14 points away but the game and the moment were so big that I didn't realize when I got it," Thompson said. "Everyone told me congratulations after the game on 1,000 and then I was like man I actually did it."
Thompson said that this huge achievement is just further proof that he and the team can win a state championship.
"This means that I'm on the right track," Thompson said. "I need to keep working so that I can reach my ultimate high school goal which is winning a state championship."
Catch Thompson and the rest of the Warriors at home on Friday, February 8, 2019, when they host the Papillion-La Vista Monarchs.
About the Contributors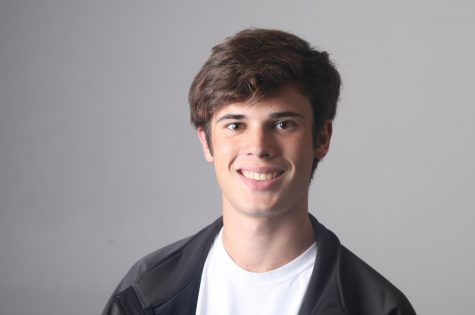 John Maier, Sports Journalism Staff Writer
Hi my name is John Maier! I am a staff writer for Sports Journalism this year. I am currently a junior and this is my second year in Journalism. If you...