Westside Sophomore Finds Success Refereeing
After noticing a large shortage of referees on the soccer field, sophomore Ian Skiermont has taken on the role of being a referee, alongside his busy school schedule and participation on his soccer team. 
"It's a pretty important job," Skiermont said. "There's a lot of people who want to play soccer, and you can't really play without having referees. There's been a huge referee shortage in the last few years; I think they said they were [200] or 300 people short right now."
Skiermont had a unique entrance into the professional world, starting his position as a referee when most other kids were simply going to school. 
"I started reffing local recreational leagues, and honestly, I started because I wanted to get a job and it was one of the few things I could do when I was 12 or 13," Skiermont said. "Plus, I've always played soccer, so it's something that made sense." 
Skiermont says although it is a time consuming job, he is able to manage his other activities because of the flexibility offered. 
"I just ref on the weekends, which, I mean, it works pretty well," Skiermont said. "I also play soccer too, so it's kind of tough to balance. You know, a lot of times I'd go straight from playing a game to reffing. The hours are really flexible; with classes and [my busy] schedule, [flexibility] really helps to work with that."
As a referee, Skiermont dedicates time to ensure that games go smoothly. 
"[I'm] responsible for maintaining control of the game and making sure that all the rules are followed," Skiermont said. "There's a 'third team' in the game: there's the referees and everyone who comes out and wants to have fun and play, and so the referee's job is to make sure everyone can do that."
The sophomore referee has moved up the leagues in his profession by getting assistance to help him hone his skills. 
"We've got a lot of really good referee coaches in Nebraska," Skiermont said. "From one of the referee signers I worked with, I got a youth referee of the year award. I've just done a lot of local tournaments, but I'm very proud of what I've been able to accomplish."
Skiermont hopes that in spite of the shortage, more people continue to participate in refereeing. 
"You get to be outside to do the job," Skiermont said. "There's lots of opportunity… I started out as a 12 year old. Kids my age and younger [can referee] and then also adults; it's really open to everyone. It's a very good job to do."
The referee has considered his future in the profession. 
"Later on, I'm thinking maybe something in economics or finance, but I mean, if I could be a professional referee, that would be a pretty sweet gig," Skiermont said. "If you keep refereeing until you're 18, you can become a regional referee, which means you can run some semi-professional leagues. Basically, as long as you stick with it, there's going to be more opportunities to ref higher level competition. I hope [to continue] refereeing through this level."
Your donation will support the student journalists of Omaha Westside High School. Your contribution will allow us to purchase equipment and cover our annual website hosting costs.
About the Contributor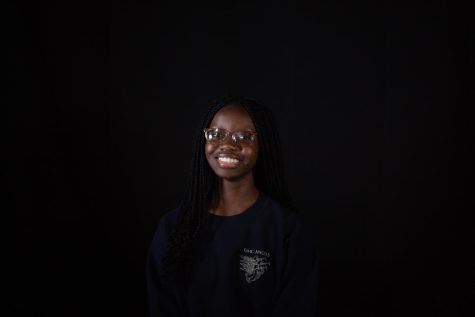 Tanatswa Chivero, Wired Managing Editor
Hello, my name is Tanatswa Chivero! I am a managing editor for Westside Wired this year. I am currently a junior, and this is my third year on Wired. A...