Formula One Adds to the List of International Sports Being Affected by Russian Invasion of Ukraine
The Russian invasion of Ukraine has shocked the world, and with the whole world waiting to see what happened next, the world of sports has felt the impact. Ukrainian soccer teams have switched their uniforms from shorts and jerseys to army fatigues and assault rifles. Yet, one international sport has felt a very strange and controversial impact, Formula 1 racing, also known as F1.
There are a couple things to understand before we get into the nitty gritty. The FIA (Fédération Internationale de l'Automobile)  is the governing body of Formula 1, Formula 2, and other racing series. In F1 there are a couple ways to make money, including prize money, arranged funds, and sponsorships. Many teams who can't find success, also can't really develop their car without a sponsor. These F1 teams are traveling to 22 circuits this year. Drivers in positions 1-10 will score points based off of the position they finish in a race. The driver with the most points at the end of the season wins the championship. There are 10 F1 teams. One of these ten teams is Haas. 
Haas is owned by American businessman Gene Haas and has been known as America's team. This was until in 2021, when Russian billionaire and oligarch Dmitry Mazepin's company Uralkali became the title sponsor of the team. The car ran under a red, white, and blue livery, resembling a Russian flag, and Mazepin's son Nikita Mazepin became one of the two drivers on the team. Last year, Haas struggled, scoring 0 points and finishing in 10th place. It was clear that there were several candidates more skilled for the position than Nikita Mazepin, however, Haas opted for the 'pay driver' to bring along sponsorship deals.
Flash forward to this year, and during this year's Barcelona testing session, Russian troops invaded Ukraine. The next day, Haas took all of the Uralkali and Russian branding off their car, with a livery resembling their 2020 car with less sponsorship stickers. That weekend, the FIA cancelled the Russian Grand Prix. With the future of all Russians in international motorsport in question, including last year's Formula 2 runner up Robert Schwartzman and Formula 3 driver Alexander Smolyar, the FIA has called an extraordinary meeting of its World Motorsport Council to discuss the future of Russians involved in FIA sanctioned motorsport. This meeting is currently underway as of Feb. 28, 2022, and it is unclear what the future could look like, as many international sporting bodies, such as FIFA and the International Olympic Committee have banned Russian athletes. 
So, what's next for Russian competitors in motorsport? As of now we don't really know. It looks like Russian sponsors, teams, and drivers could be banned from FIA sanctioned motorsport. But what's next for Haas? If Uralkali can't sponsor them, will they be bought out? Will a new sponsor take Uralkali's place? What about Mazepin? Who would replace him? Well, let's look at our options. 
Replacing Mazepin would be the easier part, as there's already a couple drivers to choose from, including their own reserve driver, Pietro Fittipaldi. He's more of the obvious choice, as the purpose of a reserve driver is to stand in for another driver when they can't race. However, there are more drivers to choose from. Kevin Magnussen, who formerly drove for Haas from the 2017 to the 2020 seasons, could drive for the team again. Another choice could be Antonio Giovinazzi, who was dropped last season from Alfa Romeo in favor of Guanyu Zhau. Giovinazzi remains in Formula 1 as Ferrari's reserve driver, and with Haas' close connection to Ferrari, Giovinazzi could be a good driver at Haas, as he showed flashes of talent with Alfa Romeo. Two more unlikely contenders are Formula 2 champion Oscar Piastri and former Formula 1 driver Niko Hulkenberg. Piastri could be good at Haas, however, he is currently signed under Alpine's driving program, giving him no reason to go to the Ferrari backed team. Niko Hulkenberg is constantly brought up whenever a team is in need of a driver, even though he is currently the reserve driver for Aston Martin, it seems as if any team in need of a veteran driver could turn to him. Either way, Haas has options to choose from if they come in need.
As for what happens to Haas' sponsorships, it's very uncertain. Gunther Steiner, the team principal for Haas, admits there is a risk of losing the Uralkali sponsorship and Mazepin, as well as stating that they have 'other resources' should they lose Uralkali. However, if Haas can't stay afloat, there could be another American ready to buy the team out, Michael Andretti. Andretti is the son of former Formula 1 world champion Mario Andretti and has made recent attempts to enter Formula 1 or buy out a team as recently as 2021 when he tried to buy Alfa Romeo Sauber. In recent years, he also offered to buy Haas, but Gene Haas has declined his recent offers. However, Andretti states that the offer is still on the table.
So, the Russian invasion creates a complicated situation for all international sporting bodies, however, in motorsport where cash is king, the impact has been felt. Major sponsorships and drivers could not only be dropped but banned from entering the sport. At this moment in time, the result of the FIA's meeting has not been confirmed, so all we can do is wait and see.
Update as of Tuesday, Mar. 1, 2022, at 3:22 p.m CST.
After the FIA's meeting on Tuesday, Mar. 1, the group has come to the conclusion that Russian and Belarusian drivers will be able to compete under a neutral flag. No Russian or Belarusian national symbols, colors, or anthems should be displayed or played until further notice. The Russian Grand Prix will stay cancelled. No grant will be given to Russian or Belarusian FIA members. 
This could impact Haas' livery, making it unable to show the Russian flag on a car, and possibly removing all Uralkali decals from the car and fire suit. Should Nikita Mazepin stand on the podium this year, there would be no Russian national anthem. Mazepin, along with all other Russian and Belarusian drivers, will not be racing under a Russian flag. This is different from last year in 2021, as they were driving under the Russian Auto Federation, as no Russian government committee is allowed to compete under the Olympic committee. This is similar to the ROC in the Olympics.
So yes, Mazepin will be able to race. It's unclear that this will impact Uralkali's Haas sponsorship, but it could impact Haas' livery on the car, their motorhomes, and fire suits.
About the Contributor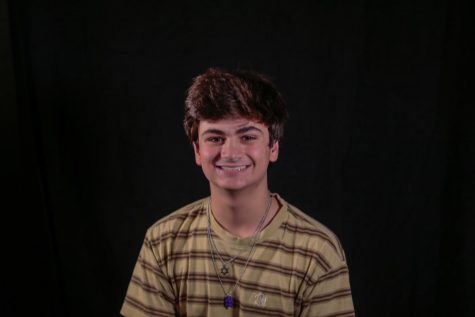 Ben Kaufman, Sports J Writer
Hi, my name is Ben Kaufman! I'm a writer for Sports Journalism this year. I'm a sophomore and this is my first year in Sports Journalism. If you have any...