Westside Girls Basketball To Play in KSA Classic in Orlando, Florida
The Westside varsity girls basketball team will head to sunny Orlando, Florida to play teams from across the country in KSA's Classic Tournament. Tournament play begins on Dec. 15, 2021 and lasts through Dec. 19.
Every other year, the Warriors participate in a competitive tournament outside of the state of Nebraska. It's a great way to help Westside see intensity on the court from teams across the nation, especially right before they begin the Metro Holiday Tournament. Normally, the team would travel to Phoenix, Arizona to compete in the Nike Tournament of Champions.
"We knew pretty early on that we were going to Orlando because that's what all of our fundraising is for," senior Adriana DiPrima said. "Normally, every two years we go to Arizona and play in a tournament there. We found out that that tournament got cancelled and found a tournament in Orlando to go to instead."
While the Warriors are used to out-of-state play, it isn't an opportunity that most high school basketball teams get to take advantage of. 
"It's just fun to play teams that you never get a chance to play," head coach Steve Clark said. "We're playing a team from Arkansas, a team from Pennsylvania and a team from Oregon. You never get to do that as a high school team. A lot of [club] kids in the summer get to play kids from everywhere but as a high school team, you wouldn't normally get the chance to do that."
After the Warriors' matchup against the Benson Bunnies on Tuesday, Dec. 14, the team will board a flight to Orlando on Wednesday morning and begin tournament play on Thursday. The Warriors were placed in the Yellow Pool, and they're not going to see any teams from the Midwest. The other three teams in their pool are Berks Catholic High School (PA), Roosevelt High School (OR) and Bentonville High School (AR). One other team from Nebraska, the Fremont Tigers, will also compete in the tournament.
"We're going to play teams from all over the country," DiPrima said. "We know that the teams that we see down there are typically going to be the best of the best. They're all going to play fast and aggressive, so we have to match that and come out just as strong or stronger than that."
Despite the competitive aspect of a national tournament, this trip won't be all work for the Warriors. This trip is normally Westside's biggest team bonding event of the season, and this year will be no different. 
"They learn a lot about each other," Clark said. "You try to build trust all the time, and when you get to know each other and learn things about people that you may not have known, it starts to build more of that trust. That carries over to the court. If you trust people on the court then you play better." 
Off the court, the Warriors will watch an NBA game and visit theme parks like Disney World and Universal Studios.
"I am excited to play teams from all over the country, but to be honest, I'm super excited to see Harry Potter World," junior Elaine Wiles joked.
Over the four day trip, the Warriors will do their best to become a stronger team both on and off the court.
"We've already done activities for team chemistry and every time we have an activity, we notice it get better and better," DiPrima said. "I really think this is going to help a lot and bring everyone together because we're going to be living together for four days.
The Warriors face their first opponent in the KSA Classic on Thursday, Dec. 16 at 1:30 p.m.
Your donation will support the student journalists of Omaha Westside High School. Your contribution will allow us to purchase equipment and cover our annual website hosting costs.
About the Contributor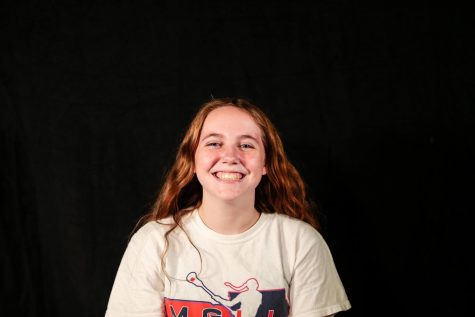 Eliza Haney, Photographer
Hi, my name is Eliza Haney! I'm a photographer for Sports Journalism this year. I'm a sophomore and this is my second year in Sports Journalism. If you...