Staffing Issues Spark Concerns Throughout the District
In the wake of recent staffing issues, concerns have emerged within the Westside community about staffing issues in building and nutrition services along with other classified positions.
While administration states that the district is struggling to keep up with market wages, the union representing Nutrition Services claims that the most recent contract enabled the shortage.
Westside Director of Human Resources Melanie Connolly attributes the staffing problems to a combination of recent economic factors and a post-pandemic reevaluation of work.
"It's a nationwide issue, the demand is really high right now," Connolly said. "People have just opted out of the workforce in sectors like food service sectors. [COVID-19] changed some of those assumptions that people had. For educational assistants, we saw a lot of people who were hesitant to work last year for genuine health reasons and fears, so the type of employee that opted out for health reasons aren't necessarily returning."
Assistant Superintendent Andrea Haynes also said that these issues contributed to the staffing shortage, in addition to a lack of flexibility in the district's negotiated contracts with unions for staff.
"One of the things in the [Human Resources] department that we are running up against is that we have private sector companies and organizations who are upping pay and we are losing individuals to some of those. It's harder for us to pivot. Being able to offer any adjustment would be a pretty big task. One would be remiss to say we don't want to pay [Nutrition Services] more," Haynes said.
"
One of the things in the [Human Resources] department that we are running up against is that we have private sector companies and organizations who are upping pay and we are losing individuals to some of those. It's harder for us to pivot. "
— Andrea Haynes
Haynes also noted that there had been no communication from the union about an increase in wages, thereby limiting the school's flexibility in adjusting wages.
"Right now, the union has not reached out to us to engage in those sorts of conversations," Haynes said. "But it's not to say that if they did we wouldn't [renegotiate]. We want our employees to feel valued and feel compensated for the work that they do."
In addition, Haynes reported that Westside Community Schools' ability to hire was negatively impacted by federal assistance programs to families and low-income individuals. Haynes believes, however, that this support will be ended soon.
"A couple factors that I think will help this get better soon are the ending of extended unemployment benefits soon, and as that starts waning that will start sending people back to work," Haynes said. "That's federally, not just in Omaha. [Individuals will come back to work after] some of the federal benefits that were available to families [end]. Some of those advances that families were getting for their children, prior to filing for taxes, were not only in advance but also increases in some of those amounts- that will begin to wane off. Individuals will need to [provide] for their families and themselves."
Haynes also said that maintaining full-time jobs to support a family is not currently an easy task for the district, given that the current hiring focus is on part-time positions.
"A lot of the jobs are six-hour per day jobs," Haynes said. "We would have to work with our union and really see if there's a way to redefine some items to where it's not just in that six-hour time period. The requirements of the job make it difficult to have full-time positions for everybody who works it."
Westside Community Schools signed a new negotiated agreement with SEIU Local 226, the union representing Nutrition Services employees, in late June 2021. Despite Haynes' and Connolly's assertions that the issue was in part caused by an inability to pivot mid-contract to keep up with current average wages and benefits as a result of the labor shortage, the latest contract (effective for the next two years) was negotiated long after national labor shortages began. Prior to the start of June 2021, the general public was aware of warnings and signs of a labor shortage, as prominently featured by news outlets like The Washington Post.
SEIU Local 226 President Steve Owens said he sees the situation much differently than Haynes and Connolly. Owens responded to the district's view, saying that when a contract such as the negotiated agreement in question is opened, there are significant consequences. The entire contract can then be renegotiated, not only adjusted for pay.
"You'd have to open the contract," Owens said. "Our lawyers have reiterated to us many times that you never open up a contract in the middle because then everything's up for negotiation, not just wages. So, there's a chance that people could lose benefits- anything can happen if you open up a contract. Once we are done negotiating, we are done for [the contract term]."
Due to the date of the most recent contract's negotiation, Owens said that the district did not offer an increase in pay at the June 2021 negotiations beyond the standard 2.94% increase seen each year.
"If [WCS] wanted to offer more money, that should've been done in the time that we were negotiating," Owens said. "The district saying they can't keep up with the private sector, that's not true. If they really wanted to raise the wages up, they'd have done it at negotiation time when we asked for a higher wage. If they can't hire people because the wages aren't high enough, that's on them. We've asked for higher wages and they always come back 'no, no, no'."
Owens also believes that WCS knew the risks of keeping wages low, but pressed forward in the face of potential labor shortages.
"The next negotiated contract is in two years. If they were that concerned, they'd have done one-year deals, but they wanted to do two-year deals, so this thing is locked in for two years. If they wanted to raise wages they should've done it at contract time, knowing that they would be short of people. They know the consequences, [staffing issues]." Owens said.
"
If they wanted to raise wages they should've done it at contract time, knowing that they would be short of people. They know the consequences, [staffing issues].""
— Steve Owens
Owens did mention that he had not seen any advertising for the district in local newspapers.
"They can bring people in, I know someone who got hired just the other day. If they really wanted to hire people, [though], they'd be advertising." Owens said.
Wired interviewed WHS staff who shared they're seeing an increase in workload without an increase in pay. Westside High School Principal Jay Opperman shared his view on this staff sentiment, expressing that it was common throughout those working in education.
"There are a lot of people in education, and a lot of [other] jobs, as a result of [COVID-19], taken on more to cover for other people," Opperman said. "For example, we often have teachers covering other teachers' classes. It's put stress on the system, and the reality is there's a nutrition services agreement- and anything related to the pay would need to be addressed through that agreement."
Opperman also discussed some potential solutions to the issue. These included moves such as shifting staff or moving these jobs to students. However, Opperman does not expect the issue to persist long enough for a major restructuring.
"Not that this is the answer to these [issues], but obviously there are times when we could utilize some [instructors] in different ways," Opperman said. "The beauty of a high school is that there are times when students could maybe help with some things. That's not desired, we'd rather students focus on classes and things of that nature. But we're hoping we come out of this where people come back to work."
Your donation will support the student journalists of Omaha Westside High School. Your contribution will allow us to purchase equipment and cover our annual website hosting costs.
About the Contributor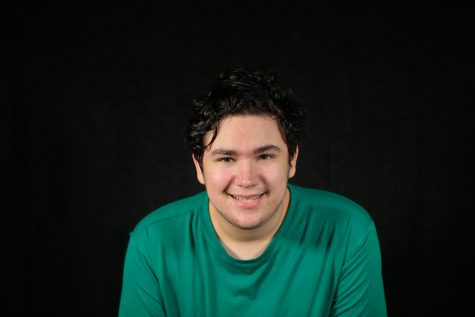 Dan Magruder, Wired Staff Writer
Hi, my name is Dan Magruder! I am a staff writer for Westside Wired this year. I am currently a junior and this is my third year on Wired. A fun fact about...