Leading the Way: Hillside Elementary First to Implement Composting Solution
Our global impact on the environment continues to increase, and in turn negatively impacts our everyday lives. This is why it's important for Westside Community schools to make an impact, no matter how small it is. This can include things like composting and recycling, and coming up with new ways to be sustainable. 
Director of Communications and Engagement Brandi Paul explained that Westside's efforts towards sustainability is something to be pleased with.
"Westside is proud of our district efforts and partnerships to promote composting programs, community gardening, general understanding and promotion of our Earth and resources, and various activities to support those efforts throughout our schools," Paul said.
Despite Westside's efforts, there are still several obstacles in the way that prohibit our district from being able to recycle cardboard and other materials.
"We used to provide bins for plastics and recycling in our schools," Paul said. "Just before the 2019-2020 school year, Westside learned our trash provider would no longer accept single stream recycling (only cardboard, no aluminum or plastic). Facilities Director extensively researched other options, but unfortunately, there were no other vendors available."
Paul said administration is still promoting recycling and composting practices district-wide.
Despite not having these recycle bins in our buildings as we did prior, we continue to encourage our students and staff to recycle at all opportunities they can," Paul said. 
Paul also said that the district is working hard to find new ways to be more sustainable and encourage Westside students to become more involved. 
"We will also continue to keep conservation as we continue to improve our schools and buildings, whether that means planting trees and native landscaping around new schools, or investing in more efficient technology and maintenance systems to decrease our carbon footprint," Paul said. "Finally, we hope to continue to see this strong desire in our students, evidenced by clubs throughout our district, showcasing how our young people are actively working to make a difference." 
Last spring, Hillside Elementary set in place a new composting program in an effort to be more conscious about our district's environmental impact. On the school's YouTube page, Hillside Solutions, they posted a video explaining what composting is, why it's done, and how their school is going to take part. 
Students at Hillside were told to put their food waste and napkins into green bins every week so that by the end of the week Hillside Solutions can pick up the bins and bring them to the Soil Dynamics Composting Farm in Nebraska.
Brent Crampton, a member of the company that deals with the composting process, explained that once the waste is dumped on their farm and it has broken down for a year, it will turn into nutrient-dense soil that can be used in gardens, landscapes, and more in Omaha. 
"Our team is going to come with a truck once a week, empty the bins of waste along with other businesses, schools, and churches' waste, and it's going to be taken to our composting facilities where it's going to sit for up to a year and break down," Crampton said "From that process it's going to turn into nutrient-dense soil that's clean and safe and will go to farms and gardens around the community."
The produce that is grown with the soil is sold to restaurants like Au Courant in Benson.
"They use delicious tomatoes in the food that they serve. This restaurant also composts with us and sends their waste back to us so that the process goes on and on," Crampton said.
Hillside Solutions composting process looks to be just the start of Westside's new efforts towards sustainability. To learn more about the composting process, you can watch the full video at
About the Contributor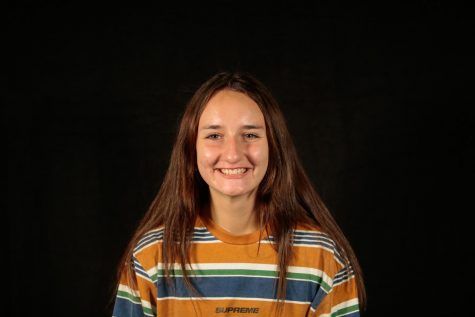 Sammy Marvin, Wired Staff Writer
Howdy, my name is Sammy Marvin! I am a staff writer for Westside Wired this year. I am currently a sophomore and this is my second year on Wired. A fun...