Nebraska Governor and Douglas County Health Department Weigh In On Vaccine Rollout
As the rollout of the COVID-19 vaccine continues, many Westside students are wondering when they will be able to get theirs. Nebraska, currently moving from vaccinating healthcare workers into vaccinating elderly Nebraskans, recently released a new set of tiers for vaccine allocation. Nebraskans 65 years and older and those 18 years and older with high-risk medical conditions will be next in line to receive the vaccine. Nebraska Governor Pete Ricketts said, however, that Nebraskans 15 and younger must wait for further vaccine testing. 
"The Pfizer vaccine has been approved for people who are 16 years old, the Moderna [vaccine] has been approved for [people who are] 18 years old," Ricketts said. "Both Pfizer and Moderna are doing studies on people who are 12 and up, but until those studies are done and get approved by the FDA, if you're 15 or younger, you won't have access to [a vaccine] at all." 
Ricketts set a highly ambitious goal for vaccinating the general public– as soon as late April. This includes those 16-18 years old with no underlying conditions. 
"With regard to folks who are 16 or older, what I would expect is that [those people could get the vaccine] in the general population, but [16-18] would only get the Pfizer [vaccine], we can't give the Moderna. That will be sometime in, I'm guessing right now, late April to early May," Ricketts said.
For students with high-risk conditions, those ages 16-18 face a lower priority for vaccination than those 18 or older. This policy breaks with both CDC guidance and what most neighboring states are planning. Ricketts said that this was because younger people are less likely to die from COVID-19. 
"Right now, you can only get the Pfizer [vaccine] if you're under 18," Ricketts said. "Just in general, we're not actually getting to those underlying health conditions at this time– we're really doing it based upon age [starting with the 65+ population]; and, the reason for that is that if you look at our fatality rates here in Nebraska, you're much more likely to pass away from COVID if you're [65+] than if you're in the younger categories. As we get into the comorbidities, we'll look at that again but right now we're just focusing on people 65 years and older."
As for why Nebraska is not following the CDC guidance, Ricketts said that the guidelines are non-binding and he believes it is the best course of action for Nebraska. 
"The CDC is very clear that when they put out their guidelines, [those are] just guidelines," Ricketts said. "It's really left up to the discretion of the states [to decide]. The plan is also a living document, so we make adjustments to it. We may go back and redress that if we think that we're [able to] meet the needs of 16-18 year olds, then we'll do that. But again, if you look at that age category, we're doing this primarily based on the risk of mortality."
Finally, Ricketts also said that the vaccine allocation to Douglas County, which Douglas County Health Director Adi Pour recently described as "frustrating", was going well, and that if anything, the county received more vaccines than most. 
"Douglas County is receiving the vaccines in proportion to the population that we're currently serving," Ricketts said. "So, for example, in Phase 1a, they got the exact same percentage as everybody else relative to folks in long-term care facilities and healthcare workers. So i'm guessing that probably meant they got a few more vaccines than the health districts where they had fewer healthcare facilities. Douglas County has got three major healthcare systems with UNMC, CHI, and Methodist, so they probably got over-allocated because they had more healthcare workers."
Phillip Rooney, a spokesperson for the Douglas County Health Department , said that while the state is making its best effort, there are things they would rather have seen done differently. 
"There seems to be less vaccine hesitancy in Douglas County than other counties. That has allowed those counties to go through the tiers more quickly than we have and it has not always been easy for our residents to understand why their peers in other counties are getting the vaccine before they are. I would simply say vaccine allocation and distribution is a challenge everyone, including the Governor, is doing the best they can with a situation over which we have little control." Rooney said. 
In addition, Rooney said that the county would like to see the calculations that the state used to decide the number of doses sent, but also acknowledged the challenges in making these decisions.
"We are getting our allotment based on the percentage of residents." Rooney said. "What has made for an early challenge is the large numbers of non-residents who work here in health care who we had to vaccinate. If that could somehow have been calculated – and it would have been difficult – it would have been helpful. That said, everyone is getting less vaccines than they would like, but we keep pushing for our community."
Your donation will support the student journalists of Omaha Westside High School. Your contribution will allow us to purchase equipment and cover our annual website hosting costs.
About the Contributor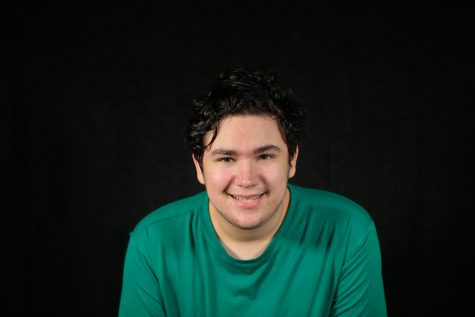 Dan Magruder, Wired Staff Writer
Hi, my name is Dan Magruder! I am a staff writer for Westside Wired this year. I am currently a junior and this is my third year on Wired. A fun fact about...