Westside Girls Basketball Continues Winning Streak
The Westside girls basketball team began their 2020-20201 season coming off of a major loss at the state tournament, right before the COVID-19 pandemic caused all sports to be shut down. They lost in the first round of the tournament to the lower-seeded Fremont in what felt like an upset. Head coach Steven Clark felt that after that loss, the team's successes throughout the season were overlooked.
"We ran into Fremont, who has four girls going to play in college, and they shot it really well," Clark said. "When you get to state, it's like everyone forgets what it takes to get there when you lose your first game."
Coming out of the 2020 season, the team lost five seniors, four of which were starters. This meant they had to spend some time reworking their team dynamic, and Clark was ready for the challenge.
"I always look forward to how this team is going to come together, how relationships are going to get built, how our team develops chemistry-wise, how we can get them to play at a higher level than they used to," coach Clark said. "They get excited when they're successful, they get excited when they win, they get excited when they can do things they didn't know they could do. Our vision is always building those lifelong relationships while competing for a state championship. We want to be competing at our highest level."
With the team losing four of its starters in the graduating class, the leadership of the team also took some reworking. With only two seniors on the team, Ellie Tempero and Ruby Secora, varsity returners Madilyn Siebler, Adriana DiPrima and Kaitlyn Hanna have stepped up. Going into the season, coach Clark was confident in these girls' ability to lead the team through another great season.
"Ellie and Ruby as seniors are really doing a nice job. Some of the juniors that have been on the team for a couple years are doing a really great job of showing up for each other, really talking everybody through how everything works, holding people accountable but yet acknowledging when they're doing what they're supposed to be doing," coach Clark said.
The team opened the season against Columbus. Siebler, Hanna, and DiPrima, who have all been on the team since they were freshmen, started the game alongside Livi Kraft and Lucy Schonlau. Schonlau, a 6'4" transfer from Duchesne, played a strong opening game for the team, making herself known on both the offensive and defensive side of the ball. She scored a total of 13 points in the game, making up just about 25% of Westside's total score. She also managed a total of 14 rebounds, fulfilling her role as the center. Madilyn Siebler also played an explosive game, totaling 11 points at the end of the fourth quarter. The Warriors came out of that game with a win, beating the Explorers 44-29.
Following their promising start to the season, the girls faced up against Millard North. They ended that game in a 24-point deficit, losing 44-20 to the Mustangs. Half of the team's final score was made up of points won from the charity strike. 
In the week following the loss to Millard North, the Warriors picked up a 68-22 win against Omaha North and a 44-29 loss to Norfolk. In the game against Omaha North, sophomores Livi Kraft and Lucy Schonlau made some noise on the court, with Schonlau scoring a total of 11 points and Kraft chalking up two three-pointers. Senior Ellie Tempero didn't play in either of the opening-week games due to an ankle injury but was able to compete in the second week, achieving a total of 7 points off of 13 attempts. The highest scoring westside player in the game against Norfolk, totaling 11 points on the night, was Kaitlyn Hanna. She hit one of the team's three three-pointers of the night and managed four two-pointers as well. Following those games, the team won by one point in overtime against the Benson Bunnies, finishing the game 46-45. Kraft hit another three three-pointers, and the rest of the starters were not far behind her. In their final match before the Metro Holiday Tournament, the Westside team chose to keep the momentum rolling, chalking up another win, 49-27 against Lincoln Southeast. Kaitlyn Hanna and Lucy Schonlau scored a combined 28 points, and Schonlau made herself known on the defensive side of the ball with a total of 9 blocks.
After the opening weekend split, the Warriors would win three of their next four games with standout performances from transfers Livi Kraft and Lucy Schonlau. In those four games, Schonlau put up a combined 42 points, 38 rebounds, and four assists.
With the strong start, the Warriors would head into the Omaha Metro Holiday Tournament seeded a surprising 13th. Going up against the fourth-ranked Papillion-La Vista South Titans the Warriors would pull off the upset 51-48. Junior Kaitlyn Hanna described the effective game plan the Warriors chose to use.
"Papio South has some pretty good players, and lots of speed," Hanna said. "We knew going into the game, it would be fast-paced and we had to stay composed. Lucy, our center had a great game, and we found many opportunities to get the ball to her and find shooters as well." 
Schonlau totaled a whopping 22 points on the night, grabbing another 11 rebounds off the glass. Going into the game, coach Clark focused on the defensive side of the ball and continuing the team's explosive momentum.
"We had to work hard at keeping track of where their shooters were and having good closeouts," Clark said. "We had a good OT win against Benson three days prior to the PLS(Papillion-La Vista South) game and really wanted to keep our momentum going."
Junior Madilyn Siebler concluded that, in the form of the classic underdog story, the team's seed may have worked in their favor.
"Being seeded 13th was frustrating because we knew that wasn't a good representation of how good we are, but I think it ended up giving us an advantage," she said. "There were no expectations to be the best and beat a bunch of teams, but we knew that if we played well, we'd be able to prove we're just as good. So that definitely motivated us."
Besides Schonlau, juniors DiPrima and Seibler hit a combined three three-pointers and three two-pointers.
After the motivating win against Papio South in the opening round, the entire tournament came to a halt for the holidays. In that period of time, the team was only able to practice once, but coach Clark made sure they used every minute to prepare for their upcoming battle against the Bulldogs of Omaha Burke.
"Between the Papio South game and Burke game, we had a seven-day break and only one day to practice, as did everyone else. The only change we needed to make was our defensive focus.  Burke has a really good wing player that we had to contain on drives and in transition," Clark said. 
The Warriors would pull off another upset over the Bulldogs at Burke high school and would move onto the semi-final round. Seibler thought the Burke game was a good example of meeting goals the team had been working towards throughout the season.
"Beating Papio South was exciting, so it would've been easy to kind of relax going into the Burke game, especially going a week without playing or practicing. But Burke has some talented girls and we knew that we'd have to show up and compete," Siebler said. "We changed our defense a little to focus on guarding their best players, but otherwise we didn't change much elsewhere. We've been focusing on how every possession matters, and to not step off the gas, which I think we did a good job of during both Papio South and Burke."
Sophomore Livi Kraft played a key role in the game against the Bulldogs, making six three-point shots to make up her game total of 18 points. Her fellow sophomore Schonlau was not far behind, totalling 15 points on the night. 
Headed into the semifinal round the Warriors would face off against the top-seeded Millard South Patriots. Madilyn Seibler knew going into the tournament that a game against Millard South was inevitable if the team kept winning, and she knew the level of competition was going to be unlike anything the team had seen previously.
"We don't have a rival, but if it's anyone, it's them, which might have contributed to our motivation in the first and second round. They're very aggressive and fast; their goal is to get you sped up so you make mistakes. We knew going into it that it would be a tough game," Siebler said.
Coach Clark was also aware of the challenge posed by the girls of Millard South heading into the semifinal matchup.
"Millard South presents many challenges to every team.  We did not handle their defensive pressure and we lost our composure a bit and Millard South took advantage of that," Clark said.
Proving that statement, the Patriots would hold the Warriors to just one point in the first quarter and would move onto the tournament championship in a 56-28 win. Despite the loss, Madilyn Seibler is determined to use what they learned from the loss towards their regular season game against the Patriots in late February. 
"We obviously lost by a lot, but we kept our heads up and learned from it for sure," Siebler said. "We'll play them again in our last game in the regular season, so we'll have a lot more time to prepare than we did at Metros, and now we know what we need to improve on to beat them."
After the semifinal loss, the team stepped into the new year looking towards the last half of their regular season. After Omaha Bryan canceled its season due to lack of player turnout, Westside would schedule an away game up against Lincoln Northeast. Kaitlyn Hanna, Livi Kraft and Lucy Schonlau all showed up in a big way on the court, each reaching double digits in helping secure a 60-38 win. Hanna knew the win meant good things for repairing the team's spirit.
"Coming off the loss to Millard South with a big win over Lincoln Northeast felt good," Hanna said. "We were able to gain confidence in our plays and teammates."
The Warriors followed up that game with two more wins against Burke, 53-43, and Omaha South, 60-40. Between both games, Lucy Schonlau totaled 37 points. 
Overall, coach Clark is proud of how hard the team is working in 2021.
"The girls have been doing an awesome job of continuing to compete and they have the drive to keep learning and improving as we go," he said.
After a win up against the Papillion-La Vista Monarchs on Tuesday night the Warriors will head to top-ten Omaha Marian on Thursday looking to continue their win streak.
Your donation will support the student journalists of Omaha Westside High School. Your contribution will allow us to purchase equipment and cover our annual website hosting costs.
About the Contributor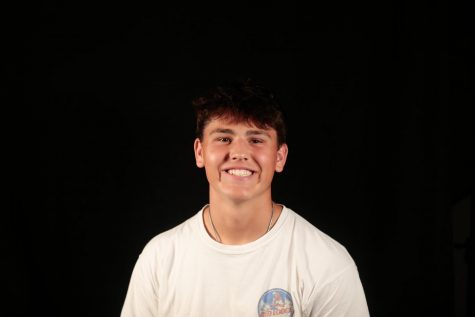 Martin Mormino, Sports J Writer
Hi, my name is Marty Mormino! I'm a writer for Sports Journalism this year. I'm a junior and this is my second year in Sports Journalism. If you have any...