IMCs Enforce New Safety Guidelines as COVID-19 Precaution
The IMC has become a staple in almost every Westside High School student's experience, but with several restrictions being put in place due to COVID-19, the study zones have had to make modifications. The IMCs' new guidelines, although small, are a step in the right direction towards the end of the pandemic.
Math IMC
The Math IMC is also enforcing social distancing through limited seating and plexiglass dividers. Students are also asked to sign in when entering. Educational Assistant Shelly Westenburg said the new precautions are keeping the IMC even more empty than she thought.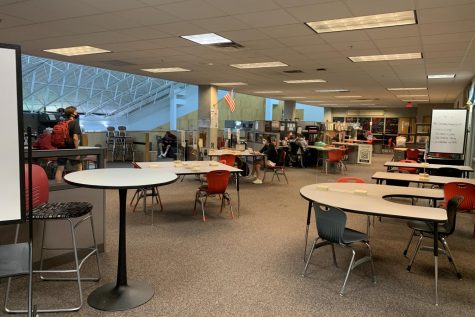 "Sometimes a bunch of kids come in and they realize there aren't many places to sit so they go somewhere else," Westenburg said.
Junior Kabreah Johnson said the rules aren't complicated, and said she hopes it will prevent the spread of COVID-19. 
"Just keep your mask on, keep your distance, and wash your hands," Johnson said.
English IMC
Educational Assistant Gina Dukes said students in the English IMC are doing a good job of following the new rules. Dukes said hand sanitizer at the entrance along with a sign-in sheet and less seating are all being enforced to help prevent an outbreak at Westside. Dukes said the rules are necessary but could be stressing students out.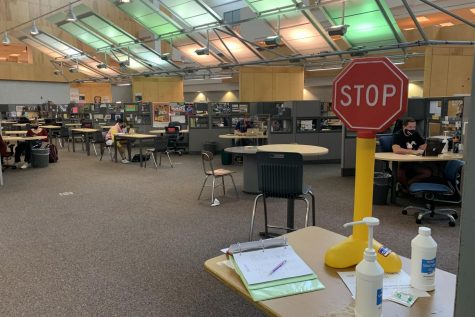 "It's just another thing for them to think about," Dukes said. "Like [the students] don't have enough to think about already."
Senior Connor Anderson said the rules might get harder to follow as more students are attending school. 
"It's harder to sit with friends," Anderson said. "When we go to 100%, it is going to be even more difficult."
Social Studies IMC
The Social Studies IMC has limited their seating, installed plexiglass dividers between seats, uses contact tracing surveys, and is, of course, enforcing masks. Educational Assistant Linda Bramblett said students are doing a good job of keeping their distance and following the rules. Bramblett said she is curious to see how things will play out at 100%.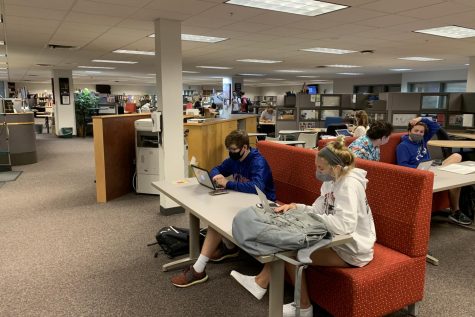 "I think it's been okay so far," Bramblett said. "But one of my concerns is when we go back to full [attendance], where are we gonna put all the kids?"
Junior Natalie Brownfield said not everyone is following the new IMC rules, despite their simplicity.
"I don't think everyone's following them, but I think they are easy to follow," Brownfield said.
Engineering IMC
Educational Assistant Margy Ladd also said they are doing everything they can to keep students safe in the Engineering IMC. Similar to other IMCs, they are promoting hand sanitizer use, limiting seating, and using sign-in sheets for each table for contact tracing purposes. Ladd said the precautions are tedious but crucial.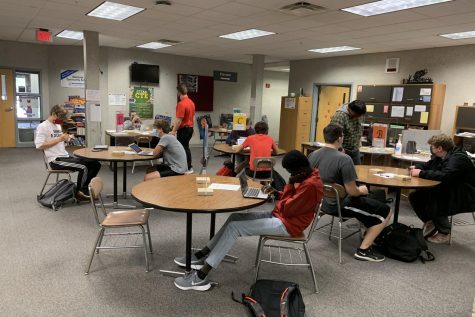 "At first it is weird, but it is for the safety of all of us," Ladd said. 
Sophomore Tanner Burmeister said he and his peers aren't having too much trouble following the rules in the Engineering IMC. 
"It's not affecting me that much," Burmeister said. "You just can't sit with as many people as you used to."
About the Writer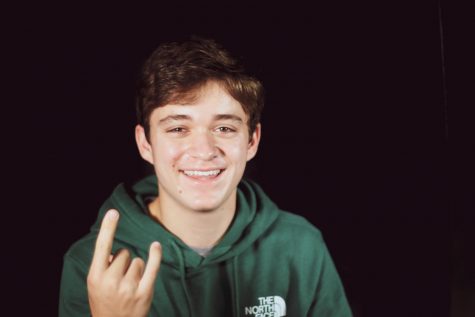 Benjamin Kutler, Wired Managing Editor
Hi, my name is Benjamin Kutler! I am a Managing Editor for Westside Wired this year. I am currently a junior and this is my third year on Wired. If you...