Westside's Early Childhood Program Adapts to Changes Amidst COVID-19
Westside students across the district are doing remote learning—elementary students with iPads, middle schoolers and high schoolers with MacBooks—but what about the children in Westside's early childcare programs?
District 66 offers early childcare at 12 sites. There are three programs for pre-elementary school kids: a toddler group for 18-month to three year olds, preschool for ages three to five and pre-K for ages four to five. Over 400 children attend these programs that are no longer in session due to COVID-19, but they are still provided materials to learn from home. Program Director for Westside's Early Childhood Julie Oelke explained why this is critical.
"The first five years are so important to children and it's really important that they have a very solid foundation in a lot of things," Oelke said. "A lot of the research stems from that, it's so important, that social and emotional development is important."
Interacting with peers, being able to follow directions and being able to sit and listen to a story are all things Oelke described as what kids learn from these programs—essential skills to set them up for success in elementary school and beyond. 
"If we could spend all of our time and effort in resources into those first five years that high school would look much different, college and as people get into adulthood, would change how our world interacts…" Oelke said. "That reason right there is why we want to continue to provide families with lessons and activities. A lot of times the activities we do provide may seem just recreational or fun, but there is a purpose behind them because children learn best through play. So setting up those different scenarios that will help them learn how to interact with others kind of through a fun, play environment is so critical." 
Teachers are communicating with their students through an app called Seesaw that they had already been using. They post about three or four activities a day, like a video of them reading a story or activities they would normally do in the classroom. Families can also post photos of their kids doing the activities to connect with each other.
 "Overall the parent involvement has been really great," Westbrook's Site Director Amanda Wilson said. "It's starting to dwindle down a little bit as the weeks go on."
One parent who has been engaged with Westside's early childcare is Ashley Mason, mom of five-year-old Paxton Mason, who has been attending Sunset's preschool program for two years. Ashley said the transition from a traditional classroom setting to online learning hasn't been too easy.
"It's been difficult, but they have done a really good job of providing as much help as they can," Ashley said. "Every morning his group in the preschool posts activities and links to books out loud. We can post pictures of [the kids] on [Seesaw] just to interact so they can see their friends and what everybody else is doing."
At preschool, Paxton also has an Individualized Educational Program, or IEP, where he gets speech therapy twice a week.
"When this all went down, I was really nervous for him, because I didn't want him to fall behind," Ashley said. "Without me even addressing it, the speech therapist reached out to me and asked if we would be open to doing Zoom meetings so he could still have that once a week. It's been amazing. He looks forward to it, he's really excited and he's still getting some of that."
Along with the twenty-minute speech therapy sessions, Paxton's mom is sent additional materials for him to work on throughout the week. According to Ashley, the whole program has done a wonderful job with communication. 
"They checked in yesterday," Ashley said. "One of his preschool teachers called him, just to say 'Hi,' and we ended up FaceTiming with her. It made his day."
Oelke further explained why staying connected was important. 
"During a time that might be kind of scary to children, we want to be able to provide some online learning resources for children to have normalcy," Oelke said.
Part of Wilson's job is providing that normalcy and she does that by staying in touch with people.
"My role with families is to send out a weekly newsletter just to keep them updated," Wilson said. "I've been providing resources for families during this time, whether it be for needing meals or mental health resources." 
Westside Early Childhood has also been taking this time to focus on professional development. As a site director, this is also a big part of Wilson's job. 
"We have been using this opportunity for our staff to work through training and get more in-service hours in education on different things, whereas being in the classroom setting it was so hard to get them that type of educational learning and stuff like that," Wilson said. "This time it's been amazing to have all the teachers be able to complete those different training in everything."
Wilson said the training her teachers do is individualized.
"They're all at different places with their training, so I've been coordinating that with them," Wilson said. "It really depends on the person and the type of educational background they have." 
For the first week of working remotely, the Westbrook site director scheduled a lot of activities for her staff, but has since started spreading work out more.
"I know mental health and everything for them is probably taking a toll for them stuck at home," Wilson said. "I usually have them do training videos everyday, but this week I had them completely stay away from that and had them do activities to help them focus on their mental health and self care."
These activities have come from several different places: the Department of Health, different local agencies or YouTube. 
"I think [mental health] has always been a big deal but…more nowadays it's starting to be looked at for teachers, especially with this time being home and parents having to do the teacher role," Wilson said. "I think it's been a huge wake-up call for those who are not in an educational setting to see what teachers go through every day."
Debbie Glogowski has been a preschool teacher with Westside for about 15 years and has been at Westbrook since 2008. She said she's been trying to make the best of this situation and provide fun activities for her students, but is a people person and misses the children.
"I miss their hugs," Glogowski said. "I miss their smiles. I miss their innocence, like the little question they always ask us. When we were able to get everybody to put their pictures on Seesaw, I mean the first time I saw their faces I was crying, like 'oh my gosh, I miss these little guys!'"
About the Writer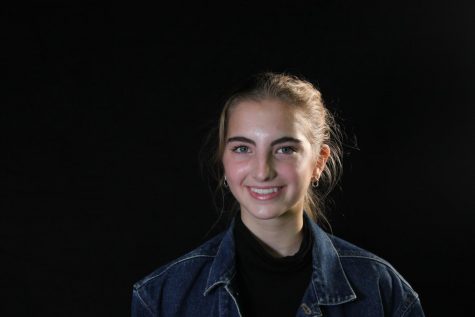 Julia Steiner, Lance Editor-In-Chief
Hi my name is Julia Steiner! I am an Editor-In Chief for Lance this year. I am currently a senior and this is my fourth year on Lance. If you have any...