Westside Show Choir Families Make Masks For Health Care Workers
Health care workers having the necessary materials to keep themselves and our society safe can be the difference between life and death, especially right now with the ongoing spread of Covid-19. With that in mind, Janet Kroeger set out to help our doctors and nurses by providing them with masks used to keep themselves and their patients safe. Kroeger enlisted the help of her sister-in-law, Jackie Kroeger, her granddaughter Kelly Kroeger, and the sewers on the Competition of Excellence show choir bear committee to help sew the masks needed by hospitals in our local community. 
Janet Kroeger said that she got the idea to make the masks from a friend who forwarded her an email. 
"Someone forwarded me an email from the Midwest Fashion Institute where they were asking for people to help sew, so I drove down there and picked up the materials," Janet Kroeger said. 
After picking up the materials, Janet Kroeger asked her granddaughter, senior Kelly Kroeger, to help with sewing the masks. 
"I thought everything would be traced and cut and all I had to do was put everything together, but it was just volumes of material, so I enlisted Kelly," Janet Kroeger said. "I called Kelly and said, 'would you be willing to help with this project?', and she said yes. She ended up tracing and cutting probably between 800 and 900 pieces, just to make 225 masks." 
The masks were composed of three simple materials.
"The cover is just a standard cotton fabric, and the interior fabric is a medical-grade fabric [called] polypropylene, and then just elastic straps," Kelly Kroeger said.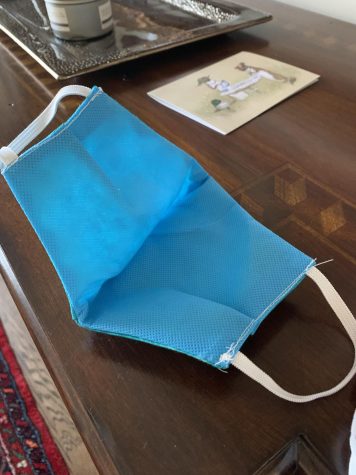 Kelly Kroeger said that providing health care workers with the materials to keep them safe is important for keeping our nurses, doctors and population healthy. 
"Protecting them is everything," Kelly Kroeger said. "Not only are you protecting their patients, but you're protecting them and their families. [It] is so imperative that we take care of our doctors and nurses and everybody else in the medical field."
Kelly Kroeger said that without healthy workers in hospitals, more people can get sick and have less treatment options.
"If healthcare workers are taken out of the equation because they're getting sick because they don't have the right tools to keep them safe, then that opens more vulnerability to the population, so more people get sick, [and] less people can take care of them." Kelly Kroeger said.
After enlisting the help of Kelly Kroeger, Janet asked her sister-in-law Jackie Kroeger if she could help find some people willing to help sew the masks. 
"I realized that Kelly was cutting way more than I could handle, so I called Jackie and said 'Do you have anybody who could sew these?'," Janet Kroeger said. "She had all the people who sewed [for Competition of Excellence], and then within five minutes she had seven people lined up to sew."
Jackie Kroeger said that every woman on the committee was willing to donate their time to sewing masks. 
"She told me that she needed some help getting them sewn, so I just emailed the ladies that worked on the bears," Jackie Kroeger said. "We were fortunate enough to have some really talented seamstresses work on the show choir bears, and every one of them who could sew said that they would like to help sew the masks."
Jackie Kroeger was the one to pick up and deliver the masks after they were sewn by women on the show choir bear committee. 
"I delivered the kits to the ladies, they sewed them, I picked them up, got them back to Janet, and she took them down to the fashion institute where they were delivered to hospitals." Jackie Kroeger said.
Diane Honeyman was one of the parents who previously had done sewing for the show choir bear fundraiser, and was one of the women asked to sew masks.
"Jackie Kroeger reached out to a couple of us that were the actual sewers on [the committee], and I think we all were [open to helping]," Honeyman said. "There [were] probably 100 [masks] that her sister-in-law was asked to make, so she just divided them up between three or four of us."
Honeyman sewed about 24 masks, but said that it was a simple process that she enjoyed.
"They were pretty simple [to sew] and they went fairly quickly, so I didn't mind sewing them at all." Honeyman said.
According to Janet Kroeger, places that have received the masks include: Methodist Hospital, the Sienna Francis House, Project Harmony, Aksarben Life Care Center, Midwest GI, Omaha OBGYN, and UNMC Ortho.
Your donation will support the student journalists of Omaha Westside High School. Your contribution will allow us to purchase equipment and cover our annual website hosting costs.
About the Contributor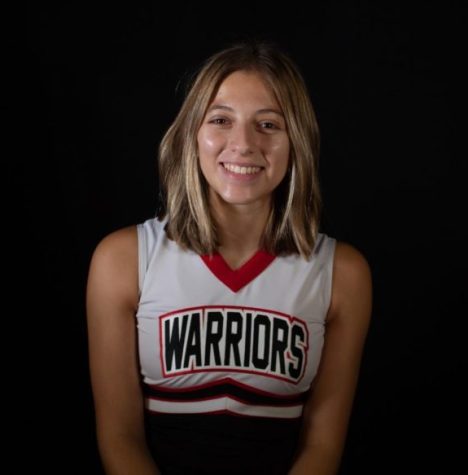 Ainsley Meyerson, Wired Co-Editor in Chief
Hi, my name is Ainsley Meyerson! I am a Co-Editor-In-Chief for Westside Wired this year. I am currently a senior and this is my fourth year on Wired. A...