Taylor Time: Basketball Beat Writer Makes State Tournament Picks
The road to Lincoln is a long journey for many teams. After a long offseason, which for most is early March to November, teams work to condition and perfect their gameplans. Through 20 plus grueling regular season games, each team works for positioning in order to give themselves the best shot at making it to the state tournament. Rivalries are played out on Friday and Saturday nights, fanbases clash to support their school and it all comes down to what happens in the first few weeks in March. Eight teams have battled through to get to these few days, to get to Lincoln and possibly pave a road to a state title. Thursday's four matchups come with some of the best high school teams this state has ever seen, and all get to be watched at Pinnacle Bank Arena. Four teams must win, and four teams will head back home looking to strive for next year. Here are my predictions for the first round of the Class A Boys State Tournament.
Matchup: #1 Bellevue West Thunderbirds (21-3) 44.6250 vs #8 Elkhorn Antlers (17-7) 42.2917
Time: 2:00 PM
Location: Pinnacle Bank Arena
Prediction: Bellevue West 85-59
Led by Chucky Hepburn alongside Frankie and Louis Fidler, the Thunderbirds look to continue their five-game winning streak going up against a team that has had a Cinderella story just to get where they are currently. This season, Bellevue West has 4 quad-one wins, the most in Class A, showing why they deserve the number one seed. Their three losses this season have come to two quad-one teams in Omaha South and Millard North along with Creighton Prep in the Metro Holiday Tournament. Averaging just over 70 points a game the Thunderbirds move the ball around quickly and are not afraid of getting the ball into any of their starting fives hands. With four of their starting five averaging double figures, the team wants to get mismatches on their side and when they do they're a dangerous team. The only weakness seen by the Thunderbirds is their defensive ability when going up against teams who run up and down the court quickly. Against both Omaha South and Westside, the Thunderbird defense had many points where they would allow large runs when their opponent would pick up the offensive pace. With so many top-performing teams maybe see that being a problem later on in the tournament. 
Going up against Bellevue West is an Elkhorn team who has, going into Thursday, only played 5 Class A teams throughout their entire season. To get to state, the Antlers played two Class A quad 3 teams in Millard West and Lincoln Northeast and only won by a combined 3 points in those two games. With a 17-7 record consisting of 19 Class B teams, the Antlers don't look to be much of a challenge for Bellevue West. Look for this game to get out of hand early and Bellevue West to head to Friday night.
Matchup: #4 Omaha Westside Warriors (18-6) 43.5000 vs #5 Creighton Prep Jr. Jays (19-7) 43.3462
Time: 3:45 PM
Location: Pinnacle Bank Arena
Prediction: Omaha Westside 75-66
One of the best rivalries in all of Nebraska sports. There's not much more to say about this game to get opposing fans excited. These teams matched up at a packed Westside High School on January 10th and the game did not disappoint, well at least for one side. Behind a 31 point night from Jadin Booth, where he passed the school's career scoring record, and a 23 point effort from PJ Ngambi, the Warriors took down the Jr. Jays by a staggering 27 points and put a statement into the history of the cross-town rivalry. Looking at the numbers before the first matchup the game looked to be somewhat even. Other than the fact that the Warriors average eight more points per game than the Jr. Jays both teams stack up very well on paper. Both shoot 49% from the field and both have gone up against five quad-one Nebraska teams and both have three starters who average ten or more points a game. The thing that at the end that differentiates these teams is the pace of play. The Warriors work to such a quick pace the Creighton Prep defense hasn't shown this year that they can compete with such a team like them. Look for the Warriors to take a hold of a 10+ point lead throughout the second and third quarter to give Westside a lead down the stretch.
Matchup: #2 Millard North Mustangs (22-3) 44.2400 vs #7 Papillion-La Vista South Titans (17-7) 42.9167
Time: 7:00 PM
Location: Pinnacle Bank Arena
Prediction: Millard North 78-62
Arguably the most talented team on paper in all of Nebraska boys basketball history hits the state tournament surprisingly not as the number one seed. The preseason favorites for the state title consist of a starting five who have all received division one offers as well as a sixth man who is headed to Wayne State in Noah Erickson. Behind five-star recruit Hunter Sallis, the Mustangs have a team like no other. Explosive, dunk filled and high scoring, the team is arguably the most exciting team to watch in all of Nebraska high school basketball. The 22-4 Mustangs showed their star talent going up against IMG Academy at the Heartland Hoops Classic in Grand Island on February 15th. The Crusaders at 20-6 are currently ranked 19 in the country in the Xcellent Writers Poll and the Mustangs kept IMG within 8 points the entire night, falling 74-69. If that resume doesn't give enough context for the talent that is on the Millard North team, then I'm not sure what else I can say. 
On the other side, the Titans are a team who has shown definite struggle lately and are looking to get back on track. After losing to a 10-15 Lincoln Northeast team in the A-5 district semi-final, the Titans were just barely able to squeeze into the state tournament with the wild card.  In three games against Millard North, the Titans have lost all three matchups by an average of 11 points and have only led at the end of one quarter throughout those games. Look for the Titans to never truly be out of it, but with the Mustangs high powered offense, they'll never truly be in it either.
Matchup: #3 Omaha Central Eagles (21-3) 43.8750 vs #6 Omaha South Packers (19-5) 42.9583
Time: 8:45 PM
Location: Pinnacle Bank Arena
Prediction: Omaha Central 68-62
A great game to be the nightcap down at Pinnacle Bank as this one should come down to the wire. The reigning Class A boys state champions will look to keep their back-to-back hopes alive going up against the third-seeded and top-ranked team in the Omaha Central Eagles. The Omaha South Packers, who came off a triple-overtime scare from Omaha Benson, have only one quad one win this season. That win against Bellevue West in late December showed the state what the Packers could possibly be. With an overtime loss to Omaha Westside and two single-digit losses against Papio South, the Packers have shown that they can give any team a run for their money. Averaging 67.5 points a night, Omaha South is led by the three-headed monster in Tyrece Griggs, Jay Saunders and Skyler Wilson. All averaging more than 15 points a game, the Packers really rely on those three guys. The problem with that is that there isn't a ton of help behind them. Outside of those three players, the entire rest of the Packer offense only comes up with just under a fourth of the team's offense. Omaha South can be a team that can beat anybody, but taking out even just one of their top three guys can give a team life. 
On the other side, Omaha Central has shown that they can prepare for back to back nights where they will be playing top-ranked teams. On back to back nights late in February, the Eagles took down both #1 Millard North and #3 Omaha Westside. Just those two back to back wins alone are why they are ranked what they are in the Omaha World-Herald. Also, I forgot to mention that both of those games were on the road at two high schools that don't exactly travel lightly to their home games. The Eagles have shown perseverance throughout much of the regular season and have proven to be arguably the best in the state. With both Latrell Wrightshell Jr. and Max Polk healthy, and a consistent fast-paced up and down game, the Eagles look to have a great matchup against Omaha South and should head to Friday night.
About the Contributor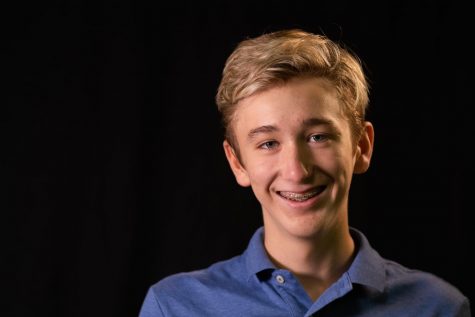 Jaden Taylor, Sports Journalism Staff Writer
Hi, my name is Jaden Taylor! I am a staff writer for Sports Journalism this year. I am currently a sophomore and this is my second year on Sports Journalism....