Reserve Baseball Reflects On Season
After a slow start, reserve baseball is now on a seven game winning streak; improving their record to nine and three. According to the coaches and players, the baseball team has had a great season so far.
Freshman Soren Szejk, a member of the reserve baseball team, said that overall, the season has been going really well for the team. However, there is always room for improvement.
"We have a few errors here and there, but every team does every once in a while," Szejk said. "We need to be mentally prepared and mentally focused on the game, and that could probably help us a lot."
Szejk brought up that being a part of this team has created a close bond between each player.
"We are just like a big brotherhood; almost like a family," Szejk said.
Josh Jensen, also a member of the reserve baseball team, said that the coaches have been very helpful throughout the year and continue to help educate the team on how to fix their mistakes.
"The coaches have taught us a lot this year," Jensen said. "They have helped change up our swings and have helped with our fielding, so that's always helpful."
Business teacher Bryce Trout, a reserve baseball coach, said that the boys have been working very hard this year as well as greatly improving.
"A lot of the reserve guys are usually on the weak side, so we have been lifting which I think has been very beneficial to us, and we have seen a lot of gains in the weight room, which then leads to us throwing harder and hitting harder on the field," Trout said. "They have been working their tails off which is awesome to see, so they have improved quite a bit."
Trout said that it is always good to play in more of an aggressive style on the field; something that the team could improve on.
"I like to play in an aggressive style, so I like to see them a little bit more aggressive and get a little bit more of a mean side to them," Trout said. "I want them to take the game to the other team rather then let the game take to them."
Hall monitor Bob Mulligan, also a reserve baseball coach, believes that there has been major improvement within the team since the first game.
"I've noticed a huge improvement," Mulligan said. "In our first game, I think we had six or seven errors and we couldn't even throw the ball properly, and now we're beating teams by about ten runs for at least three or four games."
Mulligan said it is entertaining to watch the team grow and improve within the season.
"Everytime you see the boys get excited or you see them do something good, as a coach, you feel like you have done something right and you notice when they are having fun playing," Mulligan said. "It gives you more of the reason why you coach."  
Reserve baseball will attempt to improve as well as continue their winning streak within the remainder of their season.
About the Writer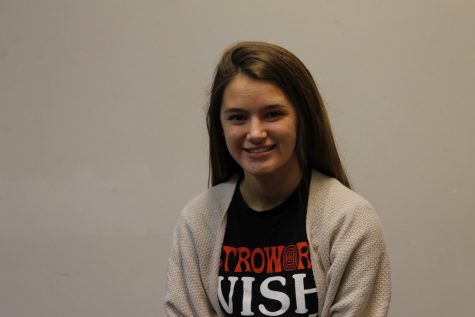 Elizabeth Matz, Staff Writer
Hi my name is Elizabeth Matz! I am a staff writer for Westside Wired this year. I am currently a freshman and this is my first year on Wired. If you have...